Main content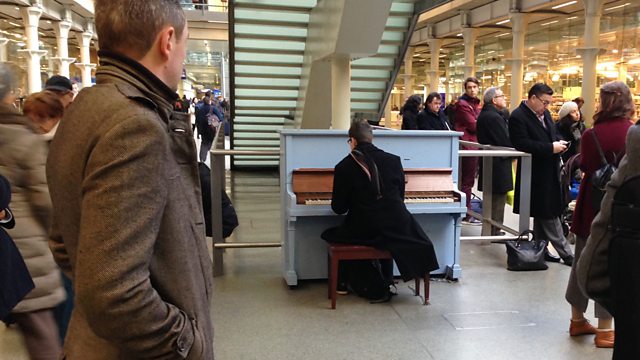 St Pancras Pianos
The universal language of music is explored through a lyrical improvisation telling the stories of those who play the street pianos at St Pancras Station in London.
A lyrical improvisation captures the music and the stories of those who stop to play the street pianos at St Pancras Station in London, exploring the communities the music creates in this transient urban setting.
Around 45 million people pass through the station each year, travelling not only to the North of England or Kent, but also to Paris, Brussels and Lille. Visitors who stop unexpectedly - and regulars who come frequently - play the station's unusual street pianos with a wide range of musical styles and ability. Their personal stories reinforce ideas about the universal language of music and its ability to cut across class, nationality, creed and colour.
Over the years, top performers from Sir Elton John to Laura Mvula, Jamie Cullum to John Legend, have all played here - with Sir Elton signing and donating a piano.
But this programme tells the story of the ordinary people and the tunes they play. It provides intimate access into strangers' lives and to this London station at both its busiest and its quietest moments.
Producer: Sophie Sparham
An Overtone production for BBC Radio 4.
Last on
Broadcast