Main content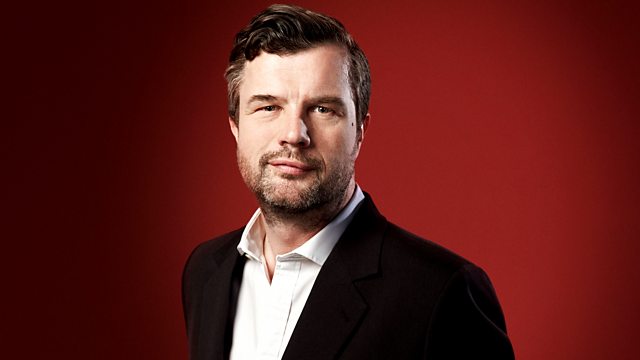 Friday - Petroc Trelawny
Petroc Trelawny presents Radio 3's classical breakfast show, featuring listener requests.
Email 3breakfast@bbc.co.uk.
Last on
Music Played
Antonín Dvořák

Piano Quintet No 2 in A major, Op 81 (3rd mvt)

Ensemble: The Schubert Ensemble.

Dvorak: Piano Quintet/Piano Quartet.
Chandos.
7.

Anton Bruckner

Abendzauber [Evening magic]

Singer: Markus Krause. Singer: Dagmar Gareis. Singer: Heide Hauser. Singer: Rosi Berger. Ensemble: South German Vocal Ensemble. Performer: Marie Luise Neunecker Horn Ensemble. Conductor: Rolf Beck.

Romantische Chormusik.
KOCH.
2.

Johann Sebastian Bach

Concerto for Oboe d'amore

Performer: Katharina Arfken. Performer: Gottfried von der Goltz. Orchestra: Freiburg Baroque Orchestra. Conductor: Gottfried von der Goltz.

Orlando Gibbons

Hosanna to the Son of David

Choir: Stile Antico.

Orlando Gibbons

Hosanna to the Son of David

Orchestrator: Nico Muhly. Orchestra: Aurora Orchestra. Conductor: Nicholas Collon.

Samuel Coleridge-Taylor

Petite Suite (La Caprice de Nanette)

Orchestra: The New London Orchestra. Conductor: Ronald Corp.

British Light Music Classics, Vol. 4.
HYPERION.
17.

Wolfgang Amadeus Mozart

Der Hölle Rache (The Magic Flute)

Singer: Sumi Jo. Orchestra: Vienna Philharmonic. Conductor: Georg Solti.

Frédéric Chopin

Barcarolle in F sharp major Op.60

Performer: Krystian Zimerman.

Philip Glass

Akhnaten (Hymn to the Sun)

Singer: Paul Esswood. Ensemble: Chor der Staatsoper Stuttgart. Orchestra: Orchestra of the Stuttgart State Opera. Conductor: Dennis Russell Davies.

William Mathias

Sun Dance (Santa Fe Suite)

Performer: Claire Jones.

Patrick Hawes, Highgrove Suite: Claire Jones, Philharmonia Orchestra.
Classic FM.
16.

Bohuslav Martinu

Spalicek (Fairy tale of Cinderella, Waltz, Wedding, Polka)

Choir: Kühnův smíšený sbor. Orchestra: Brno Philharmonic Orchestra. Conductor: František Jílek.

Spalicek (Ballet in 3 acts).
SUPRAPHON.
7.

Domenico Scarlatti

Sonata in A major Kk.208

Performer: Pierre Hantaï.

Friday Poem

"Tallis's Canon", written and read by Wendy Cope.

Peter Hope

Tallis Remembered

Performer: Thomas Verity. Performer: John Turner. Performer: Simon Passmore.

Gustav Mahler

Lieder eines fahrenden Gesellen (Ging heut' morgen über's Feld)

Music Arranger: Arnold Schoenberg. Singer: Dietrich Henschel. Ensemble: Oxalis.

George Frideric Handel

Concerto Grosso in F major, Op 6 No 2

Ensemble: The English Concert. Director: Trevor Pinnock.

Rebecca Clarke

Sonata for viola or cello in E minor (2nd mvt)

Performer: Tabea Zimmermann. Performer: Kirill Gerstein.

Brahms, Clarke, Vieuxtemps.
Myrios Classics.
2.

Steve Martland

Poor Roger

Performer: Evelyn Glennie. Choir: The King's Singers.

Ludwig van Beethoven

Piano Sonata no.6 in F major, Op.10`2

Performer: Daniel Barenboim.

Beethoven: The Complete Piano Sonatas: Daniel Barenboim.
EMI Classics.
4-6.

Charles‐François Gounod

Faust: Act 5 - Duet. 'Ah! C'est la voix du bien-aimé... Oui, c'est toi je t'aime'

Performer: Nicolai Gedda. Singer: Victoria de los Ángeles. Orchestra: Orchestre de l'Opéra National de Paris. Conductor: André Cluytens.

John Dowland

Clear or cloudy

Ensemble: Ensemble Orlando Gibbons.

Felix Mendelssohn

String quartet in E minor Op.44 no.2 (2nd mvt)

Ensemble: Quatuor Arod.
Broadcast