Main content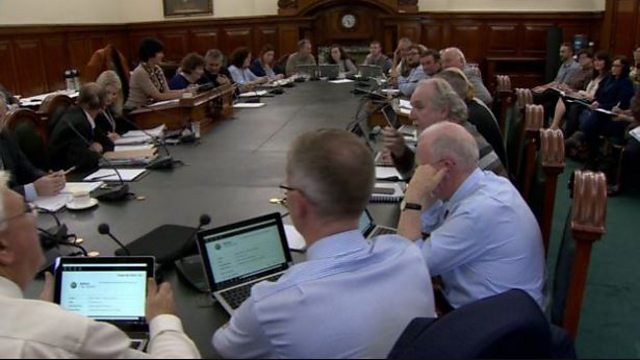 Row over Belfast's St Patrick's Day concert as some councillors say it is a 'cold house' for unionists
Stephen Nolan looks at the row over Belfast's St Patrick's Day concert as some councillors say it is a 'cold house' for unionists.
Belfast's St Patrick's Day parade will go ahead the council ruled last night. It comes after concerns were raised over health and safety fears due to the size of the crowd with plans to possibly scrapped the event. But last night's meeting lead to angry exchanges as Sinn Fein and unionist councillors clashed over a presentation made to the committee about how the overall event could be improved. During the meeting PUP Cllr John Kyle said the festival was no longer inclusive and that it was a cold house for unionists. Vinny spoke to Sinn Fein Cllr Deirdre Hargey, UUP Cllr Chris McGimpsey and Alliance Cllr Emmet McDonough Brown.
Also on the programme, a "Stop the Cuts" protest will still go ahead tomorrow even though controversial proposals to save money in our health service have been put on hold. Our Health Trusts had been looking at ways to save £70 million. But yesterday the Department of Health announced an additional £40 million of funding. The extra money means bed closures and reductions in nursing home packages - amongst other things will now not happen. But is this just a sticking plaster? The Department of Health say severe financial pressures remain and can only intensify. Vinny spoke to Stop the Cuts campaigner Shaun Harkin and Belfast GP George O'Neill.
And, here's a question for you - are women more kind and generous than men? Well research from the University of Zurich suggests that they are! They've found that when a woman exhibits some form of kindness, it triggers a greater reward signal than it does in men, whose reward system is stimulated more by selfish behaviour. Vinny got the views of commentators Andrea McVeigh and Paul Martin.