Main content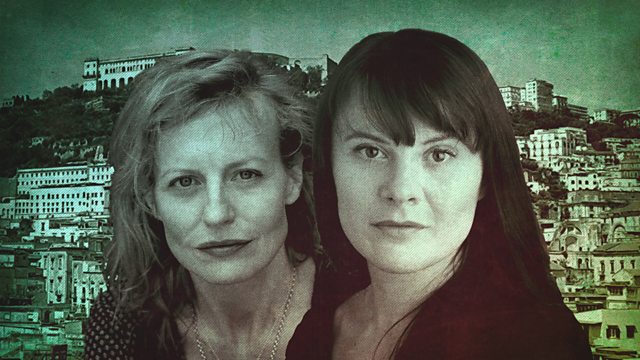 By Elena Ferrante. Despite his loyalty to his wife, and her friend Lila's dismay, Lena continues her affair with Nino.
Elena Ferrante's story of a life long friendship between Lila and Lena comes to an end in this sad and surprising final chapter.
Accepting the fact that her lover Nino will not leave his wife, Lena decides to move back to Naples with her two children and accept his offer to rent them a flat in the nice part of town. They continue to have an affair and she finds herself pregnant.
Strangely, Lila also finds herself also pregnant and this unites their friendship once more. Lila however seems to suffer during her pregnancy - not helped by the chaos caused by the earthquake that hit Naples in 1980. Gradually she seems to lose touch with her world once again.
Written by Elena Ferrante
Translated by Ann Goldstein
Dramatised for radio by Timberlake Wertenbaker
Directed by Celia de Wolff
A Pier production for BBC Radio 4.
Last on
Credits
| Role | Contributor |
| --- | --- |
| Lena | Monica Dolan |
| Lila | Anastasia Hille |
| Nino Sarratore | Daniel Flynn |
| Pietro | Ferdinand Kingsley |
| Adele | Sylvestra Le Touzel |
| Dede | Grace Wingate |
| Dede | Ella Dale |
| Elsa | Isobel Tinsley |
| Elsa | Georgia Taft |
| Mariarosa | Claudia Jolly |
| Carmela | Louise Calf |
| Colombe | Louise Calf |
| Antonio | Hugh Kermode |
| Mother | Jane Whittenshaw |
| Guido | David Collings |
| Franco | Simon Scardifield |
| Augustin | Simon Scardifield |
| Armando | Josh Dylan |
| Marisa | Sara Markland |
| Elisa | Nelly Harker |
| Photographer | Nelly Harker |
| Enzo | Carl Prekopp |
| Marcello | Ben Crowe |
| Guest | Ben Crowe |
| Alfonso | Nick Armfield |
| Tina | Sylvie Goodwin |
| Imma | Grace Pearcey |
| Imma | Cosima Pearcey |
| Michele | Daniel Ryan |
| Guest | Daniel Ryan |
| Gennaro | Tom Davies |
| Pasquale | Nicholas Gleaves |
| Author | Elena Ferrante |
| Translation | Ann Goldstein |
| Adaptor | Timberlake Wertenbaker |
| Director | Celia de Wolff |
Broadcasts