Main content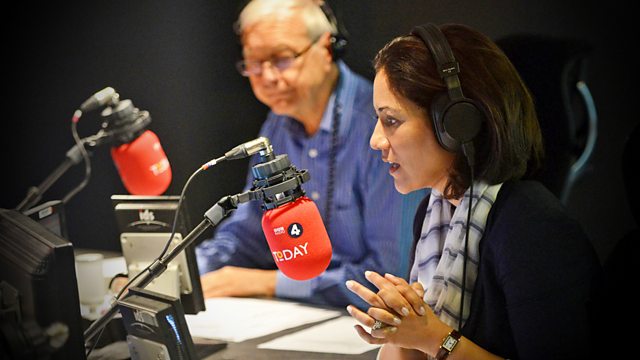 13/10/2017
Morning news and current affairs. Including Yesterday in Parliament, Sports Desk, Weather and Thought for the Day.
Today's running order
0650
Travel industry bosses are today being invited to submit evidence to help drive the Government's crackdown on the holiday sickness claims culture. Alan Wardle is director of public affairs at The Association of British Travel Agents.
0655
A British-built satellite goes into orbit today to monitor air quality around the globe. Kevin McMullan is project manager for the Sentinel-5 Precursor satellite.
0709
Diplomats from the EU's 27 remaining member states will discuss their approach to the Brexit talks at a meeting in Brussels today. Bernd Koelmel is an MEP and chairman of Germany's Liberal-Conservative and Reformist party and Anders Vistisen is the Danish People's Party MEP and vice-chair of the EU Parliament's foreign affairs committee.
0715
The head of the prison and probation service has admitted that a system designed to help offenders turn their lives around amounts to no more than "basic sign-posting" in many areas. Our home affairs correspondent Danny Shaw reports.
0720
Today the Financial Conduct Authority will finish consulting over proposals to create a new premium listing category on the London Stock Exchange for sovereign controlled companies. Ashley Hamilton-Claxton is a corporate governance manager at Royal London.
0725
There's a warning today that the UK faces gridlock on roads, railways and in the skies, with slower mobile and worsening air quality unless the Government takes action. Lord Adonis is chairman of the National Infrastructure Commission and Andy Street is Conservative West Midlands Metro Mayor.
0730
The International Monetary Fund is holding its annual meeting today. Earlier this week it said raising "significantly higher" rates of tax for those on higher incomes would help reduce inequality without having an adverse impact on growth. Jeffrey Sachs is an economist at Colombia University and special adviser to several UN secretary generals on sustainable development goals.
0740
Police in both London and New York are investigating claims of sexual assault made against the Hollywood producer Harvey Weinstein. Yesterday, Mr Weinstein told reporters that everyone has made mistakes and he hoped for a second chance. Stephen Woolley is an Oscar nominated and BAFTA winning film producer.

0750
England's chief medical officer Dame Sally Davies is launching "a call for global action" to combat resistance to antibiotics at a conference in Berlin. She joins us on the programme.
0810
With soaring numbers of prisoners, unsanitary conditions, riots, deaths in custody and failures in rehabilitation - why is the justice system under such pressure? Peter Clarke is chief inspector of prisons and Glenys Stacey chief inspector of probation.
0820
The younger life of Karl Marx is the subject of the first production at Sir Nicholas Hytner's new theatre on London's South Bank. He joins us on the programme.
0830
Israel has said it will join the US in pulling out of the UN's cultural organisation Unesco, after US officials cited "anti-Israel bias". Irina Bokova is the director general of Unesco.
0840
All this week we've been hearing a series of reports on China ahead of next week's communist Party Congress. Today we look at how China will weather the economic storm it is likely to face in the next five years. Our China editor Carrie Gracie reports.
0850
Societies usually fail to predict and prepare for the next kind of war. That's the premise of Sir Lawrence Freedman's new book The Future of War: A History. He joins us on the programme.
0855
The EU's chief negotiator Michel Barnier says there has not been enough progress to move on to the next stage of Brexit talks as the UK wants. Alex Barker is the Brussels bureau chief for the Financial Times and Matthew Holehouse is a Brexit correspondent for the Mlex news service.


All subject to change