Main content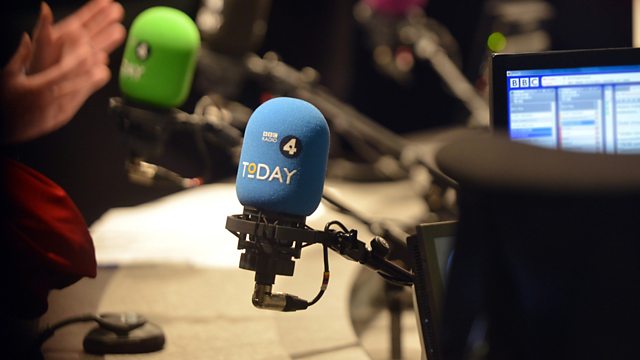 12/10/2017
Morning news and current affairs. Including Yesterday in Parliament, Sports Desk, Weather and Thought for the Day.
Last on
Today's running order

0709
A strategy to cut UK greenhouse emissions from housing, businesses, transport and the power sector while boosting economic growth is set to be published by the Government. Claire Perry is the minister for climate change.
0715
Business Secretary Greg Clark will publish the government's draft legislation to enforce a cap on some energy prices. Steve Smith is a former board member of Ofgem.
0720
Family doctors are going to be given £20,000 to move to the country. Helen Stokes-Lampard is chair of the Royal College of GPs.
0725
The composer Philip Glass is to write the music for a documentary about the British naturalist Jane Goodall. Our correspondent Peter Bowes reports.
0730
There are concerns about border delays, extra customs checks and higher tariffs if the UK leaves without new trading arrangements or a transition period on Brexit day – 29 March, 2019. Marcus Dolman is co-chairman of the British Exporters Association and an executive at Rolls-Royce.
0740
Quentin Letts's new book - Patronising Bastards: How the elites betrayed Britain - takes aim at 100 politicians, footballers, celebrities and others. Quentin Letts is a parliamentary sketch-writer and theatre critic for the Daily Mail and Polly Toynbee is a Guardian columnist and one of the 100 Letts lists as patronising bastards in his book.

0750
US President Donald Trump is planning to abandon the Iran nuclear deal shortly, according to US media reports. If he fails to certify the accord, Congress will decide whether to re-impose economic sanctions on Iran. General Jack Keane is US Army former vice-chief of staff.
0810
The government will spend whatever is necessary to make sure the UK is ready for Brexit, "including the possibility of a no-deal scenario", Downing Street has said. Hilary Benn is Labour MP and chair of the Exiting the EU Committee and Kwasi Kwarteng is Conservative MP and parliamentary private secretary to the chancellor.
0820
Alan Bennett's latest batch of diaries, Keeping On, Keeping On, is published in paperback. He joins us on the programme.
0830
The organisation which runs the Oscars has described the allegations surrounding film producer Harvey Weinstein on sexually assault as "repugnant" and "abhorrent". Susanna White is a British film director.
0840
The ability of British universities and staff to pay an extra £500m a year to protect the future benefits of the sector's £60bn retirement fund has been questioned by the Pensions Regulator. Bill Galvin is chief executive of the Universities Superannuation Scheme (USS) and former chief of the Pensions Regulator.
0845
More than a third of children in Birmingham are living in poverty. Seven out of ten of the city's constituencies are in the lowest ten percent in the country. Our correspondent Dave McMullan reports.
0850
Jeremy, the rare lefty snail who came to fame on this programme, has died. But before he passed away he conceived baby snails with his mate Tomeu, another lefty snail. Dr Angus Davison is a reader in evolutionary genetics at the University of Nottingham.
0855
The government will spend whatever is necessary to make sure the UK is ready for Brexit. Stefan Kornelius is a foreign editor at the Süddeutsche Zeitung and authorised biographer of Chancellor Angela Merkel and Ryan Heath is a reporter for Politico's Brussels Playbook.
All subject to change
Broadcast