Main content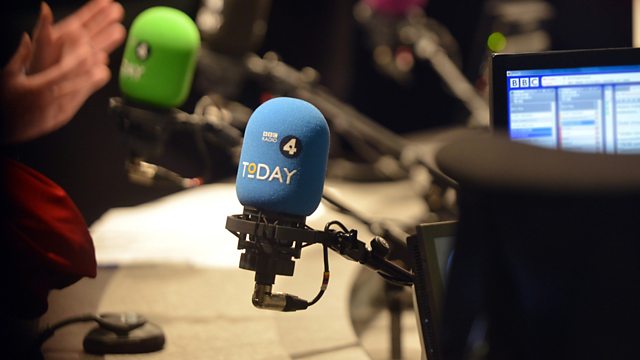 10/10/2017
News and current affairs. Including Yesterday in Parliament, Sports Desk, Weather and Thought for the Day.
Today's running order

0650
Campaigners are calling on the government to take action after the government's race audit revealed disparities in life outcomes between white and ethnic minority groups. Our correspondent Sanchia Berg reports.
0655
Hospitals, care homes and other parts of the health and care system are "straining at the seams" to cope with unprecedented pressure that comes with people living longer, according to the annual report from the care regulator. Sir David Behan is the chief executive of the Care Quality Commission.
0710
Ministers will launch the analysis of the government's Racial Disparity Audit which was ordered by Theresa May in August 2016. It's an audit of how ethnic minorities and white working class people are treated by public services such as the NHS, schools, police and the courts. Munira Mirza is the former deputy mayor of London.
0715
The Office for Budget Responsibility publishes its annual forecast evaluation report, comparing its own economic and public finance forecasts with what actually happened.  Today, it is specifically looking at productivity and why it is so much weaker than forecast. Lord Gus O'Donnell is former permanent secretary to the Treasury and former cabinet secretary.
0720
The Government is being urged to help save jobs at defence giant BAE Systems, which is set to announce cuts at sites making the Eurofighter Typhoon jet. Howard Wheeldon is an independent defence, aerospace and industry analyst.

0725
A new species of ichthyosaur - predatory marine reptiles that swam the world's oceans whilst dinosaurs walked the land - has been discovered. Dean Lomax is a palaeontologist and visiting scientist at the University of Manchester.
0730
A record number of sex offenders are being brought to justice in England and Wales, according to the Crown Prosecution Service. In its latest report on violence against women and girls it says that convictions for both rape and other sexual offences have risen. Alison Saunders is director of public prosecutions.
0740
Professor of art history and history at Columbia University and award winning author and broadcaster Simon Schama publishes his new book Belonging: The history of the Jews 1492-1900 later this week. He joins us on the programme.

0750
Race relations and the effect of the Obama presidency have been a frequent theme for the writer Ta-Nehisi Coates whose work for the Atlantic has made him one of the most prominent US black thinkers. He joins us on the programme.
0810
How are ethnic minorities and white working class people treated by public services such as the NHS, schools, police and the courts? Theresa May ordered an audit last year when she first became prime minister, and the resulting report is being published today. Mark Easton is our home affairs Editor. Sajid Javid is Conservative MP and communities minister.
0820
A new series on Radio 4, which begins on October 23, charts the history of religion through objects in the British Museum. Neil Macgregor is the presenter of Living With The Gods, former director of the British Museum and now founding director of the Humboldt Forum in Berlin.
0830
The Catalan President Carles Puigdemont will address the region's parliament later this evening, nine days after the disputed referendum on independence. If he declares Catalonia to be independent – it is unlikely to be recognised as such beyond its borders. Our chief correspondent Matthew Price reports. Our Europe editor Katya Adler reports
0840
China is the second richest country in the world but although the country may have adopted many of the west's approaches to wealth creation, any hopes that it might become a more liberal, democratic society have failed to materialise. Our china editor Carrie Gracie reports.
0850
Police are trialling new technology which can identify whether a suspect has used drugs or alcohol, and eaten certain foods - all from a single fingerprint. Dr Simona Francese is the project lead and reader in mass spectrometry at Sheffield Hallam University.

All subject to change