Main content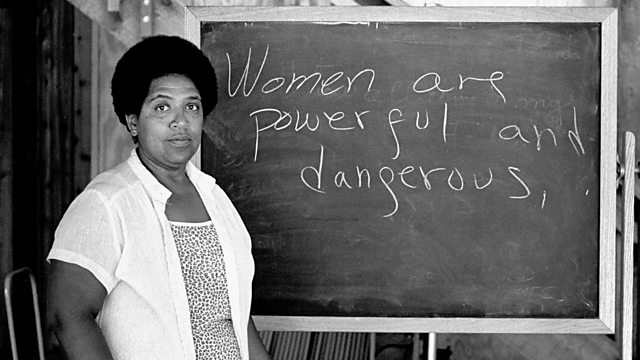 Audre Lorde, Dan Brown, Art Connoisseurship, Harvey Weinstein
Arts news, interviews and reviews. Author Dan Brown discusses the return of Robert Langdon in his latest novel, Origin. Plus Audre Lorde and art connoisseurship.
Audre Lorde described herself as "black, lesbian, mother, warrior, poet". A writer of the 70s and 80s, this month her poetry and prose is published in the UK for the first time in a new anthology: Your Silence Will Not Protect You. Akwugo Emejulu, Professor of Sociology at the University of Warwick discusses the resurgent interest in Lorde's work and her importance to contemporary activists
Dan Brown came to the fame in 2003 with his novel The Da Vinci Code which became a worldwide bestseller and a Hollywood movie. As his latest book, Origin, is published, Brown discusses his new novel's exploration of the tension between science and religion, and the appeal of his protagonist, Professor Robert Langdon, who seems never happier than when he's fleeing for his life in search of esoteric clues to labyrinthine mysteries.
Dr Bendor Grosvenor, art dealer and presenter of Britain's Lost Masterpieces, argues that we are at risk of losing the skill of connoisseurship - being able to determine the painter simply by looking at the painting, which is key when attributing a work to a particular artist. Professor Alison Wright, head of the History of Art Department at UCL, joins him to discuss if this skill really is dying out and how important it is.
We discuss the breaking news that Harvey Weinstein, the Oscar-winning film producer, has been fired by the board of his company after being accused of sexually harassing female employees and actresses over nearly three decades. Mia Galuppo of the Hollywood Reporter and Anne Helen Petersen, senior culture writer at Buzzfeed, who has written a Phd on The History of Celebrity Gossip, join Stig to unpack the story.
Presenter: Stig Abell
Producer: Hannah Robins.
Chapters
Dan Brown

Duration: 07:52

Harvey Weinstein

Duration: 06:04

Audre Lorde

Duration: 06:02

Art Connoisseurship

Duration: 07:10

Audre Lord

Your Silence Will Not Protect You, a collection of Audre Lorde's writing and poetry is out now.

Images:

Main image and smaller image to the right: Audre Lord

Main image credit: Robert Alexander/Getty Images

Art Connoisseurship

Bendor Grosvenor presents Britain's Lost Masterpieces on BBC4 on Wednesdays at 9.00pm.

Image: Bendor Grosvenor with Rubens' painting of George Villiers, the first Earl of Buckingham.

Credits

| Role | Contributor |
| --- | --- |
| Presenter | Stig Abell |
| Interviewed Guest | Dan Brown |
| Interviewed Guest | Akwugo Emejulu |
| Interviewed Guest | Bendor Grosvenor |
| Interviewed Guest | Alison Wright |
| Interviewed Guest | MIa Galuppo |
| Interviewed Guest | Anne Helen Petersen |
| Producer | Hannah Robins |