Main content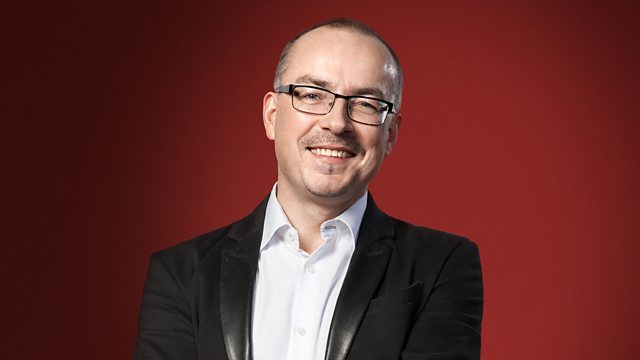 Andrew McGregor with Richard Wigmore and Iain Burnside
Andrew McGregor and Richard Wigmore focus on Handel's 'Concerti grossi' for Building a Library, and Iain Burnside discusses newly restored live opera recordings by Maria Callas.
with Andrew McGregor
0930
Building a Library on Handel's Concerti grossi Op 3 with Richard Wigmore. These 6 lively concertos were compiled into a set and published by John Walsh in 1734. It's now thought that Handel had no connection with the publication and that Walsh just put together a group of Handel's already existing works. But the resulting set is some of Handel's best music.
1045
Andrew talks to Iain Burnside about a newly restored edition of Maria Callas's live opera recordings. Known to many collectors through her iconic studio recordings for EMI during the 50s and 60s, many Callas fans think that her true genius for theatrical singing can best be found when the microphone was catching a performance on the wing.
1145
Andrew chooses an outstanding new release as his Disc of the Week.
9am
Fantasia: Rautavaara, Szymanowski & Ravel
RAUTAVAARA: Fantasia
RAVEL: Tzigane
SZYMANOWSKI: Violin Concerto No. 1 Op. 35
Anne Akiko Meyers (violin), Philharmonia Orchestra, Kristjan Jarvi (conductor)
AVIE AV2385 (CD)
Last Leaf
Nordic and other folk tunes, arranged and performed by:
Danish String Quartet
ECM 4815746 (CD)
DEBUSSY: Pelleas et Melisande
Christian Gerhaher (Pelleas), Magdalena Kožena (Melisande), Bernarda Fink (Genevieve), Franz-Josef Selig (Arkel), Gerald Finley (Golaud), Elias Madler (Yniold), Joshua Bloom (Shepherd/Doctor), London Symphony Orchestra, Sir Simon Rattle (conductor)
LSO LIVE LSO0790 (3SACD + 1 Blu-ray audio)
9.30am - Building a Library
A weekly look at a piece of music, a comparison of the available recordings, and a recommendation.

Composer: Handel
Piece: Concerti Grossi Op.3
Reviewer: Richard Wigmore
Building a Library: Handel's Concerti Grossi Op.3
Recommended Recording:
The Academy of Ancient Music, Richard Egarr (conductor)
HARMONIA MUNDI HMU907415 (download)
Other Recommended Recordings:
The Brandenburg Consort, Roy Goodman (conductor)
HELIOS CDH55075 (CD)
The English Concert, Trevor Pinnock (conductor)
DG ARCHIV 4137272 (CD)

Combattimento Consort Amsterdam, Jan Willem de Vriend (conductor)
CHALLENGE CLASSICS SACC72140 (CD)
10.25am
A Giant Reborn
Music by Peter Prelleur, George Frederick Handel, Maurice Greene, John Stanley, John Bull, John Barratt, Henry Purcell, William Croft, Henry Heron, William Boyce, William Walond, Thomas Augustine Arne, James Nares, John Reading, John James, John Keeble
Gerard Brooks (The restored 1735 Richard Bridge organ of Christ Church, Spitalfields)
FUGUE STATE FILMS FSRCD010 (2CD)
Vaughan Williams: Sinfonia Antartica, Four Last Songs & Concerto for Two Pianos & Orchestra
VAUGHAN WILLIAMS: Symphony No. 7 'Sinfonia antartica'; Piano Concerto in C for two pianos; Four Last Songs (orchestrated by Anthony Payne)
Mari Eriksmoen (soprano), Louis Lortie, Helene Mercier (pianos), Roderick Williams (baritone), Bergen Philharmonic Orchestra, Sir Andrew Davis (conductor)
CHANDOS CHSA5186 (Hybrid SACD)

VAUGHAN WILLIAMS: Scott of the Antarctic – complete film score
Ilona Domnich (soprano), Christopher Nickol (organ), Women of the Scottish National Orchestra Chorus (chorus), Royal Scottish National Orchestra, Martin Yates (conductor)
DUTTON CDLX7340 (Hybrid SACD)
Erik Chisholm: Violin Concerto & Dance Suite
CHISHOLM, E: Violin Concerto; From the True Edge of the Great World (3 of the 24 Preludes for Solo Piano); Dance Suite for orchestra and piano
Matthew Trusler (violin), Danny Driver (piano), BBC Scottish Symphony Orchestra, Martyn Brabbins (conductor)
HYPERION CDA68208 (CD)
10.45am – Iain Burnside on Maria Callas
11.45am – Disc of the Week
Steve Elcock: Orchestral Music, Volume One
ELCOCK: Symphony No. 3 Op. 16; Choses renversees par le temps ou la destruction Op. 20; Festive Overture Op. 7
Royal Liverpool Philharmonic Orchestra, Paul Mann (conductor)
TOCCATA CLASSICS TOCC0400 (CD)