Main content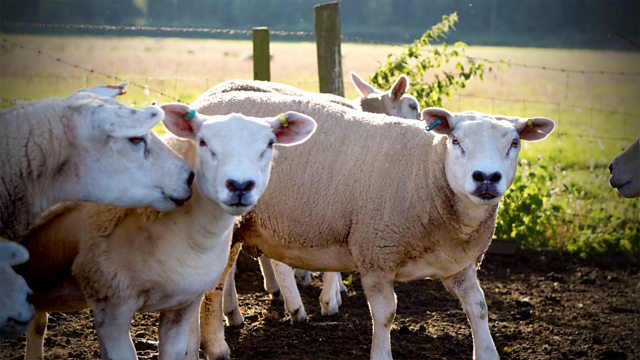 06/10/2017
Lilian has ammunition, and Emma eyes a new venture.
Eddie and Ed drive over to Penny Hassett to pick up some cider apples from Eddie's mate Colin. Joe thinks it'll be a waste of time, but joins them to exercise his power to veto substandard apples. Joe cheers up when he realises that the apples are rare tumble tussocks. Eddie is determined to find the tree from which they came.
Ed asks for Emma's help choosing which semen to buy to inseminate his Texels. She gives her opinion, but asks to be spared the details. Emma's upset to learn that Neil has already filled the space in the Parish Council. Ed thinks it sounds boring, but Emma wants her family to be taken seriously. Neil is pleased by her interest, and explains that it's not too late for her to stand against Robert.
When Justin returns home from Edinburgh he discovers that Lilian has torn up the contract incorporating Amside into Damara. Lilian explains that she's been rethinking a lot of things after having discovered that Justin was working with Miranda. Justin tries to explain that he only kept that information from Lilian so as not to upset her. But he makes things worse by revealing that he allowed an elderly aunt of Miranda's to believe they were still married. A furious Lilian banishes him to the guest bedroom.
Credits
| Role | Contributor |
| --- | --- |
| Writer | Keri Davies |
| Director | Peter Leslie Wild |
| Series Editor | Huw Kennair-Jones |
| Pip Archer | Daisy Badger |
| Josh Archer | Angus Imrie |
| Jolene Archer | Buffy Davis |
| Brian Aldridge | Charles Collingwood |
| Phoebe Aldridge | Lucy Morris |
| Christine Barford | Lesley Saweard |
| Lilian Bellamy | Sunny Ormonde |
| Harrison Burns | James Cartwright |
| Neil Carter | Brian Hewlett |
| Alice Carter | Hollie Chapman |
| Ian Craig | Stephen Kennedy |
| Matt Crawford | Kim Durham |
| Justin Elliott | Simon Williams |
| Eddie Grundy | Trevor Harrison |
| Clarrie Grundy | Heather Bell |
| Anisha Jayakody | Anneika Rose |
| Shula Hebden Lloyd | Judy Bennett |
| Alistair Lloyd | Michael Lumsden |
| Adam Macy | Andrew Wincott |
| Kate Madikane | Perdita Avery |
| Lucas Madikane | Connie M'Gadzah |
| Robert Snell | Graham Blockey |
| Lynda Snell | Carole Boyd |
| Oliver Sterling | Michael Cochrane |
| Roy Tucker | Ian Pepperell |