Main content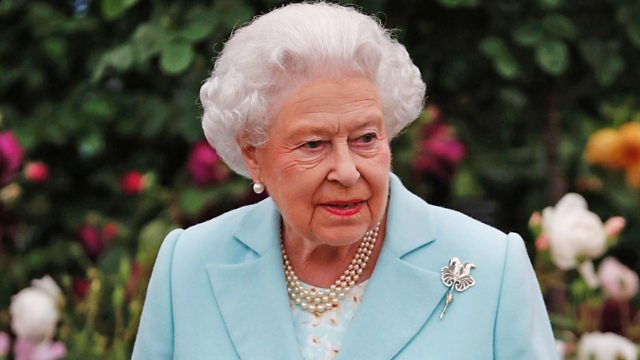 Frogmore House and Gardens
Peter Gibbs chairs GQT, continuing the programme's 70th anniversary celebrations throughout 2017. Matthew Wilson, Anne Swithinbank and Matt Biggs take the questions.
Peter Gibbs chairs a very special edition of GQT, continuing the programme's 70th Anniversary Celebrations with a visit to Frogmore House and Gardens in Windsor Great Park - an historic royal retreat rarely open to the public, where The Queen takes a keen interest in the gardens.
The highlight of the programme is a recorded message from Her Majesty herself, on the occasion of the programme's 70th anniversary, while Peter Gibbs takes the opportunity to meet up with The Keeper of the Gardens, John Anderson, to hear how The Royal Family have long influenced the landscape at Frogmore, right up to the present day.
We also hear from Rufus Bird, Deputy Surveyor of The Queen's Works of Art, on how a theme of gardening and botanics can be found running throughout the house.
Regular panellists Matthew Wilson, Anne Swithinbank and Matt Biggs join Peter in The Duchess of Kent Sitting Room to take questions from a local gardening audience.
Produced by Darby Dorras
Assistant Producer: Laurence Bassett
A Somethin' Else production for BBC Radio 4.
Clips

Fact Sheet
Q – My daughter has moved into a house with a rampant evergreen vine up the wall.  We believe it's a Sausage Vine (Holboellia coriacea) but we don't know how/when to cut it back in order to see out of the windows.  What should we do?
Matt – Prune in the spring once frost has finished.  Cut it back to a junction of another root and go back quite far as it will bounce back.  Prune it back bit by bit over a few years. 
Matthew – If she's just moved in, why not give her some moving-in presents like an Eggplant, Pignut, Lamb's-Ear, Turkey Oak… make a mixed grill!
Q – What is your favourite Hydrangea?
Anne – aspera are nice.  I would go for paniculata; one like 'Limelight'.  There are some new ones with dubious names like 'Pinky Winky' but they're very good.
Matthew – I have arborescens 'Annabelle' in my garden. 
Matt – I like the climbing Hydrangea. 
Q – What considerations should a balcony gardener take into account to make the most impact throughout the year?
Matthew – Remember, when gardening in containers, you still need to water even if it has been raining. 
Anne – I saw someone put Camellias on the seafront once and they didn't work out well!  Nothing woodland is going to appreciate a balcony.  Phormium, Bamboos, and Agaves worked. 
Feature:
Gleditsia triacanthos 'Sunburst'
Grasswort
Japanese Rhododendron yakushimanum
Tulips
Azaleas
Primrose
Q – We planted a pleached Hornbeam hedge a year ago and we'd be grateful for planting ideas at its feet. 
Anne – You've essentially got dry shade then.  I would use hardy Geraniums, Polystichum setiferum (Soft Shield fern), Lamium orvala.  Bulbs like Scillas and Chionodoxas too.
Matt – Geranium phaeum 'Lily Lovell' and 'Samobor'. Geranium macrorrhizum.  Cyclamen hederifolium
Matthew – Osmanthus heterophyllus in ball form.  Driopteris eurethosora.  Polystichum setiferum 'Herrenhausen'. Deschampsia 'Golden Veil'
Q – We have a number of Scots Pine.  One appears to be dead and a year ago it's bark went a deep red and then peeled away.  Is this a problem for the rest of the trees?
Matthew – If the tree was diseased you should have it removed.  If it's dying through old age etc then there's no need.  Send a sample away to confirm. 
Q – How can I revive a standard Photinia that's one of a row of five that was nearly uprooted in this summer's gales? 
Anne – You need to reduce the top of the plant.  Do that in spring. 
Matthew – When you've reduced the canopy use a folia feed to give it a boost
Q – Which tree would you like to grow in your garden but can't?
Matthew – I could never get away with Oxydendrum and Nyssas in my soil. 
Matt – I was struck by the Sequoiadendron giganteum here at Frogmore. 
Gift
Daphne bholua 'Jaqueline Postill'