Main content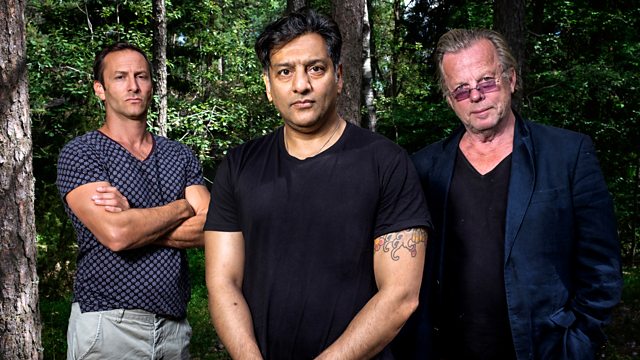 The Most Wanted Man in Sweden
4 Extra Debut. Krister Henriksson stars in Danny Robin's drama about a refugee terrorism probe inspired by real events. Recorded in Sweden.
When an Iraqi asylum seeker unwittingly becomes the most wanted man in Sweden, he and his Swedish interrogator make a surprising plan to clear his name.
Krister Henriksson (the original Wallander) and Nitin Ganatra (Masood in Eastenders) star in this funny yet poignant drama by Danny Robins (The Cold Swedish Winter).
Nitin Ganatra plays Mohammed, a refugee who has arrived in Sweden after a long and arduous journey to escape the so-called Islamic State. He is sent to the tiny frozen town of Boliden in the far north of the country but, when one day he is arrested by armed police, he discovers that his face has been on every TV channel and newspaper front page as "The Most Wanted Man in Sweden". Taken to Stockholm to be interrogated, he finds himself trapped in a Kafkaesque nightmare, trying to prove himself innocent without knowing what he is accused of.
Krister Henriksson is Jörgen, the Swedish policeman who must get to the bottom of what has happened. Mohammed protests his innocence and his stories ring true, but is there something about his past that he is hiding? As Mohammed relates his sometimes dangerous journey to Sweden and his attempts to integrate with a people so different from his own, Jörgen, finds himself growing to like his suspect. But he is joined in the interrogation by Charles (Josh Lenn), an American intelligence officer with very different views.
The drama is inspired by the true story of Moder Mothanna Magid.
Mohammed ...... Nitin Ganatra
Jorgen ...... Krister Henriksson
Charles ...... Josh Lenn
Swedish Policeman ...... Thomas Eriksson
Music by Rawaa Barnes and Ramzi Sleiman.
Written by Danny Robins.
Director: Frank Stirling
A 7digital production for BBC Radio 4 first broadcast in 2017.
Last on

How did an innocent asylum seeker become Sweden's public enemy number one?
Clips

Credits
| Role | Contributor |
| --- | --- |
| Mohammed | Nitin Ganatra |
| Jorgen | Krister Henriksson |
| Charles | Josh Lenn |
| Swedish Policeman | Thomas Eriksson |
| Director | Frank Stirling |
| Writer | Danny Robins |
Broadcasts