Main content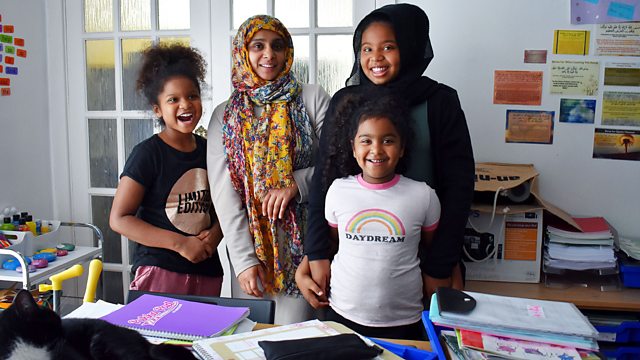 Out of School, Out of Sight
Winifred Robinson examines if a mandatory home education register might offer better protection in a variety of cases where youngsters are taken out of the school system.
Photo: Abdur Rahman and his wife Iram love home educating their 3 daughters and feel the girls get a terrific experience from the range of educational and social activities they plan as a family.
Nobody knows exactly how many children are being educated at home because parents are under no obligation to tell the authorities - registration isn't mandatory, although there were close to 30,000 children on the voluntary registers kept by local authorities in 2016/17 academic year. This represented a 97 per cent increase on the 2011 figures. Councils point to a number of reasons for the increase, including the fact that more parents are removing their children from school to avoid prosecution for poor attendance, or because the pupil might be at risk of exclusion.
In Bradford Winifred Robinson meets 14 year old Mohammed, whose mother opted for home education rather than have him sent to the pupil referral unit. She readily admits she's out of her depth trying to teach him and says she has not really managed to do it in the ten months that he's been at home. She says his bad behaviour at school had caused problems: "The school said if you don't want him going into the pupil referral unit, then you have to home school him. I'm not that educated myself and I work in the mornings, I didn't really know what I was agreeing to and it isn't working for him."
Mohammed agrees, saying that his Mum means well but has no understanding of the curriculum: "My mum, she isn't a teacher for teaching Maths, English and Science. I've got nothing to do, so I go back to sleep, or play on the X Box. When I went to school I was around other children and I was happy. Now it's just a boring being alone - I don't like it." Mohammed wants to get back into school, but he's now struggling to find a school that will take him and is worried about catching up.
According to Abdur Rahman, it is happening more frequently: he runs an intervention program for excluded youngsters and tells Winifred that if a child doesn't engage in school they can become a negative influence: "Eventually the only other option for the school is to say 'elective home school'. Abdur Rahman sees both extremes of the home education debate because he and his wife took the very positive decision to home educate their three daughters. They are able to give the girls attention and direction in their home classroom. His concern is at the other end of the spectrum when parents almost have the decision forced on them by schools who should be doing more to engage some pupils. They go to the parent and say, 'if you're child doesn't come to school you could be fined'. Then the option comes, 'well, you could elective home school'. Schools work like a business nowadays and if that child isn't going to get them what they need then they will go down this road."
Councillor Richard Watts chairs the Local Government Association's Children and Young People Board and thinks that strengthening the powers of local authorities will help avoid cases of children slipping below the radar: "What the lack of rules does is present some loopholes where some children are taken out of schools for reasons that don't have the child's best interest at heart and actually some schools we know are effectively putting a lot of pressure on parents to home educate their kids to get them off the roll when exam comes around.
It's an issue Lord Soley hopes to address through his private members bill, which would make it mandatory to register home educated pupils with the local authority, who would monitor their 'educational, physical and emotional development.' Currently, a parent of a school-age child must ensure he or she gets a full-time education, 'either by regular attendance at school or otherwise,' and that it must be suitable to their age and ability. Lord Soley says that whilst most parents do a good job of teaching their children at home, the voluntary system can leave some families slipping through the net.
Greg Smith, head of operations at Oxford Home Schooling, a not-for-profit trust that provides educational material for home educators, feels that the proposed measures go too far. He tells Winifred that the only other occasion on which the state has the right to enter your home is: "if you've committed a crime." He is worried that some local authorities treat home education on a par with truancy, or as a safeguarding problem, rather than working with parents: "Councils should be supporting these parents with the choices they are making."
Last on
Broadcast