Main content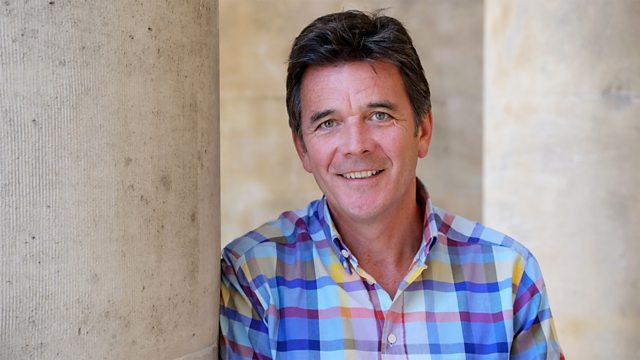 Big baby birth trial, Uveitis, Telephone triage, Burns
Dr Mark Porter meets the Bristol team behind a pioneering way to protect the vision of children with arthritis, a UK discovery which has changed treatment around the world.
Mention arthritis and most people think of older people with osteoarthritic hips or knees. But children get arthritis too, although it's an inflammatory condition where
the child's immune system attacks the lining of the joints causing pain, swelling and stiffness. But the joints aren't the only part of the body affected. Around one in six of the 12,000 children in the UK with juvenile idiopathic arthritis also develop worrying inflammation in their eyes, uveitis. This is a silent, symptomless condition which can result in significant visual impairment and even blindness. But a new drug treatment, tested in the UK, has proved to be so successful for this group of children that it has revolutionised treatment both in this country and around the world. The benefits were so large that the trial was stopped early and the new therapy adopted as frontline treatment. Dr Mark Porter visits the Bristol Eye Hospital and meets paediatric rheumatology consultant, Professor Athimalaipet Ramanan to find out more.
Bigger babies can get stuck in the final stages of labour - a condition called shoulder dystocia. Most are delivered safely but there are both enormous risks to the baby through lack of oxygen and a traumatic experience for the mother. Professor of Obstetrics at Warwick Medical School, Siobhan Quenby, tells Mark that a nationwide trial of big baby births aims to find out whether delivering the child two weeks early, at 38 weeks, reduces shoulder dystocia and makes the birth safer for mother and child.
A report by NHS England highlights cost savings of around £100,000 for GP practices that use telephone triage for patients. But the first independent evaluation of this system, where everyone speaks to a doctor on the phone before they get a face to face appointment suggests that policy makers should reconsider their unequivocal support. Inside Health contributor Dr Margaret McCartney, herself a GP, reviews the findings.
Several thousand people a year, many of them children, are admitted to hospital every year with serious burns. One of the country's leading centres for burns victims is at the Queen Elizabeth Hospital in Birmingham. As well as serving 13 million people in the local area, the Healing Foundation UK Burns Research Centre treats injured service personnel, airlifted from conflict zones in Iraq and Afghanistan. Mark gets a tour of the unit from director Naiem Moieman and finds out about the newest research on burns treatment which uses some of the oldest remedies.
Programme Transcript - Inside Health
Downloaded from www.bbc.co.uk/radio4
THE ATTACHED TRANSCRIPT WAS TYPED FROM A RECORDING AND NOT COPIED FROM AN ORIGINAL SCRIPT.  BECAUSE OF THE RISK OF MISHEARING AND THE DIFFICULTY IN SOME CASES OF IDENTIFYING INDIVIDUAL SPEAKERS, THE BBC CANNOT VOUCH FOR ITS COMPLETE ACCURACY.
INSIDE HEALTH
Programme 3.
TX:  03.10.17  2100-2130
PRESENTER:  MARK PORTER
PRODUCER:  ERIKA WRIGHT
Porter
Coming up today:  I meet the team behind a pioneering new treatment to protect the vision of children with arthritis.
Clip
The trial was stopped early, which is a sort of once in a lifetime event, and an independent data safety monitoring committee decided that it was unethical on account of how effective this treatment was to carry on beyond the 90 patients we'd recruited.  Which, needless to say, was a remarkable success and called for a lot of celebrations.
Porter
GP Margaret McCartney examines the impact of telephone triage – far from relieving pressure on a stretched service, could telephone consultations actually be making matters worse?
And burns – I visit a state of the art unit testing some surprisingly old remedies.
But first, babies – big babies.  Every year in the UK nearly 3,000 get stuck in the final stage of labour, a condition called shoulder dystocia.  The baby's head delivers normally but the rest of the body can't follow because the shoulder gets wedged behind the pelvis.  And the bigger the baby is the more likely it is.
A team from the University of Warwick is about to embark on a trial of a different way of helping women with bigger babies deliver safely.
Siobhan Quenby is Professor of Obstetrics at Warwick Medical School and has witnessed the shoulder dystocia more times than she would like.
Quenby
What happens is the midwife or a doctor has delivered the head but the body doesn't follow.  Immediately they identify this they press an emergency buzzer.  Once they have pressed the emergency buzzer then lots of healthcare professionals run into the room.  So the technique involves increasing the size of the mother – so that's to do an episiotomy or a small cut in the perineum – abduct the hips, that means to put the knees up against the chest, that increases the size of the bony pelvis.  Then someone presses down on the baby's shoulder to literally squash the baby's arm in towards its chest to make it smaller.  Then there's a series of rotation manoeuvres we can do and this is absolutely terrifying for the patient and the husband.  Quite often the husband faints, so in my experience one of the first things I do when I run in the room is tell the husband to sit down.  Some of them don't sit down but then they go white and sweaty and realise why I said it.
Porter
How long do you have to get baby out in a situation like that?
Quenby
The problem is that as soon as the baby's head's born there is going to be a lack of oxygen.  We have about 10 minutes before permanent brain damage is caused.  Ten minutes is quite a long time but we do not want to waste a single minute.  And when you're in an emergency situation time slows down, so a minute to me feels like five minutes.  So to get over this problem we also shout the time out to a person so that we know exactly how long we've been because you lose the ability to assess time.
Porter
And baby's not getting any oxygen because he or she is stuck between two worlds, they can't breathe because their chest is being compressed and the umbilical cord, which is supplying them in the womb, that's being squeezed as well – is that the problem?
Quenby
That's exactly it, yes, they get very little or no oxygen at all during this time.
Porter
And is size the principle cause – is it mainly because he or she's too big?
Quenby
Well it's the mismatch between the size of the baby and the size of the woman's pelvis.  So it's more – much more common in larger babies, although occasionally it happens in babies that aren't known to be large.
Porter
Do you get any warning during the mother's pregnancy that this might be an issue, other than the size of the baby?
Quenby
During the delivery what sometimes happens is you do get a little bit of warning because like the top of the baby's head will deliver but not the chin.  We have these funny terms in obstetrics, so the midwifery term for this is turtling, which actually is what it looks like, so only half the head comes out and when we see that sometimes people start getting ready to do the manoeuvres but it's only in the last few minutes do we really get warning.
Porter
What's the outcome for both mother and baby when shoulder dystocia occurs?
Quenby
Well the NHS figures at the moment are actually very, very good, so the vast majority of babies and mothers end up as healthy individuals.  However, there is a loss of morbidity, so that there's trauma to the mother's perineum, there's trauma to the baby in terms of bruising and fractures.  And a lot of psychological trauma to the mother and her husband who is in the room, so a lot of people, for example, don't embark on a second pregnancy as a result, that would be a common outcome.
Porter
Tell us about your study and what you're planning and what you're hoping it will change.
Quenby
What we want to know is if we delivered the babies a little bit earlier would that stop this horrible thing happening to people.  So we've calculated that if we offered people with large babies induction at 38 weeks, rather than waiting to 40 weeks or term, on average they would be 300 grams lighter and this 300 grams should make a difference as to whether you get shoulder dystocia or not.  The problem is that by inducing people you actually make the labour a lot less pleasant.  When the woman then comes to push she's more tired than if she goes into spontaneous labour.  So although inducing people two weeks early would make the babies smaller it might mean that when the woman comes to push, which is the critical part of delivery, she's more exhausted so it won't necessarily reduce shoulder dystocia.
Porter
So how are you going to answer that question?
Quenby
So the only way we can answer a difficult dilemma like this is to do a randomised control trial.  We then need to ask 4,000 women if they'll be in our trial in order to get enough people who'd get should dystocia to see if we can actually reduce the incidence.  So this is going to be a very big trial, it's going to involve the vast majority of maternity units in the UK.
Porter
And what difference will this make to you and your colleagues – being able to advise women on the basis of good sound evidence?
Quenby
Oh it's something we desperately want because at the moment we see decisions about delivery as a partnership between the consultant obstetrician and the patient.  And in order to make these decisions we need information and so we have this concept of informed consent.  At the moment we don't have the information and a lot of women get angry and feel that we didn't offer them choices.  So this information will be absolutely critical to helping people decide what's the best mode of delivery for them in the future.
Porter
Professor Siobhan Quenby and there is more information on shoulder dystocia and the new study on the Inside Health page of the Radio 4 website.
Mention the term arthritis and most people immediately think of older people with osteoarthritic hips or knees, but children get arthritis too, albeit a different form from the type most likely to affect their grandparents.
Juvenile idiopathic arthritis is an inflammatory condition where the child's immune system attacks the lining of the joints causing pain, swelling and stiffness. But the joints are not the only part of the body affected – around one in six of the 12,000 children in the UK with JIA also develop worrying inflammation in their eyes.  And unlike the inflammation in their joints this uveitis is typically silent and painless.  But it is far from harmless – uveitis can result in significant visual impairment and even blindness.
Spotting and managing eye complications has long been a challenge for all those involved in the care of children with arthritis but a landmark trial published this year is changing treatment around the world. 
As I discovered when I joined paediatric rheumatologist, Professor Ramanan, who led the study, in a joint clinic he holds with ophthalmologist Dr Richard Lee at the Bristol Eye Hospital.
Eleven year Keira has had arthritis and uveitis and has come to have her joints and eyes checked.
Lee
So would you mind just putting your chin on the rest, that's fine?  There's going to be a bright light, I'm just going to position your chin here, that's good.
Keira's mum
I'm Tracy Gazzard [phon.], Keira's mum. 
Porter
When did you first notice that something wasn't quite right?
Keira's mum
When she was at pre-school.  I thought that she had jumped off a chair and perhaps just caused some inflammation to her ankle because kids are jumping off chairs and beds all the time.  But it went on for a couple of weeks and I thought this is more than just a sprained ankle.  And we were referred to the amazing Dr Ramanan and that's when it all started.
Porter
Left untreated how serious is uveitis?
Ramanan
If left untreated one in two will have some significant visual complication from the uveitis.
Porter
Complications like?
Ramanan
The complications may have some loss of vision, an inability to read properly, cataracts which can impair vision.  They can get calcification in the eye, we call it Band Keratopathy.  They can get attachment of the iris, the pupil's shape will be abnormal.  And raised intraocular pressure, which is very serious and may need surgical intervention.
Porter
When it's bad, your arthritis, what sort of problems has it caused you?
Keira
Swelling in my ankle, cells of my eyes.
Porter
Do you notice the problem with your eyes?
Keira
No I can't feel anything.
Porter
So there's a problem there but you've never – your eyes have never been sore or any problems like that?
Keira
No.
Porter
What about the joints – which is the worst one you've had?
Keira
Ankle definitely.
Porter
And what happened to your ankle?
Keira
It just swelled up really bad and I couldn't barely walk on it.
Lee
That's perfect.  And the front of this eye looks pristine.  Absolutely clear.  Just have a look over on this side.
Porter
Richard, what do you notice when you're looking at them, what do you see that's different, what are the tell-tale signs?
Lee
There are some characteristic features that affect the surface of the eye, such as calcification.  And we use essentially a microscope to look under a bright light into the front chamber of the eye and it's possible to see individual cells at that magnification floating around the front of the eye and we use that as a grading scale – how many cells there are in the eye tells us how severe the inflammation is – and then we can institute treatment based on that readout and then measure a response.
Porter
And those cells are cells of inflammation…
Lee
They are.
Porter
…so that's a very simple marker – if they're not there there's no inflammation.
Lee
Normally cells do not leave the bloodstream to get into the clear media of the eye and when there's inflammation that barrier to cells coming out breaks down and we can visualise them.
So the last time you were here there was a little bit of inflammation in the front of the eye and I'm pleased to say today there's nothing.
Porter
Keira has been taking a new combination of drugs, the end result of 12 years work by paediatric rheumatologist, Professor Ramanan.  Along with ophthalmologist colleagues he was all too aware some children were developing significant visual impairment despite receiving the standard treatment for arthritis, methotrexate.
Newer treatments, the so called biologics, hadn't been tested on children.  So, funded by the NHS and the charity Arthritis Research UK, Professor Ramanan set up a trial to test the effect of adding in one of these new biologics – the monoclonal antibody adalimumab.  What happened next is very unusual.
Ramanan
The trial was stopped early, which is a sort of once in a lifetime event, not going to happen again in my lifetime I think, and after 90 patients an independent data safety monitoring committee, which is there to monitor the progress, the safety, of the study, decided by looking at the data that it was unethical on account of how effective this treatment was to carry on beyond the 90 patients we'd recruited.  Which, needless to say, was a remarkable success and called for a lot of celebrations.
Porter
Can you paint me a picture of just how effective – I mean what difference was it actually making to the children?
Ramanan
So if I was to paraphrase the stats, which are always complicated, is that if you were on the active drug, as opposed to the placebo, you had a 75% chance of having control of the inflammation.  Whereas the dummy or the placebo patients were roughly about 20%, which is the standard placebo response.
Porter
So one in five controlled in one arm and three quarters controlled in another effectively.
Ramanan
Absolutely.
Lee
So do you want to have a look at your scan?  Here we are.  This is your left eye, Keira, that we're most interested in and been concentrating on because it was inflamed before.  And the cross-section here of the back of your eye, which we call the retina, looks absolutely normal.
Keira's mum
So there were no cells at all then?
Lee
No cells.
Keira's mum
Wow brilliant.
Lee
Yeah really good, which is great.
Keira's mum
Well that's good to know.
Lee
Okay great, thank you.
Ramanan
What do you think about the scans?
Keira
Good.
Ramanan
Let me have a look at your joints.  Just take your shoes off, you can…
What we've done is looked at the movement of the joints of the upper limb, the neck and the jaw, which is all moving beautifully, now I'm looking to see how well her hips move and the knees.  Some of these we do actively, [indistinct words] those movement, and the others I do passively.  As you can see Keira's joints are in great shape, I wish mine would move as well.  Sit up please and we're all done, so that's good.
Porter
And I mean an appointment like today must be great, I mean her joints are great, her eyes are fine.
Keira's mum
Yeah well to hear that there's no cells and inflammation in that left eye is like – ahh my whole body relaxes, yeah.
Porter
Ram, historically has management been good of uveitis in children with arthritis?
Ramanan
We've been aware of this problem for several decades now, unfortunately management hasn't been that joined up as it could be.  We have about a fifth of our patients, at least 20% even today, needing some sort of surgical intervention before the age of 16, as a consequence of having the uveitis.  And this might be cataract surgery, this might be glaucoma surgery when they have very high pressures, this might be surgery to release the bands of calcification that they have developed.  Which is all showing that we are missing that window of opportunity when we can intervene.  But what the trial has demonstrated, not only is the efficacy of a new drug but the benefits of working together between an ophthalmologist and a paediatric rheumatologist which has certainly enabled a better access to appropriate treatments, better communication between the professionals.  And the patients certainly appreciate it because we can have the entire care in one room with all the professionals discussing together and deciding the right way forward.  And that I think coupled with these advances will result in better visual outcomes in the next decade.
Keira's mum
Alright sweetie?  All good yeah.
Ramanan
Do you have any questions?
Keira
No I haven't got any questions.
Ramanan
Back to school I'm afraid then.
Keira
Yes.
Porter
A relieved Keira after her appointment with Professor Ramanan and Richard Lee.  For more details of their research, visit our website.
Now you don't need me to tell you how difficult it is to get in to see your GP these days.  It is not a new problem and, like many practices, we have tried all sorts of initiatives over the years to cope with rising demand.  Telephone triage, where everyone speaks to a doctor on the phone before being offered a face-to face appointment, is one such initiative and it's had support from on high.  A report by NHS England highlights cost savings of around £100,000 per practice and significantly fewer A&E attendances among patients whose practices offer the service.
But the first independent evaluation of telephone triage has just been published and the findings are not quite what many expected.  Margaret McCartney is in our Glasgow studio, Margaret what were the headline results?
McCartney
So the bottom line is these systems do not reduce workload to GPs, they don't reduce costs in secondary care and they did increase access of patients to getting to see a GP or speak to them on the phone.
Porter
So looking at the results in detail, I mean the face-to-face consultants were down but that was more than compensated for by the time spent on the phone – the doctors actually spent longer speaking to patients.
McCartney
They absolutely did.  So there was an 8% rise in GP time spent consulting and a 28% increase in consultations overall, that's the total of phone consultants plus face-to-face.
Porter
But looking at some of the patient responses, the patients were often seen more quickly, so patients would appreciate that would they not?  Doesn't matter if the doctor's working harder as far as the patient's concerned.
McCartney
Yes I agree, there were many – patients did like it but actually patients were asked – did they like the new system or not – and 32% of patients said they would keep this new system, they liked the idea of being phoned back quickly and in fact two-thirds of patients were called back within the hour by their GP.  But 30% of patients said they wanted to go back to the old system, actually a quarter of patients said it was actually harder to communicate with their doctors over the phone and 38% of people in the survey said they didn't know, they didn't have a preference about going either back to the old system or staying on the new one.  So there are lots of nuance contained inside this study that I think starts to unpeel really what different groups of people felt about it.
Porter
But the accepted wisdom, up until now, has been that this system is good and that it reduced demand and it reduces demand both in the general practice and in the local A&E department in the hospital and actually what this study shows is the exact opposite of that.
McCartney
Yes so – and I think this is one of the reasons why independent studies are so important and getting data independently and look at it are really an essential thing to be done especially when many clinical commissioning groups have been giving money to GP practices to set this kind of thing up with the idea that it's going to reduce demand and increase access.  Now certainly access does seem to be increased but we cannot be sure that it's decreasing demand or reducing costs.
Porter
The other thing that struck me was that this involved 145 practices and this was an average effect.  And actually if you look at the data more closely some practices had reduced demand, did very well, others had massively increased demand, so it seemed that some practices were doing this quite well and others weren't doing it very well at all – could that have been a factor?
McCartney
This is the curse of the average isn't it because it makes it hard sometimes to see outliers.  And you're absolutely correct – there were practices that seemed to really like this system, they seemed to feel as though it put them more in control, their demand was reduced whereas there were other practices that things actually seemed to get even worse and they seemed to find it really difficult to use the system effectively.  The other big issue is that this study didn't look at safety.  Now the proponents of these systems will say it's more safe because doctors are speaking to patients faster.  We don't know about all the patients who phone up and who can't get an appointment for two or three weeks.  But there has been other research done that said that phone appointments have hazards, that people present fewer problems to them, they don't get as much counselling or advice and there isn't as much rapport built up between the doctor and the patients.  So there are issues, I think, related to that as well.  There are safety concerns on both sides and unless we have really high quality data that can help with that we simply don't know the answer.  We do know that this phone system was associated with around about 2% increase in secondary care use and whether that means there were problems generated that we didn't pick up on the phone through this new system or not we simply don't know.
Porter
Because there was actually an increase in emergency admissions so one possible explanation of that is – what you're suggesting – is that things went wrong and people get sicker.
McCartney
Well we simply don't know but that would be one explanation yeah.
Porter
Thank you Margaret and there is a link to that study in the BMJ on our website.
Seven thousand people a year are admitted to hospital with serious burns in the UK, many of them children.  The Healing Foundation UK Burns Research Centre at Queen Elizabeth Hospital in Birmingham is one of the leading units designed to care for both injured military personnel returning from war zones like Iraq and Afghanistan, and the 13 million civilians living in its catchment area.
Yet for such a cutting edge unit, the team is exploring some unusual ways of improving burns care.  Director and burns consultant Naiem Moiemen showed me around one of their 15 specially designed rooms.
Moiemen
So this is a typical high dependency unit, temperature controlled, it's a little bit warm here.
Porter
It is warm and that's on purpose presumably?
Moiemen
Correct, the burns patient because they lose the skin integrity they really exude a lot of fluids and the temperature control is not normal so you really need to make the environment warm.  So we keep the temperature around – between 30-32.  And this room we can do all dressing changes and you can see the far end of the room, we call it wet room area, and we can shower the patients and we put them in a shower trolley, as you can see down there, and we can give them heavy sedation and clean the wound properly and then dress them up and back again to the bed.
Porter
But that's the threat to the patient is that they've lost a large – I mean maybe 10%, 20%, 30% of their skin, what are the risks associated with that?
Moiemen
The highest risk is infection, if bugs get through the wounds, that's why we shower, we clean and do dressing every day, can invade and can go into the circulation and can cause what we call septicaemia, which is basically bugs into the blood.  And this can be very serious to the life of the patients.  And this is the case while the wound is open.  So the biggest challenge is to close the wounds as soon as we can and achieve healing as soon as we can.  It's very difficult with big burns but that's the challenge.
Porter
Talk me through what happens when you get burnt.
Moiemen
The common example of the mildest form of burns is a sunburn.  The skin has two layers, we call it the top layer epidermis and the lower layer is called the dermis.  So with the sunburn you get just only the very superficial part of the skin peels off and this heals within two or three days, it doesn't leave any problem at all, as long as it heals within seven days.  If we get, for example, a scald burn it can go a little bit deeper, the lower layer, which is called the dermis, and it depends really how much of the dermis is affected and this will have the implication on the long term outcome.
Porter
And how does this fit with the grading system you hear about a first degree, a second degree and a third degree burn?
Moiemen
So the first degree, as we mentioned, is the sunburn; second degree, anything that is confined within these two layers – the epidermis and the dermis – is a second degree and anything deeper than the top layer of the skin, down to the fat, is a third degree.
Porter
And this third degree burn is the one where you lose everything and that's the major challenge for you?
Moiemen
Absolutely, that will need surgery, that needs skin grafts and we know with all the technology we have at the moment these patients will be compromised with scarring.
Porter
Just down the corridor Louise Baines, Senior Sister in the Burns Centre, is checking on Steven.
Baines
How have you been today?
Steven
Not too good today because my head's swelling and it's sort of taken the energy away from me, I feel a bit lethargic and a bit sore in my head.
Porter
Steven's been on the unit for a few days after a bit of DIY went seriously wrong.
Steve
Basically I was at my son's house soldering some copper pipe and the blow torch just blew up in my face, engulfed me in flame.
Porter
So what I can see, that our listeners obviously can't see, is that your whole face has been burnt and your right arm?
Steve
Yeah right arm, leg, side, yeah it wasn't very pleasant, just engulfed in a whole vapour of flame.  I just hit the grass, rolled over, stripped off, ran upstairs into the shower and had a cold bath for about half an hour, till the paramedics come, just to try and reduce the burning – even it got to my throat a little bit as well.
Porter
And how are you feeling now?
Steve
Not too bad in myself.  Face is obviously swelling, which I'd like to say the viewers can't see, but pain relief is good so I'm doing okay.
Porter
Yeah that looks pretty sore, has it been uncomfortable?
Steve
It was very painful actually.  A lot of gas and air and even with that it was still very, very sore – the cleaning process.  It took a lot of firm rubbing to exfoliate the skin – the dead skin around there – but it had to be done.
Porter
Looking at your arm here you've got a big dressing on there, what's it like having – have you had that changed?
Steve
Not yet, I mean it is leaking because obviously there's blisters under there that have popped, but it's comfortable.
Porter
And no more soldering for a while?
Steve
No, never going back to that again.  I'll use compression joints in future.
Bamford
I'm Amy Bamford, the Senior Research Sister at the Burns Centre at the Queen Elizabeth Hospital Birmingham.  Scarring is a really long term issue.  Patients obviously are very distressed at the time of their burn but a lot of people don't realise that actually scarring can affect them for the rest of their life.  One gentleman that I see on a regular basis who actually had his burn injury 22 years ago and he will come for reconstructive surgery, so he's got contraction of some of his limbs, which means he has quite limited function where the scar has grown tight over the limb and that means that he will need a release of that, and by release I mean that we basically remove the scar surgically and put a skin graft in place.
Porter
So this is 22 years on from his injury and he may well be needing care for at least another 22 years?
Bamford
We hope that we don't see them every year but it might mean that they come back every few years for a release.  Obviously those are for the patients that have a very big burn but you've obviously got a lot of joints in your body and if it involves a lot of your joints it might mean that you need surgeries over the future to allow you to lead a better quality of life and allow you to go back to work and move your limbs freely.
Porter
Reducing scarring by encouraging the wound to heal as quickly as possible is a priority when treating burns and this state of the art unit is employing some surprisingly old remedies to help including a dilute solution of acetic acid – the main ingredient in vinegar – which the Birmingham team has demonstrated can be very effective against bacteria.  Dr Moiemen explains.
Moiemen
We use it to wash a wound and also to use it as a soak – soaked in gauze and put it over the wound.  But we really need to prove if it does really actually work in an objective manner.
Porter
Talking of old fashioned remedies one of the other things you're looking at is honey.
Moiemen
Absolutely right.  Again that's been used across the history.
Porter
I think people can imagine how an acid might control microbes but how's the honey working?
Moiemen
There's a lot of enzymes in the honey and also it is very concentrated – sugary – very concentrated, so what we call a hygroscopic, so it draws water from everywhere, so it's good for the swelling of the wound and also the enzymes that in the honey actually combat bacteria. 
Porter
And that high sugar concentration that's a medium that bacteria don't like, I mean it's one reason why we have jams and preserves obviously.
Moiemen
That's absolutely right and I mean you remember if you have a pot of honey in the cupboard for years.
Porter
So what research are you doing in that field?
Moiemen
There is something called biofilm, which is the amalgamation of the bacteria together, so we've been through a long journey trying to see if the honey is effective with these biofilms and also acetic acid is effective with these biofilms or not.
Porter
So by a biofilm, I mean excuse me using journalistic licence, but we're talking about a sort of thin sludgy layer of bacteria that lays over the wound?
Moiemen
That's absolutely right, it's just like a gelatine really.  And there is a good           research coming in from Birmingham about the honey usage, special honey.
Porter
It's medical grade honey.
Moiemen
It's the medical grade honey.
Porter
And do you apply it on a dressing or do you apply it directly to the wound?
Moiemen
Directly in the wound and cover it with non-adherent dressing.
Porter
Naiem Moiemen from the Queen Elizabeth Hospital in Birmingham.
Just time to tell you about next week's programme when we're looking at the implications of the vaginal mesh scandal – are some women with continence problems now missing out?
ENDS