Main content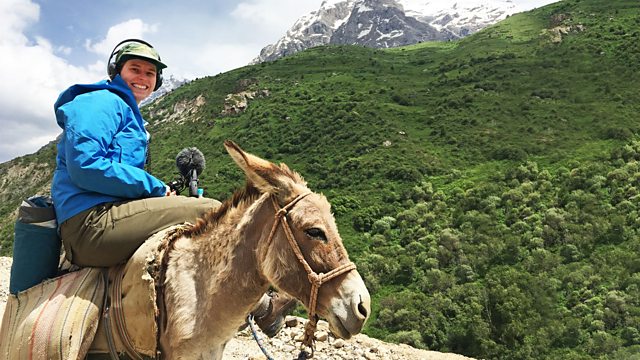 2017: Nicole Bennet Fite. Finding the Woman of Stone
Nicole Bennet Fite, winner of the 2017 Journey of a Lifetime Award, travels deep into the valleys of Tajikistan to find a shrine devoted to women's resistance.
This year's winner of the Journey of a Lifetime Award, Nicole Bennet Fite, travels deep into the valleys of Tajikistan to find a shrine devoted to womens' resistance.
Nicole is a student of anthropology at Stanford University, California and a young radio maker. For six weeks this year she travelled around the small Central Asian republic of Tajikistan and visited the remote and beautiful Yagnob Valley.
On her first big solo adventure as a young woman, her aim is to hear about the experiences of women on her path through Tajikistan.
Crossing glaciers and skirting herds of goats, she makes her way to a shrine at the end of the valley. This sanctified place, deep in the forest, is the preserve only of women. Inside it is a boulder said to represent a Yagnob woman who turned herself to stone to avoid rape by Mongol armies attacking the village 800 years ago.
At the shrine, Nicole has her own epiphany.
About the Journey of a Lifetime award: Are you passionate about radio and podcasting? Are you excited about finding new ways to tell original stories in sound? And are you itching to explore and understand the world around you?
Then we have exciting news for you. The Royal Geographical Society (with IBG), in partnership with BBC Radio 4, is offering a £5,000 grant to help you make a journey - near or far - and a radio programme telling the world about it. You will be given BBC training and ongoing support from a BBC documentary producer.
If this sounds fun to you, you can find out how to apply by clicking on this link: http://bit.ly/1wBNKHB.
Last on
Discover more about the Journey of a Lifetime Award and how you can apply.
Broadcast