Main content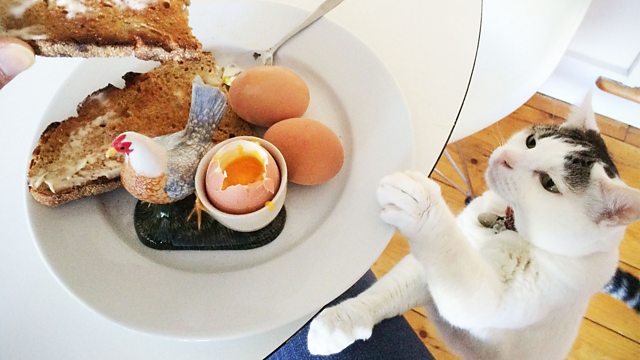 How We Eat: 1. Eating Alone
Sheila Dillon presents a Food Programme series about how we eat now. In the first programme, she explores the guilty pleasures of eating alone.
How we eat says so much about us. Where we come from, our family background, our feelings about our bodies even - our appetite for all kinds of pleasure... There was a time when how we eat was mostly about class, but whether you called it "tea" or "dinner" or "supper", there were still fixed conventions about when and where we ate, and what we ate. These days the certainties, the boundaries, have been broken up. How do we eat now? Well, differently, as this series reveals.
This first programme of How We Eat explores the pleasures and pitfalls of eating alone. As one in three households in Britain is now a single-person household, increasing numbers of people ARE eating on their own. Do we eat differently when we eat unobserved? How do people of all ages, from students to widowers, adjust to suddenly having to cook for themselves?
Sheila Dillon investigates the booming business of ready-meals for one, and hears embarrassing confessions about secret snacks: such as people who shut themselves in the utility room to gorge on chocolate, pretending they're doing the laundry. She visits inspirational cookery writer Anna del Conte, who's in her 90s, to talk to her about the delicious meals she makes for herself now that she's a widow. She goes to a cookery class at a hospice. She talks to students who admit to living on alcohol and crisps. And she meets a man who cooks fresh meals to share with his dog.
Last on
We've uncovered eight reasons why unaccompanied eating might actually be a good thing.
Anna del Conte's Spinach Cake from Lombardy - Scarpazza
Quite a few dishes from Lombardy mix together savoury and sweet ingredients, a combination which makes them quite sophisticated. Can a dish be sophisticated? I think it can, and if you make this one you'll see what I mean.
I give here the quantity of the spinach already cooked, because its weight when raw can vary dramatically according of what type of spinach are used: baby spinach, root spinach  (the best), beet spinach ?

Serves 4

500g   cooked or frozen spinach, thawed
50g white crustless sourdough bread, two days old
150 full fat milk
25g sultanas
4 tbsp olive oil
1 garlic clove, crushed
3 eggs
25g blanched almonds
25g pine nuts kernels
15g digestive biscuits
1/2tsp ground cinnamon
Grated nutmeg
2 pinches ground gloves
4tbsp freshly grated parmigiano reggiano
Extra olive oil and dried bread crumbs for the tin
salt  and pepper


Put the bread in a bowl, cover with 150ml of the milk and set aside .
Put the sultanas in a bowl and cover with hot water. Leave them for 20 minutes or so to plump up.
Heat the oven to 200C/ Gas mark 6.
Using your hands, squeeze all the liquid out of the spinach forming it into a ball. Cut the ball into thin strips and then cut it again crossway.
In a middle-sized frying pan, heat the oil with the garlic . Add the spinach and sautéed for 5 minutes, turning the spinach over and over frequently. Remove and discard the garlic and scoop the spinach into a bowl.
Wipe the pan with kitchen paper and put in it the almonds and the pine nuts.Dry-fry them until golden and then grind them in a food processor, but be careful not to reduce them to powder. You want them grainy, not powdery.
Put the digestive biscuits in a plastic bag and and bash them with a rolling pin until they are reduced to crumbs.
Lightly beat the eggs together and add to the  spinach, together with the almonds, pine nuts, digestive biscuits, spices and cheese. Drain and dry the sultanas and add to the mixture. Mix well and season with salt and pepper.
Grease  a 20cm spring form cake tin with a little oil, line it with baking parchment paper, grease the paper and sprinkle with breadcrumbs. Shake the tin to get rid of excess crumbs. Spoon the spinach mixture into the tin, brush the top  with some oil and cover with foil. 
Place the tin in the oven and cook for 20 minutes. Remove the foil and bake for a further 30-40 minutes or until a skewer, a spaghetti or a wooden stick inserted in the middle of the cake comes out dry.  
Allow to cool for at least half an hour before you unmould it. This cake is also very good cold. I like to serve this surrounded by roasted tomatoes 


Credits
| Role | Contributor |
| --- | --- |
| Presenter | Sheila Dillon |
| Interviewed Guest | Anna Del Conte |
Broadcasts