Main content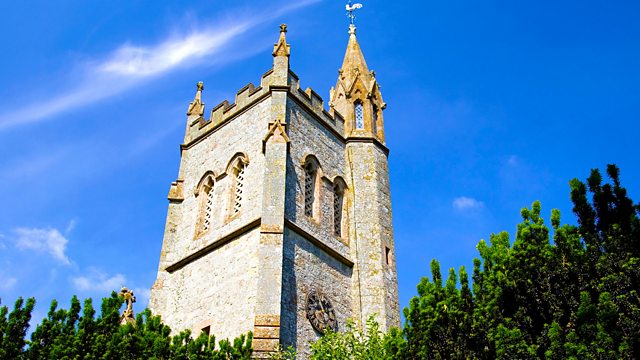 Harvest Service live from Holy Trinity, Westbury on Trym Church, Bristol
Sunday Worship for Harvest, live from Holy Trinity Church, Westbury on Trym, Bristol, in its 1,300th anniversary year and focusing on the words of St Francis of Assisi.
Sunday Worship for Harvest from Holy Trinity, Westbury on Trym Church, Bristol in its 1300th Anniversary Year. Focussing on the words of St Francis of Assisi the service explores our response and responsibility to ecology and the environment with seasonal music and prayers. Led by Fr André Hart and Canon Bruce Saunders.
Director of Music: David Ogden. Organist: Richard Johnson. Producer: Stephen Shipley.
Last on
Script
This script cannot exactly reflect the transmission, as it was prepared before the service was broadcast. It may include editorial notes prepared by the producer, and minor spelling and other errors that were corrected before the radio broadcast.
It may contain gaps to be filled in at the time so that prayers may reflect the needs of the world, and changes may also be made at the last minute for timing reasons, or to reflect current events.
Pres. Anno.: BBC Radio 4. It's ten past eight and time for Sunday Worship, which is a harvest thanksgiving live from Holy Trinity Church, Westbury on Trym, in Bristol. The service is led by the Vicar, Father André Hart, and begins with harvest music by the Canadian composer Sarah Quartel – 'Fill your hearts with joy and gladness'.
Choir  Introit Fill your hearts with joy and gladness  
    Sarah Quartel  
Fr Andre Hart     
Good morning and welcome.
In about the year 717 monks from the Abbey in Worcester made their way south to the river Trym, and built their first small place of worship here on its banks - and so began the ministry and witness of our church in what is now an urban village on the outskirts of Bristol. We're currently celebrating our 1300th anniversary year. From that small beginning this community grew. It has seen centuries of change and upheaval, times of famine and times of feasting, times of conflict and times of peace. The fruits of those who have faithfully laboured on the land, in the community and in the church, are the legacy we rejoice in today.

Our service this morning focuses on both our Harvest thanksgiving and on St Francis of Assisi, whose feast day falls this week. Our first hymn speaks of the beauty and wonder of God's creation, Lord of beauty, thine the splendour.
Hymn (choir & cong.) Lord of beauty thine the splendour  

Fr Andre Hart   Prayer
Spirit of God,
make us open to others in listening,
generous to others in giving
and sensitive to others in praying;
through Jesus Christ our Lord. 
All: Amen
Fr Andre Hart
Harvest is a time when we think about the fruitfulness of the land - and our church this morning is filled with produce from pumpkins to loaves of bread and tins of food. In earlier times food production was life – when crops failed, hardship ensued and winter could bring a battle for survival. Today, there are still parts of the world where the food supply is increasingly precarious.
In the book of Proverbs there is a verse which says: "The fruit of the righteous is a tree of life." Taking stock of the fruitfulness of the Earth and recognising that much is not right, then changing the way we live, is a way to respect and care for our world. There's a well-known phrase that says: live simply that others may simply live. Fruitfulness, when it's considered, is something that is given to us freely and generously; God's good earth gives us food and provides for us in so many ways; when we are fruitful as human beings, the Holy Spirit enables us to give generously to each other in love, joy, kindness and faithfulness; this all makes for a fruitful and just world.
Reader - Celia Davies
A reading from St Luke's Gospel, Chapter 12, beginning at verse 16.
Then he told them a parable: "The land of a rich man produced abundantly. And he thought to himself, 'What should I do, for I have no place to store my crops?' Then he said, 'I will do this: I will pull down my barns and build larger ones, and there I will store all my grain and my goods. And I will say to my soul, Soul, you have ample goods laid up for many years; relax, eat, drink, be merry.' But God said to him, 'You fool! This very night your life is being demanded of you. And the things you have prepared, whose will they be?' So it is with those who store up treasures for themselves but are not rich toward God."
He said to his disciples, "Therefore I tell you, do not worry about your life, what you will eat, or about your body, what you will wear. For life is more than food, and the body more than clothing. Consider the ravens: they neither sow nor reap, they have neither storehouse nor barn, and yet God feeds them. Of how much more value are you than the birds! And can any of you by worrying add a single hour to your span of life? If then you are not able to do so small a thing as that, why do you worry about the rest? Consider the lilies, how they grow: they neither toil nor spin; yet I tell you, even Solomon in all his glory was not clothed like one of these. But if God so clothes the grass of the field, which is alive today and tomorrow is thrown into the oven, how much more will he clothe you—you of little faith! And do not keep striving for what you are to eat and what you are to drink, and do not keep worrying. For it is the nations of the world that strive after all these things, and your Father knows that you need them.
Fr Andre      
[Our reading gives us a powerful story of greed at work, in that the farmer who has good harvests seeks to have even more of the harvest by building bigger barns. He has much but he wants more. This story of Jesus finds echoes in our world today.] What Jesus is teaching us in this parable is the contrast between greed of the farmer and the generosity of God, in giving us everything we need. We worry about much in our lives and so spend a lot of time protecting ourselves by hoarding more and more of the harvest. As scripture says: 'O you of little faith!' Instead of being an accumulator of the harvest, rather be like God and be generous with it and ensure that all are fed.
As complex as these issues are in our world, harvest unequivocally speaks of God's generosity, a generosity we can see and emulate. So engaging with these complexities should not dull our passion and endeavours to see a world where there is a more equal sharing of the world's resources. These include not just food, but water, technology, justice and peace.  Sharing the Harvest is about making God's Kingdom come on earth, living out God's generosity in all the ways we can. His kingdom is now, Let's make it a reality.

Music (choir) Harvest blessings –
   Ogden    
Fr Andre
Harvest Blessings, an anthem specially composed for this broadcast by our Director of Music, David Ogden. Rather older is
 'Canticle of Brother Sun',  written in the 13th century by St Francis of Assisi.
Reader 1 - Annie Hyde
Most high, all powerful, all good, Lord!
All praise is yours, all glory, all honour and all blessing.
To you, alone, Most High, do they belong.
Nor mortal lips are worthy to pronounce your name.
Reader 2 - James Beggs
All praise be yours, my Lord, through all that you have made,
And first my lord Brother Sun, who brings the day and the light you give to us through him.
How beautiful is he, how radiant in all his splendour!
Of you, Most High, he bears the likeness.
Reader 1 Annie Hyde
All praise be yours, my Lord, through Sister Moon and Stars,
In the heavens you have made them, bright and precious and fair.
All praise be yours, my Lord, through Brothers Wind and Air,
And fair and stormy, all the weather's moods, by which you cherish all that you have made.
Reader 2 - James Beggs
All praise be yours, my Lord, through Brother Fire,
Through whom you brighten up the night.
How beautiful is he, Full of power and strength.
Reader 1 Annie Hyde
All praise be yours, my Lord, through Sister Earth, our mother,
Who feeds us in her sovereignty and produces various fruits with coloured flowers and herbs.
Reader 2 - James Beggs
All praise be yours, my Lord, through those who grant pardon
For love of you: through those who endure sickness and trial.
Happy those who endure in peace, by you, Most High, they will be crowned.
Reader 1 Annie Hyde
All praise be yours, my Lord, through Sister Death,
From whose embrace no mortal can escape.
Woe to those who die in mortal sin!
Happy those she finds doing your will.
The second death can do no harm to them.
Reader 2 - James Beggs
Praise and bless my Lord, and give him thanks,
And serve him with great humility.
Hymn (choir & cong.)  All creatures of our God and King   

Canon Bruce Saunders -  Reflection  St Francis –  
Of all the saints who from their labours rest, St Francis of Assisi is the one whom I feel comes closest to us in this Harvest season.  Not many of us plough the fields or scatter these days, but Christians and people of other faiths have long celebrated the glorious generosity of God expressed in the created universe. Modern science helps us understand how quite a lot of it works, and advances in technology are astonishing. But there's danger in getting trapped in our own cleverness. Human ingenuity is itself a gift, and as with all gifts, it's important to remember and thank the giver.  St Francis can help us do that.
In one of the stained glass windows here in this church, Francis is pictured as a fair-skinned, wide-eyed, young man, wearing a long brown habit, his hair tonsured like a monk.
At his feet is the usual cute menagerie of fur, feather and fin. But the real St Francis was not a child-friendly bunny-cuddler.  He was a strange, intense young man, who rejected the demands and responsibilities of his family, and went off to live as a homeless beggar. He saw things that other people didn't, and heard voices that other people couldn't. He was what we'd call 'different'. If he walked into our lives today, I think he'd set all our alarm-bells ringing.
 
He longed to be like Jesus, that other outsider. He took Jesus at his word and left behind the things that most people thought necessary and important. And, like Jesus, he saw the world with uncluttered clarity. He saw God the Father's love expressed all around him in every detail of the created universe. And he saw himself, not arrogantly at the centre of the picture, but humbly as part of the whole, the Sun his brother, the Moon his sister.
He may not have talked about global warming, eco-systems, polluted oceans and the eradication of habitats and species, but he had a true and rather modern insight into the mutual dependence of all created life. Everything connected, everything in relationship.
Christians around the world will be celebrating St Francis later this week. He continues to challenge our materialism and our wastefulness. As glaciers melt and oceans rise; as hurricanes and floods wreak havoc around the world; as some people eat themselves to death while others have to watch their children starve; Francis looks us in the eye and tells us that praying for global justice is meaningless unless we are prepared to embrace the sacrifices to our lifestyle that will make it possible. The world won't change unless we ourselves are changed.
 
With the voice of Christ himself, Francis invites us to reject the materialism and self-centredness of our times, to be God's partners in creation, stewards of the earth, instruments of God's peace; and to embrace as brothers and sisters today's poor, those who have no choice but to live on the edge. If only we would listen and let ourselves be changed, what a world, what a harvest, that would be!
Hymn (choir & cong.) Oh the life of the world is a joy and a treasure –     Galloway

Prayers         
Prayer 1 Gina Eastman
On this day of Harvest Thanksgiving, we thank you Father for all the wonders of your creation.  You have blessed the earth with your bountiful goodness, but in our ignorance and greed we have often taken too much for ourselves. Forgive us Lord and help us to work towards restoring and renewing our beautiful world.
Prayer 2 Portia Chorlton
God, our Creator and Redeemer:
Your world manifests your wisdom, beauty and love,
but we have disfigured it in our ignorance and greed;
Have mercy upon us, Lord,
and grant us a new awareness of our relationship with the earth
and with all living beings;
Give us the compassion of Jesus and the energy of the Holy Spirit,
that the world may be renewed;
To the glory of your name.   Amen
Prayer 3 Gina
Lord, our world is marred by conflict, violence and division.  As Francis worked for peace and concord between all, grant that we too may strive for harmony and peaceful living.  Lord, heal our divisions and imperfections.  Grant us right judgement in all our dealings with one another, to find your presence in all situations and in all things work for peace.
Prayer 4 Portia
Lord, make us to walk in your way:
Where there is love and wisdom,
there is neither fear nor ignorance;
Where there is patience and humility,
there is neither greed nor avarice;
Where there is peace and contemplation
there is neither care nor restlessness;
Where there is the fear of God to guard the dwelling,
there no enemy can enter;
Where there is mercy and prudence,
there is neither excess nor harshness;
this we know through your Son, Jesus Christ our Lord. Amen
Prayer 5 Gina
Dear Father, as Francis turned away from a material life of possessions and self-indulgence to embrace the simple life of poverty and obedience, seeking only to follow Christ's example in all things, help us to find delight in serving you and fix our hearts on all that is right and good.
Prayer 6 Portia
O God, by the life of blessèd Francis,
you moved your people to a love of simple things.
May we, after his example,
hold lightly to the things of this world
and seek instead the fruits of your kingdom;
Through Jesus Christ our Lord.  Amen
Prayer 7 Gina
Father, you asked Francis to rebuild your church and by obeying your command he restored the gospel message to the heart of the Church and inspired a new sense of what it means to follow Christ. Grant that we, in our day, may uphold the true teachings of Jesus and in all things promote the Christian Gospel of love and forgiveness for all.
Prayer 8  Portia
Give to your Church, O God,
A bold vision and a daring charity,
A refreshed wisdom and a courteous understanding,
That the eternal message of your Son
May be acclaimed as the good news of the age,
through him who makes all things new,
Jesus Christ our Lord.  Amen
 
SUNG RESPONSE (choir) 
Guatemalan trad arr John Bell
The peace of the earth be with you
Fr Andre: Let us now pray the family prayer of the church, the Lord's Prayer                   
All:
Our Father who art in heaven,
Hallowed be thy name.
Thy kingdom come.
Thy will be done
on earth as it is in heaven.
Give us this day our daily bread,
and forgive us our trespasses,
as we forgive those who trespass against us,
and lead us not into temptation,
but deliver us from evil.
For thine is the kingdom,
and the power, and the glory,
for ever and ever
Amen.

Anthem (choir) Most high, gracious God (St Francis) 
   Ogden

 
Fr Andre  Blessing  
May God the Father of our Lord Jesus Christ,
who is the source of all goodness and growth,
pour his blessing upon all things created,
and upon you his children,
that you may use his gifts to his glory and the welfare of all peoples;
and the blessing of God Almighty, the Father, Son and Holy Spirit, be with you all, now and forever
Amen

Hymn (choir & cong.)  Come ye thankful people come
Organ voluntary  Nun Danket – Karg Elert    

Broadcast