Main content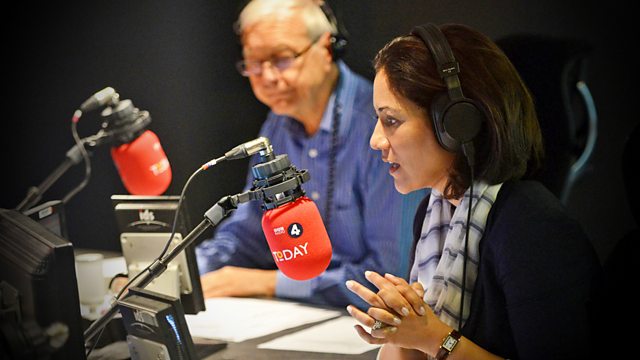 06/10/2017
Morning news and current affairs. Including Yesterday in Parliament, Sports Desk, Weather and Thought for the Day.
Today's running order
0650
A French Algerian millionaire property magnate intends to be the first to fall foul of Austria's new burqa ban by arriving in the country wearing a mask. We speak live to businessman Rachid Nekkaz.
0655
A new campaign is being launched today by the police to encourage more people to donate their time and expertise as unpaid volunteers to support local policing across England and Wales. Claire Craven-Griffiths is chief of staff at North Yorkshire Police.
0710
A former Conservative Party chairman has told the BBC his Tory colleagues are "perfectly within their rights" to ask Theresa May to move on. Grant Shapps is a Tory MP for Welwyn Hatfield and former party chairman.
0715
President Trump has said he will take steps next week to pull the United States out of the Iran nuclear deal. Trita Parsi is president of the National Iranian American Council.
0720
EasyJet's shares have risen recently on the back of the collapse of Monarch, on the prospect of reduced competition and the chance to acquire some of its assets. Chris Tarry is an aviation analyst.
0725
NHS England is calling on GPs to spot the early signs of depression among the over 55s and encourage treatment. Sylvia Carter suffered from depression after her partner died suddenly in 2011 and Alistair Burns is national clinical director for dementia, NHS England.
0730
The sale and export of almost all ivory items would be banned in the UK under plans set out by the government. Michael Gove is environment secretary and Hugh Fearnley-Whittingstall presented the documentary Saving Africa's Elephants.
0740
Salman Rushdie made his fame and his fortune - and faced death threats at the hands of extreme Islamists - by writing about India and religion. His latest book The Golden House is about the United States - or, rather, it is about great wealth and power and how it can corrupt those who wield it.
0750
Spain's Constitutional Court has suspended next Monday's session of the Catalan parliament, to try to pre-empt a possible push for independence. Raul Romeva is foreign affairs minister for the Catalan government.
0810
How much room will the chancellor have to manoeuvre when he delivers his first Autumn Budget in about six weeks' time? Paul Johnson is director of the Institute of Fiscal Studies, Rupert Harrison is former chief of staff to George Osborne at the Treasury and Ngaire Woods is dean of the Blavatnik School of Government at Oxford University.
0820
All over the country there are words disappearing from dictionaries and children's lives. Robert Macfarlane is author of Lost Words.
0830
In a few weeks this programme will be 60 years old and for the past couple of months we have been trying to identify (with your help) the biggest changes in this country during that time. There is one big change that affects some of us much more than others – immigration.
0840
The parents of a baby who died after a series of mistakes made by staff at Nottingham City Hospital are calling for a change in the law so that coroners can investigate deaths in childbirth. Jack and Sarah Hawkins' baby, Harriet, was a healthy baby but died due to poor care during her birth in April last year.
0850
Blade Runner 2049 - the long awaited sequel to Sir Ridley Scott's 1982 original - is out today. Mateja Jamnik is a specialist adviser to the House of Lords Select Committee on Artificial Intelligence and Sam Vincent is one of the writers and executive producers of the Channel 4 drama series Humans.
All subject to change.