Main content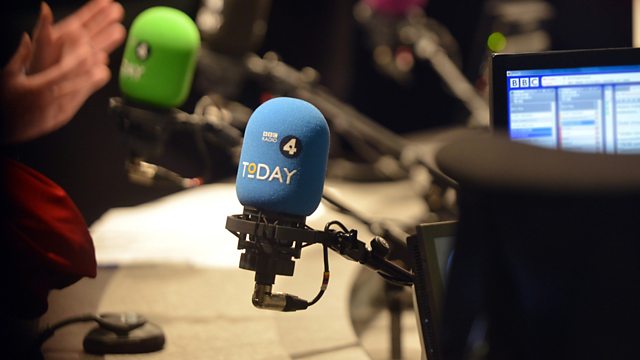 05/10/2017
Morning news and current affairs. Including Yesterday in Parliament, Sports Desk, Weather and Thought for the Day.
Last on

Today's running order
0650
A 200-year-old mystery could be finally put to rest when a coffin gets opened later today. Dan Snow is a historian and presenter.
0655
Compassion in World Farming will today warn that there will be catastrophic impacts for life on earth unless there's a global move away from intensive farming. Emma Slawinksi is director of campaigns at Compassion in World Farming and Peter Griffiths is chief executive of the British Poultry Council.
0710
The High Court is to rule on the case of a terminally ill man who is seeking the right to die. Noel Conway, who is 67 and has motor neurone disease, wants a doctor to be allowed to prescribe a lethal dose of drugs when his health deteriorates further. Christie Arntsen has incurable breast cancer and submitted a witness statement in support of Noel Conway's claim.
0715
The Sunrise Hospital and Medical Centre treated 200 people who were injured in the Las Vegas Massacre on Monday night. Jeffrey Murawsky is chief medical officer of the Sunrise Hospital and Medical Center Las Vegas.
0720
Sales of new cars in the UK have fallen for the sixth month in a row, according to the Society of Motor Manufacturers and Traders. Mike Hawes is chief executive of the SMMT. 
0725
A British scientist, Richard Henderson, and his colleagues Jacques Dubochet, from Switzerland and Joachim Frank, from the United States, have won the Nobel Prize for chemistry. We speak live to Mr Henderson.
0730
Energy firms will face a price cap on "rip-off" bills under plans announced by Theresa May. Ian Conn is chief executive of Centrica.
0740
A writer spent a year as a poet in residence at rubbish dumps in the North East – to uncover their "hideous beauty". John Wedgwood Clarke is author of a new book of poetry called Landfill.
0750
Wiltshire Police will today publish a report of Operation Conifer, an investigation into allegations of historical child sexual abuse against former prime minister Sir Edward Heath. Lincoln Seligman is Ted Heath's godson and Clive Driscoll is a cold case investigator who solved the Stephen Lawrence case.
0810
Tory MPs have rallied round Theresa May after her conference speech on Wednesday was marred by mishaps. Greg Clark is secretary of state for business, energy and industrial strategy and Laura Kuenssberg is the BBC's political editor.
0820
Sir Peter Hall, who died last month at the age of 86, has been credited with leaving behind a Golden Age of Theatre. His son, Edward Hall, followed in his father's footsteps and is now the artistic director of the Hampstead Theatre.
0830
In the aftermath of the country's deadliest gun attack in modern times, many in the US are looking to the president for answers. Cody Keenan is former director of speechwriting for President Barack Obama.
0835
A professional shipwreck hunter has located the remains of SS Athenia, the first ship which was sunk during the Second World War. David Mearns is a professional shipwreck hunter and author of the Shipwreck Hunter which is published today.
0840
The High Court is to rule on the case of a terminally ill man who is seeking the right to die. Peter Saunders is from the organisation Care Not Killing, which aims to ensure that existing laws against euthanasia and assisted suicide are not weakened or repealed and promotes good palliative care.
0845
What does it mean to be English in 2017? Ben Fogle is a writer, presenter and adventurer and Shappi Khorsandi is a British comedian of Iranian origin.
0850
Can Theresa May bounce back after her conference speech yesterday? Polly Mackenzie is a former special adviser to Nick Clegg.
All subject to change.
Broadcast