Main content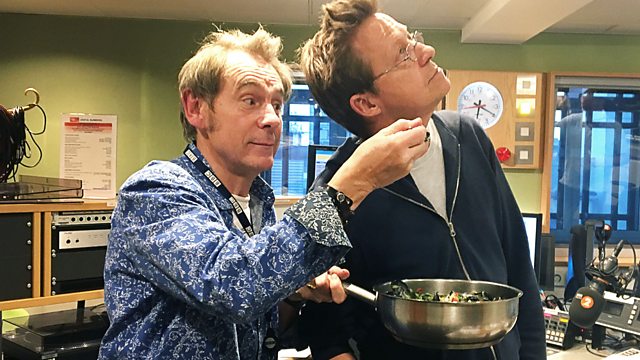 Ian Gillan, sweet and sour chilli mussels, wedding cake confession
Resident cook Nigel Barden offers up sweet n sour mussels with chilli in the latest 'Foodie Thursday', plus Simon has some very special Radio 2 news to announce!
Sweet and Sour Mussels with Chilli
by Mitch Tonks from Saturday Kitchen
Prep time: Less than 30 mins
Cooking time 10 to 30 mins
Serves 2
Ingredients
1kg/2lb 3oz live mussels
olive oil
1 onion, thinly sliced
2 garlic cloves, thinly sliced
1 tbsp chopped fresh ginger
4 red chillies, finely sliced, leaving seeds in
150ml/5½fl oz white wine vinegar
6 tsp sugar
splash of Thai fish sauce
1 lime, juice only
handful of coriander, finely chopped
small handful of chopped, fresh basil
Method
Clean the mussels. Heat a little water in a large pan, add the mussels and put the lid on. Steam for a few minutes until the mussels open. Discard any mussels that don't open. Put the mussels and their juices to one side.
Heat a drizzle of olive oil in a frying pan and gently soften the onions, garlic, ginger and chillies.
Add the vinegar and the sugar, stir well to dissolve, and taste to make sure you have got that sweet and sour balance. Add a little more vinegar or sugar if necessary. Season with a few drops of fish sauce and simmer for 2-3 minutes.
Tip the mussels and their juices into the frying pan and stir well to create a sticky coating over the mussels.
Squeeze in the lime juice, add the herbs and serve.