Main content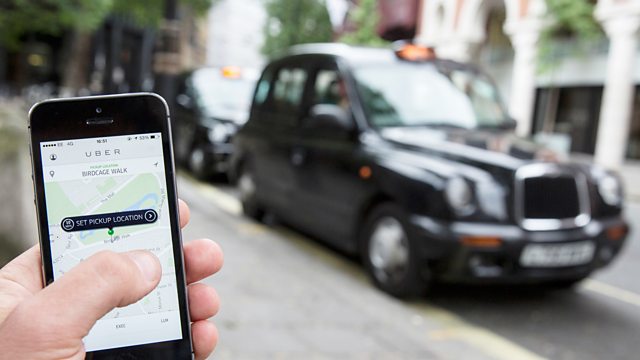 Uber, EU passports, Counting domestic violence
Is Uber safe? The Brits seeking European passports elsewhere. And how do we know if there is more domestic violence around?
Is Uber safe?
Recently Transport for London took the decision not to renew Uber's London license. One criticism of the company is that its drivers commit too many sexual offences. Billboards around the capital last year said that 32 of the 154 allegations of assault made against London taxi drivers between February 2015 and February 2016 involved Uber drivers. But is that a big number and how do the total number of allegations made compare to the years before Uber was even operating?
The Brits seeking European passports elsewhere
In partnership with Reality Check, More or Less has spoken to each of the other 27 countries in the EU to find out whether an increasing number of Brits living abroad have applied for citizenship. This has certainly been the trend in many countries. We'll reveal the most popular countries and tell the tale of how easy it may or may not have been to get the numbers!
How do we know if there is more domestic violence around?
If you want to look at whether the amount of domestic violence in the UK is going up or down, how would you measure it? Over the last three decades, this is something that Sylvia Walby, Professor of Sociology at Lancaster University, has been trying to figure this out. We speak to her about ways to improve the current statistics available.
Big polluters: container ships versus cars
A number of websites have claimed that '15 of the largest ships emit as much pollution as all the cars in the world.' That is a very catchy statement which gives an indication of the pollution produced by shipping containers around the world. But is it true. We look at the different types of emissions produced by container ships and cars.
Presenter: Tim Harford
Producer: Charlotte McDonald.
Chapters
Is Uber safe?

We explore whether Uber drivers commit more sexual offences than other taxi drivers.

Duration: 05:36

The Brits seeking European passports elsewhere

The number of Brits applying for citizenship in other European countries has gone up.

Duration: 07:12

How do we know if there is more domestic violence around?

We discuss with Professor Sylvia Walby why it isn't easy measuring domestic violence.

Duration: 06:06

Big polluters: container ships versus cars

Is it true that 15 Container ships emit as much pollution as all the cars in the world?

Duration: 08:01