Main content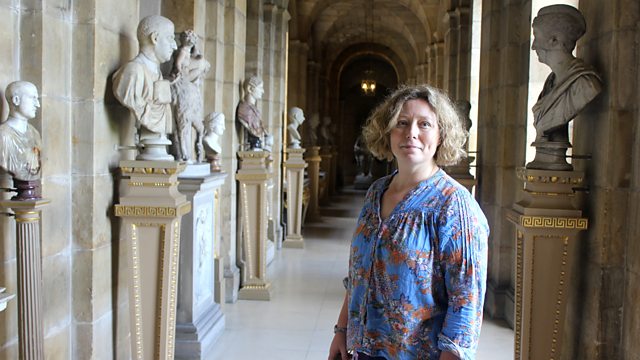 The Hidden History of the Corridor
Rachel Hurdley explores the power of the corridor and finds out how this ambiguous space reflects society, influences behaviour and provides the perfect place for a chance meeting.
Take a trip down the corridor with Dr Rachel Hurdley as she explores the history of this most ambiguous space.
As a sociologist, Rachel has long been fascinated by the power of corridors and their role as places which are neither entirely public nor private. The corridor is a relatively recent architectural innovation, arriving in Britain around the beginning of the 18th Century.
Rachel visits Castle Howard to walk what are thought to be the first corridors in England, discovers why the Victorians had a mania for corridors, finds out about the move towards open plan and asks whether corridors may now be due to return to our buildings. Along the way, she considers how corridors reflect the society of their time, hears why they're a film maker's dream and enters the world of diplomacy to find out why corridors can be the perfect place to make a deal.
Interviewees:
Jonathan Glancey, Architectural Writer and Historian
James Rothwell, Architectural Historian, The National Trust at Petworth House in West Sussex
Mark Jarzombek, Professor of Architectural History and Theory at MIT
Sir Christopher Meyer, Former Ambassador to Washington and Germany
Dr Chris Ridgway, Curator of Castle Howard in North Yorkshire
Sue Hayward, Curator at the National Trust's Tyntesfield near Bristol
Pat Rowe, Guide at the Royal Courts of Justice in London
Karen Krizanovich, Film Expert
Darren Southgate, Architect of the Factory 2050 Building in Sheffield
Presenter: Rachel Hurdley
Producer: Louise Adamson
Executive Producer: Samir Shah
A Juniper production for BBC Radio 4.
Last on