Main content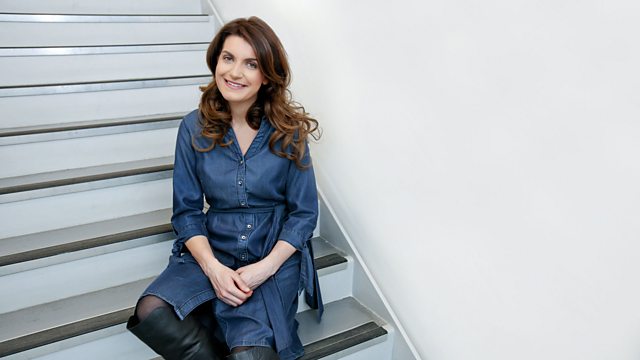 Thursday - Opera matinee: Handel's Lucio Cornelio Silla
Georgia Mann presents Handel's opera Lucia Cornelio Silla, recorded in Vienna at the Resonanzen Festival, with Sonia Prina as Silla. Fabio Biondi directs Europa Galante.
Georgia Mann presents a concert performance of Handel's opera seria Lucia Cornelio Silla, recorded in Vienna last January at the Resonanzen Festival.
Based on the real life Roman Lucius Cornelius Sulla, the plot concerns his seizing of power from his enemy Mario, and the repercussions when he proclaims himself dictator. The circumstances surrounding the composition of Handel's little-known opera are not clear, but it contains some fabulous music, much of which was later recycled into his opera Amadigi di Gaula. Sonia Prina takes the title role, originally sung by the castrato Valentini. Then more from this week's featured ensemble - the BBC National Orchestra of Wales, for music by Butterworth and Dickinson.
2pm
Handel: Lucio Cornelio Silla, HWV.10
Silla...Sonia Prina (alto)
Claudio...Martina Belli (mezzo-soprano)
Metella...Sunhae Im (soprano)
Lepido...Vivica Genaux (mezzo-soprano)
Flavia...Roberta Invernizzi (soprano)
Celia...Francesca Lombardi Mazzulli (soprano)
Mars...Luca Tittoto (bass)
Europa Galante
Fabio Biondi (director, violin)
c.3.55pm
Butterworth: 2 English Idylls
BBC National Orchestra of Wales
Kriss Russman (conductor)
Dickinson: 5 Diversions
BBC National Orchestra of Wales
Clark Rundell (conductor).
Synopsis
Act 1
Rome, at the time of the Republic c.81 BC
The military leader Silla returns victorious to Rome having subdued both rebellious foreign populations and his own personal enemy Mario (the historical Gaius Marius) and his army. Silla passes through a specially constructed triumphal arch as trumpets sound and the populace acclaim him. When Silla announces that he is proclaiming himself dictator and sole law-giver for Rome, however, both his wife Metella and the tribune Lepido are appalled.
Flavia, Lepido's wife, tells him of bad dreams she has been having about dangers to Rome but Lepido dismisses this as superstition.
Celia, daughter of a high-ranking statesman who also opposed Silla's enemy Mario, is in love with the senator Claudio and he with her but she cannot bring herself to accept him as he is a supporter of Mario.
Claudio confronts Silla and accuses him of destroying Roman liberty. Silla is furious and refuses to hear it. Left alone, Claudio vows to continue to struggle against tyranny.
Act 2
Silla attempts to seduce the lovely Celia but is discovered by his wife Metella who puts a stop to his actions for the moment.
Silla next attempts the virtue of Lepido's wife Flavia, at her home. Lepido discovers him and intervenes whereupon Silla accuses Lepido of conspiring with others to overthrow him and orders both Lepido and his wife to be imprisoned, awaiting execution. Husband and wife tearfully bid farewell.
Celia has overcome her scruples about accepting a supporter of her father's enemy, Mario, and has admitted she loves Claudio. The couple are basking in their happiness when Claudio is placed under arrest for conspiring against Silla and also sentenced to death. Metella learns of her husband's cruel and tyrannical orders from her servant Scabro and vows to prevent them from being carried out.
In the tower where he is imprisoned, Claudio can see the arena where he has been condemned to be torn apart by wild beasts and says farewell to life.
Metella takes a garment she has soaked with animal blood and tells her servant Scabro to take it to Silla and tell him it is Lepido's, shed when he was executed. Silla is pleased but still wants to see Claudio torn by beasts. News is brought to Silla that the supporters of Mario are staging a new rebellion and Silla rushes off to quell it. Metella orders both Claudio and Lepido released from prison.
Act 3
Lepido thanks Metella for rescuing him and announces his intention to assassinate Silla in order to restore Roman freedom. Metella refuses to have anything to do with such a plot against her husband. They receive word that Silla is leaving Rome. While Metella regrets that she has not been able to say good-bye to him, she seizes the opportunity to tell her servant Scabro to take Lepido to his wife Flavia in her prison cell and help her to escape.
Silla regrets the necessity of leaving Rome without satisfying his desires towards either Celia or Flavia. He attempts to seduce Celia again but she rejects his advances. In spite, he tells her that her beloved Claudio has been torn alive by wild beasts. Left alone, Celia laments her lover's death and hears an echo of her words - it is Claudio himself, who has been listening. At first she thinks it must be a ghost but is overjoyed to discover the living Claudio.
A similar reunion plays out in the prison cell where Flavia awaits her death. Silla appears with the bloodstained garment, telling her it is what her husband was wearing when he was shot by arrows and threatens her with the same fate unless she will yield herself to his lust. She refuses, whereupon Silla storms out. Lepido appears to his wife and at first she too believes she is seeing a ghost but he reassures her of his corporeality and they express their delight.
At the port where Silla is embarking to leave Rome, his wife Metella appears to bid him farewell. He expresses his regret at his treatment of her and the couple hope one day they will again be able to be together. Metella watches from the shore as the ship Silla is on flounders in a storm and sinks. Silla escapes the wreck and swims to a nearby island. Metella gets into a little boat, rows out to her husband and rescues him.
Lepido and Claudio are at the Capitol rallying their supporters for a revolt against Silla's monstrous tyranny when the god Mars appears on a cloud and announces Rome's salvation. Metalla leads in her repentant husband, who extends apologies to all for his behaviour and announces his retirement to a small estate where he will live quietly with his wife. Claudio and Celia will now marry. All rejoice in the fortunate outcome of events.
Credit
| Role | Contributor |
| --- | --- |
| Performer | BBC National Orchestra of Wales |