Main content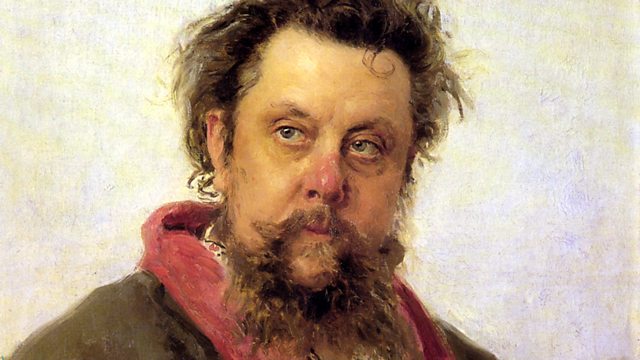 Donald Macleod explores the music of Mussorgsky, focusing on his songs. The operatic masterpiece Mussorgsky left unfinished and his greatest song-cycle, Sunless.
This week Donald Macleod explores the music of Mussorgsky, with a particular focus on his songs. Today, the operatic masterpiece Mussorgsky left unfinished; and his greatest song-cycle, Sunless.
Like Musical, Opera is a notoriously fluid art-form; new circumstances of performance may well require new musical solutions. Verdi's Don Carlo(s) is a case in point: it exists in four main versions (with a number of further variants), between which any new production has to choose. Mussorgsky had already demonstrated the malleability of the medium in his only completed opera, Boris Godunov, which exists in two substantially different versions, not to mention subsequent editions by Rimsky-Korsakov, Pavel Lamm, Dmitri Shostakovich and Karol Rathaus. There's a problem of a different order in determining the score of Mussorgsky's second major opera, Khovanshchina - The Khovansky Affair: the composer died before he completed it, so a definitive version is, by definition, an impossibility. As with Boris, Rimsky-Korsakov came to the rescue, in effect acting as his friend's musical executor and producing the version in which audiences would encounter the opera for years to come. Then Diaghilev got interested in mounting a production, but he disliked the Rimsky version and asked Stravinsky and Ravel to take a crack at it. Eventually Shostakovich came to the party, and it's his version that's usually performed today. At the other end of Mussorgsky's career, The Marriage, based on a comedy by Gogol, is also incomplete - but this time because Mussorgsky got bored with this rather dry experiment in matching music to the natural rhythms and inflections of speech and abandoned it. Thankfully he completed Sunless, his matchless cycle of six settings of beautiful but deeply melancholic poems by his friend and, for a time, flat-mate, Arseny Golenishchev-Kutuzov. Rarely has such utter hopelessness felt so deeply satisfying.
Une larme
Elena Kuschnerova, piano
The Marriage; scene 2
Vladimir Khrulev, baritone (Podkolesin)
Lyudmila Kolmakova, mezzo soprano (Fyokla Ivanovna)
USSR Ministry of Culture Symphony Orchestra
Gennadi Rozhdestvensky, conductor
Khovanshchina; Act 2, conclusion
Aage Haugland, bass (Prince Ivan Khovansky)
Vladimir Popov, tenor (Prince Vasili Golitsyn)
Anatolij Kotscherga, baritone (Shaklovity)
Paata Burchuladze, baritone (Dosifei)
Marjana Lipovsek, alto (Marfa)
Peter Köves, baritone (Varsonofiev)
Slovak State Philharmonic Chorus
Vienna State Opera Chorus
Vienna State Opera Orchestra
Claudio Abbado, conductor
Sunless
Yevgeny Nesterenko, bass
Vladimir Krainev, piano.