Main content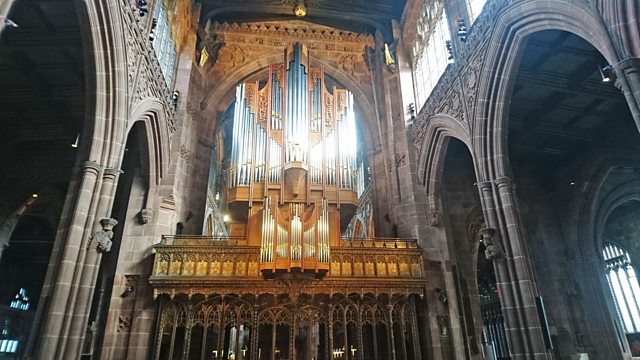 Thomas Trotter at Manchester Cathedral
Tom Redmond presents a concert given by organist Thomas Trotter on the new organ by Kenneth Tickell at Manchester Cathedral.
Tom Redmond presents a concert given by Thomas Trotter to mark the completion of Manchester Cathedral's new organ.
This new organ, built by Kenneth Tickell, is designed with a mechanical key action and is mounted on the screen, as pre-war organs were. Thomas Trotter gives the first performance of a major new work on it, written specially for him by Francis Pott: 'La chiesa del sole - in memoriam John Scott'. Dedicated to "the happy memory" of Scott - organist, choir director and Pott's Cambridge contemporary - it's a powerful new addition to a noble tradition. The concert also includes one of the cornerstones of the organ repertoire, Reubke's Sonata on the 94th Psalm. In the form of a dramatic tone-poem for organ based upon the verses of Psalm 94, it's heavily influenced heavily by the Fantasia and Fugue on 'Ad nos, ad salutarem undam' of his composition teacher, Liszt. It ends in a blaze of terrifying and vengeful fervour and is a work of astonishing maturity for a 23-year-old. The programme opens and closes with the 16th-century book of Danserye by Tielman Susato - publisher of Orlande de Lassus and composer of accomplished works that lend themselves to any instrument - and arrangements of Mendelssohn.
Susato arr. Thomas Trotter: Danserye
Francis Pott: La chiesa del sole - in memoriam John Scott
INTERVAL
Reubke: Sonata on the 94th Psalm
Mendelssohn: Scherzo from A Midsummer Night's Dream, arr. S Warren
Mendelssohn: St Paul - overture, arr. W T Best
Thomas Trotter: organ.
Music and featured items
Post-concert

Duration: 29:16