Main content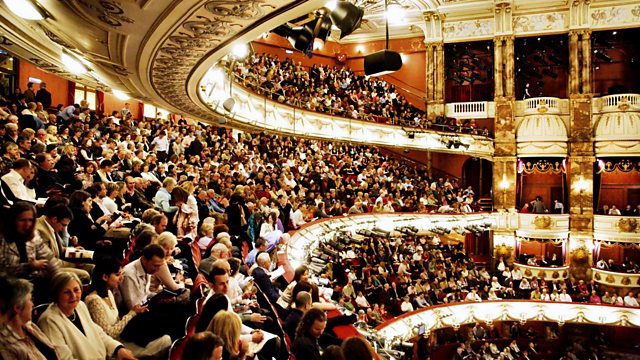 Cavalli: Hipermestra
Christopher Cook presents Cavalli's little-known opera Hipermestra from 2017's Glyndebourne Festival, in an edition prepared by William Christie and staged by Graham Vick.
A rare chance to hear Cavalli's little-known opera Hipermestra from this year's Glyndebourne Festival Opera, in an edition prepared by William Christie and staged by Graham Vick. Danao, King of Argos has been told by a prophet that he will be killed by his own nephew. His solution - to marry off his fifty daughters to his brother's fifty sons, and instruct his daughters to kill their grooms on their wedding night. Unfortunately for him, his daughter Hipermestra falls in love with her husband Linceo, and refuses to carry out her father's plan.
Christopher Cook is joined in the box by opera historian Sarah Lenton to talk about the history of the work, and also talks to William Christie about what needed to be done to bring it to the stage.
Hipermestra.....Emoke Barath (soprano)
Linceo.....Raffaele Pe (countertenor)
Arbante.....Benjamin Hulett (tenor)
Elisa.....Ana Quintans (soprano)
Berenice.....Mark Wilde (tenor)
Danao.....Renato Dolcini (baritone)
Vafrino.....Anthony Gregory (tenor)
Arsace.....David Webb (tenor)
Alindo/Delmiro.....Alessandro Fisher (tenor)
Orchestra of the Age of Enlightenment
William Christie (conductor).
Synopsis
Act 1
The 50 daughters of Danao, King of Argos, are engaged to marry the 50 sons of his brother Egitto. Afraid of an oracle predicting that he will lose his kingdom and his life to one of his daughters' fiancés, Danao orders all his daughters to kill their husbands on their wedding night.
But Danao's eldest daughter, Hipermestra, has fallen in love with her fiancé Linceo and reveals Danao's plot to him, urging him to escape. The next morning, Danao discovers that every one of his daughters has followed his orders except Hipermestra. He imprisons her for her disobedience.
Act 2
In prison, Hipermestra learns that Linceo has gathered his army and is on his way to Argos. Berenice, Hipermestra's nurse, tells her that General Arbante would like to marry her. Arbante tries to convince Hipermestra that Linceo is returning only to kill her father. But Hipermestra refuses to betray Linceo and asks Arbante to leave.
Upon Linceo's arrival, King Danao, fearing for his life, asks Arbante to offer Linceo the kingdom. Hipermestra asks her confidante Elisa to beg Linceo for her father's life. After Elisa leaves, Berenice suggests that Linceo might fall in love with Elisa, but Hipermestra dismisses the idea.
Linceo has encamped his army by Argos' walls. He orders his general Delmiro to rescue Hipermestra from her imprisonment. After Delmiro leaves, Arbante arrives and Linceo asks after Hipermestra. Smarting from Hipermestra's rejection, Arbante falsely tells Linceo that Hipermestra has married Gebete, Prince of Corinth, and that Danao has an army ready to oppose Linceo. Bent on revenge, Linceo sets out to destroy Argos and kill Hipermestra.
Act 3
Hipermestra begs Delmiro to kill her, but he takes pity on her and encourages her to escape. Believing Hipermestra to be dead, Linceo declares his love for Elisa, who reveals that Arbante lied about Hipermestra's supposed infidelity. In despair, Hipermestra throws herself off a tower, but is miraculously rescued. Linceo and Hipermestra are happily reunited.