Main content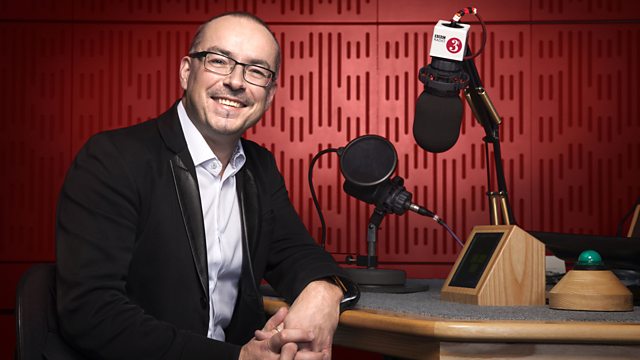 Andrew McGregor with Mahan Esfahani and Suzanne Aspden
Andrew McGregor focuses on Cesar Franck's Symphony in D minor with Mahan Esfahani for Building a Library, and Suzanne Aspden rounds up recent recordings of baroque stage works.
with Andrew McGregor.
0930
Building a Library: Mahan Esfahani recommends a recording of César Franck's Symphony in D minor.
Today, a new recording of Franck's only symphony is a rare event and it has all but disappeared from the concert hall. But with its satisfying cyclic form and impressive fusion of French and German musical traditions it was once a work that every self-respecting maestro had in his repertoire and which generated an impressive recorded legacy, a veritable Who's Who of the great conductors of the last century. There have been signs, though, of a renewed interest in it among some of today's conductors, represented by a handful of more recent recordings.
1100
Suzanne Aspden rounds up some recent recordings of Baroque stage works including Purcell's The Fairy Queen, Rameau's Pygmalion and Handel's Lucio Cornelio Silla.
1145
Andrew chooses an outstanding new release as his Disc of the Week.
Last on

Record Review
9.00am
Russian Works for Piano Four Hands
RACHMANINOV: Morceaux (6) Op. 11
STRAVINSKY: Petrushka (for four hands piano)
TCHAIKOVSKY: 50 Russian Folk Songs: excerpts
Peter Hill, Benjamin Frith (piano duet)
DELPHIAN DCD34191 (CD)
J.S. Bach - Sonatas & Partitas
JOHANN SEBASTIAN BACH:  Violin Sonata No.1 in G minor, BWV1001; Violin Partita No.1 in B minor, BWV 1002; Violin Sonata No.2 in A minor, BWV 1003; Violin Partita No.2 in D minor, BWV 1004; Violin Sonata No.3 in C major, BWV 1005; Violin Partita No.3 in E major, BWV 1006.
Christian Tetzlaff (violin)
Ondine: ODE 1299-2D (2 CDs)
Zuguambe –Music for Liturgy from the Monastery of Santa Cruz de Coimbra c.1650 – Harmonia Nova #3
Invacatio; In nativitate domini; Intermedium primum; In festo Corporis Christi; Intermedium secundum; In Nativitate Domini; Intermedium tertium; In Ascensio Domini festis; Dimissio.
Capella Sanctae Crucis, Tiago Simas Freire
Harmonia mundi HMM 916107  (CD)
9.30am – Building a Library
Building a Library: a weekly look at a piece of music, a comparison of the available recordings, and a recommendation.
Composer: César Franck
Piece: Symphony in D minor M.48
Reviewer: Mahan Esfahani
Recommended recording:
Orchestre de Paris, Semyon Bychkov (conductor)
Philips 4320962 (download)
Decca 4826331 (51 CDs – The Art of Semyon Bychkov)
__________________________________________________________________
Also recommended:
Orchestre National de France, Leonard Bernstein (conductor)
Deutsche Grammophon 4786971 (CD)
Historical choice:
Concertgebouw Orchestra, Willem Mengelberg (conductor)
Decca 4807636 (15 CDs Willem Mengelberg: The Concertgebouw Recordings)
1017 – New Releases
Purcell: Royal Welcome Songs for King James II
H.PURCELL: Chacony in G minor - for Two Violins, Viola and Bass Z730; When on my sick bed I languish, Z144; True Englishmen drink a good health (Catch No. 45), Z284; Ye tuneful Muses (Welcome Song for James II, 1686); A New Irish Tune Z646; God is gone up with a merry noise (Canon a 7), Z107; A New Scotch Tune Z 655; Save me, O God, Z51; Sound the trumpet, beat the drum, Z335
The Sixteen, Harry Christophers (conductor)
CORO COR16151 (CD)
Lost Is My Quiet
MENDELSSOHN: Ich wollt' meine Lieb' ergosse sich Op. 63. No. 1; Gruss Op. 63 No. 3; Volkslied Op. 63 No. 5; Maiglockchen und die Blumelein Op. 63 No. 6; Scheidend Op. 9 No. 6; Neue Liebe Op. 19a No. 4; Duets (3) Op. 77
H.PURCELL: Sound the trumpet, beat the drum, Z335; Lost is my quiet for ever, Z502; If music be the food of love, third version, Z379C; Music for a while, Z583; No, resistance is but vain (from The Maid's Last Prayer or Any Rather Than Fail, Z601); Oroonoko: Celemene, pray tell me, Z584
QUILTER: It was a lover and his lass; Weep ye no more, sad fountains; Music, when soft voices die Op. 25 No. 5 (Shelley); Drink to me only; Love's Philosophy Op. 3 No. 1 (Shelley); Love calls through the summer night
SCHUMANN: Drei Duette Op. 43; Nachtlied Op. 96 No. 1; Stille Liebe Op. 35 No. 8; Der Einsiedler Op. 83 No. 3; Auftrage Op. 77 No. 5; So wahr die Sonne scheinet Op. 37, No. 12
Carolyn Sampson (soprano), Iestyn Davies (countertenor), Joseph Middleton (piano)
BIS BIS2279 (Hybrid SACD)
NYMAN: No Time in Eternity
NYMAN: Full fathom five; While you here do snoring lie; Where the bee sucks; Come and Go; No Time in Eternity; Come unto these yellow sands; Self-Laudatory hymn of Inanna.
PATRICK: Prepare to die; Send forth thy sighs.
BENNET: Eliza, her name gives honour.
TYE: Sit Fast; In nomine (Crye).
BYRD: Ye sacred muses, race of Jove.
ANONYME: In Paradise.
PICFORTH: In Nomine.
FARRANT: O Jove, from stately throne.
Ensemble Celadon, Paulin Bundgen (countertenor & director)
AEON AECD1757 (CD)
Christopher Tye: Complete Consort Music
TYE: In nomine a 4; In nomine a 5 'Trust'; Rachell's weepinge; Dum transisset sabbatum; Laudes Deo; In nomine 'Free for all'; In Nomine 'Rounde'; In nomine 'Weep no more Rachel'; In Nomine 'Saye so'; In nomine 'Follow me'; Christus resurgens; In nomine a 5 'Crye'; Rubum quem; In nomine 'Hold fast'; Seldom sene; In Nomine 'Re la re'; Dum transisset sabbatum III; Sit fast; In Nomine 'Surrexit non hic'; In Nomine 'Beleeve me'; In Nomine 'Report'; In nomine a 5; In Nomine 'I come'; Dum transisset sabbatum II; O lux beata trinitas; In Nomine 'My Death Bed'; In nomine a 5 blamles; In nomine Xl Farwell my good one, for ever; Dum transisset sabbatum IV; Amavit eum Dominus; In nomine a 6
Phantasm
LINN CKD571 (CD)
1055  - Susanne Aspden on Baroque Opera
PURCELL: The Fairy Queen, Z629
Caroline Mutel (soprano), Guillaume Andrieux (baritone), Kevin Greenlaw (baritone), Virginie Pochon (soprano), Caitlin Hulcup (mezzo-soprano), Samuel Boden (tenor), Christophe Baska (counter-tenor), Julien Picard (tenor), Ronan Nedelec (bass), Anders J. Dahlin (tenor), Frederic Caton (bass), Hjordis Thebault (soprano), Les Nouveaux Caracteres, Sebastien d'Herin
GLOSSA GCD922702 (2CD)
HANDEL: Lucio Cornelio Silla, HWV10
Sonia Prina (Silla), Martina Belli (Claudio), Sunhae Im (Metella), Vivica Genaux (Lepido), Roberta Invernizzi (Flavia), Francesca Lombardi Mazzulli (Celia), Luca Tittoto (Il Dio), Europa Galante, Fabio Biondi (conductor)
GLOSSA GCD923408 (2CD)
Rameau: Pygmalion
RAMEAU: Pygmalion; Les Fetes de Polymnie: Suite
Cyrille Dubois (Pygmalion), Marie-Claude Chappuis (Cephise), Celine Scheen (La Statue), Eugenie Warnier (L'Amour), Arnold Schoenberg Chor, Les Talens Lyriques, Christophe Rousset (conductor)
APARTE AP155 (CD)
1140 – Disc of the Week
Strauss/Mahler
STRAUS: Also sprach Zarathustra Op.30
MAHLER: Totenfeier; Sinfonisches Praludium fur Orchester
Rundfunk-Sinfonieorchester Berlin, Rainer Wolters (concertmaster), Tobias Berndt (organ), Vladimir Jurowski (conductor).
PENTATONE PTC 5186 597 (Hybrid SACD)
Broadcast