Main content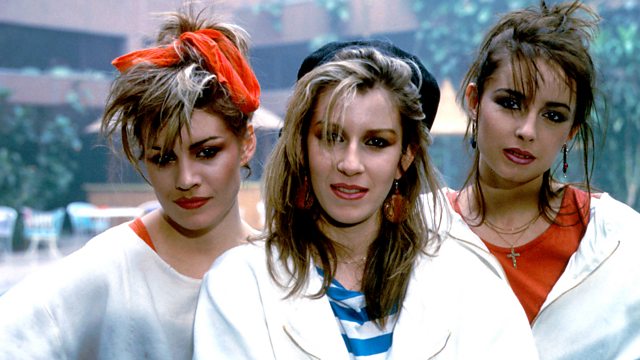 Bananarama look back on their 80s heyday
Bananarama discuss their appeal to teenagers in the 80s. Julie Bindel proposes the abolition of the global sex trade. Diabulimia. Ella Fitzgerald digitally remastered.
Bananarama, the most successful girl group of all time, are reuniting for a UK wide tour. Siobhan Fahey, Sara Dallin and Keren Woodward look back on their eighties heyday.
The feminist campaigner Julie Bindel discusses the myth of sex work and why she believes in the abolition of the global sex trade. We also hear the counter argument from Laura Watson of the English Collective of Prostitutes and from Sake who is an independent sex worker.
In 1969 Rupert Murdoch bought The Sun newspaper, the play Ink tells the story of its first year. We hear from the actress Sophie Stanton who plays Joyce Hopkirk the women's editor and from the journalist Eve Pollard on what it was like as a woman in Fleet Street at the time.
As 2017 marks the centenary of the birth of one of the jazz greats Ella Fitzgerald. Record producer Juliette Pochin tells us about the process of creating a new album combining Ella's original vocals with the music of the London Symphony Orchestra.
We discuss diabulimia, the act of restricting insulin in order to lose weight - sixty per cent of women living with type 1 diabetes will have experienced an eating disorder by the time they are 25. We hear from Nabeelah who restricts her insulin and from Dr Jane Morris, Consultant psychiatrist in eating disorders at the Royal Cornhill Hospital in Aberdeen.
It's now 10 years since the first episode of the reality TV show Keeping up with the Kardashians. Sarah Carson a features editor at Radio Times and Nell Grecian a sex and dating blogger discuss the influence of the Kardashians on young women.
Presented by Jenni Murray
Produced by Rabeka Nurmahomed
Edited by Jane Thurlow
Interviewed guests: Bananarama
Interviewed guest: Julie Bindel
Interviewed guest: Laura Watson
Interviewed guest: Sake
Interviewed guest: Eve Pollard
Interviewed guest: Sophie Stanton
Interviewed guest: Juliette Pochin
Interviewed guest: Nabeelah
Interviewed guest: Jane Morris
Interviewed guest: Sarah Carson
Interviewed guest: Nell Grecian.
Credits
| Role | Contributor |
| --- | --- |
| Presenter | Jenni Murray |
| Producer | Rabeka Nurmahomed |
| Editor | Jane Thurlow |
| Interviewed Guest | Siobhan Fahey |
| Interviewed Guest | Sara Dallin |
| Interviewed Guest | Keren Woodward |
| Interviewed Guest | Julie Bindel |
| Interviewed Guest | Laura Watson |
| Interviewed Guest | Sophie Stanton |
| Interviewed Guest | Eve Pollard |
| Interviewed Guest | Juliette Pochin |
| Interviewed Guest | Jane Morris |
| Interviewed Guest | Sarah Carson |
| Interviewed Guest | Nell Grecian |