Main content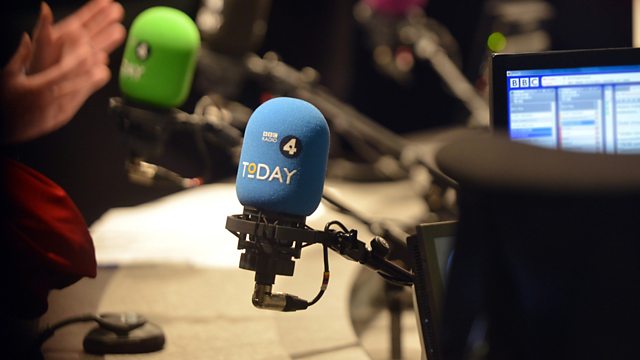 26/09/2017
News and current affairs. Including Yesterday in Parliament, Sports Desk, Weather and Thought for the Day.
Today's running order

0650
Labour says they have asked former senior civil servants to help their frontbench team prepare for government. They include the former head of the civil service Lord Kerslake who will advise Jeremy Corbyn's shadow ministers on how to implement their policies. He joins us on the programme.
0655
Bookmakers could be forced to pay a new levy to help treat problem gamblers under plans being set out by Labour. Marc Etches is the CEO of GambleAware – a charity which funds the UK's only dedicated gambling addiction clinic.
0710
The Iraqi Government has refused talks with Kurdistan on the results of its independence referendum. The poll went ahead in defiance of strong disapproval from the Iraqi government – as well as from Turkey and Iran. Dr Zeynep Kaya is a research fellow at the LSE Middle East Centre and is working on a book Mapping Kurdistan: Self-determination, Territoriality and Quest for Statehood. 
0715
Labour will be talking today about the need for a winter bailout fund for the NHS – asking the government to come up with £500m to stave off a winter crisis. Our correspondent Ross Hawkins reports.
0720
Almost a third of adopted families are "in crisis," according to a new survey from the BBC and the charity Adoption UK. The BBC's File on Four programme has been speaking to families where more than half reported living with child-to-parent violence, including punching, kicking or being threatened with knives. Edward Timpson is the former minister for children and families at the department for education.

0725
A stage version of Jane Eyre is being revived at the National Theatre tonight, celebrating 170 years since the publication of Charlotte Bronte's novel. Our correspondent Nicola Stanbridge reports.
0730
Author Naomi Klein will be speaking as Labour's international speaker at their conference later this afternoon. Her book No Is Not Enough is about practical ways that the left could overcome a state of disarray and present a positive agenda for change. She joins us on the programme.
0740
Being "in a positive mood" on the day of your flu jab can increase its protective effect, according to findings by researchers at the University of Nottingham. Kavita Vedhara is a professor from the school of medicine at the University of Nottingham and principal researcher on this study.
0750
The South Korean foreign minister Kang Kyung-wha has said "there cannot be another outbreak of war on the Korean Peninsula". John Negroponte is the former US director of national intelligence and President Bush's ambassador to the UN.
0810
Shadow Health Secretary John Ashworth will take to the main conference stage today and call on the government to provide £500m in a winter bailout fund to increase capacity in struggling hospitals, pay for extra staff and improve the link with social care so that patient discharges are not delayed. He joins us on the programme.
0830
The South Korean foreign minister Kang Kyung-wha has said "there cannot be another outbreak of war on the Korean Peninsula". Changwon Pyo is a congressman and member of the National Assembly for the ruling Democratic Party of Korea.
0840
Scottish Labour unexpectedly found itself in need of a new leader last month with the surprise resignation of Kezia Dugdale, who'd led it after the near wipe-out of the party in Scotland at the 2015 election. Anas Sarwar is a Glasgow MSP and Richard Leonard MSP represents Central Scotland.
0850
Jeremy Corbyn will be making his main conference speech as the Labour party gathering in Brighton comes to an end tomorrow. Polly Toynbee is a Guardian columnist and Hillary Wainwright is co-editor of Red Pepper magazine – a socialist publication.


 All subject to change