Main content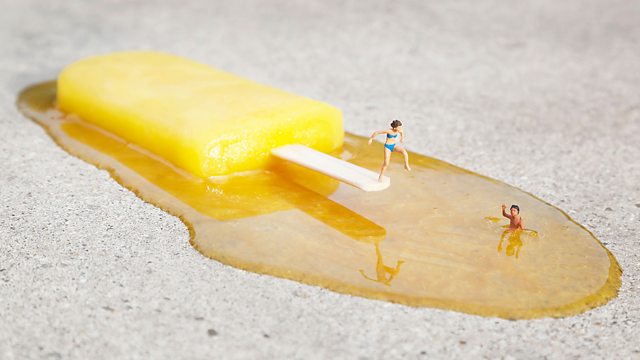 Art in Miniature
Art or gimmick? Dr Lance Dann gets down on his hands and knees to take a close up looks at the fashion for miniature art. But can he even find it?
Tiny bathers relax in a puddle of oily water on a pavement; a galleon sails on the head of a pin, a dancer twirls next to a mote of dust under a microscope - Dr Lance Dann, lover of miniature worlds, crouches down on hands and knees to better observe the world of tiny art.
Prompted by advances in technology, and the enduring wonder of things created on a really, really tiny scale, Lance Dann follows his own obsession with the miracle of miniature art.
Knocking on the tiny doors of creators from street artist Slinkachu, whose mesmerising cityscapes are created, photographed and abandoned in the street, to the collection of antique miniature portraits in Sotheby's where expert Mark Griffith Jones delicately reveals the hidden treasures that span from over 500 years of art history.
The 21st century has experienced a revival of the small in art Desiree De Leon has attracted hundreds of thousands of followers for her Instagram account of small doodles, whilst the 'the chewing gum man' Ben Wilson, has gathered a loyal following for his hidden gems scattered about the London streets.
Every morning Ben gets up and starts creating tiny tiles on which his innermost feelings are expressed - and then he leaves them on the Underground for people to find.
Then there is the barely visible - Willard Wigan MBE - the poster-boy of microscopic art, a dyslexia sufferer who has found relief in the creation of tiny art works. Recognised globally, his sculptures, which are small enough to fit on the head of a pin, sell for six-figure sums.
"I work between my heartbeats. I have one-and-a-half seconds to actually move. And at the same time I have to watch I don't inhale my own work."
Then there is the nearly invisible – Jonty Hurwitz - who sculpts with Nano-technology, and sometimes loses sight of it in the process.
"When I found the sculpture it was one of the most moving moments of my life, you see all these grotesque pieces of dust as the microscope is moving around and suddenly there's a woman, dancing"
What is the enduring appeal of the miniature in art, and where has this revival come from?
To discover where it hides, why it appeals, and how the artists' work on such delicate objects, Dann plays with scale, sound and voices to bring a closer, more microscopic focus on the art world.
Presenter: Lance Dann is an associate member and former sound designer of The Wooster Group, a writer and director of a range of radio dramas including podcast "Blood Culture", commissioned by The Welcome Trust, and won a Prix Marulic for his production of Moby Dick for BBC Radio 4.
Producer: Sara Jane Hall
Photo credit: Slinkachu
Music sourced by Danny Webb