Main content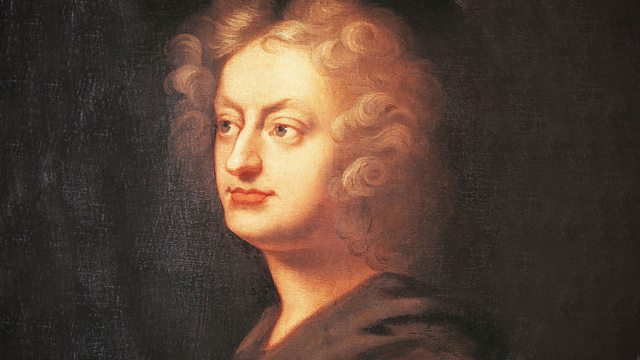 What power art thou
Donald Macleod looks at Purcell's music for the stage including the semi-operas, King Arthur and The Fairy Queen, and his full opera, Dido and Aeneas.
BBC Radio 3 explores the music of Henry Purcell, the composer who changed the face of English music at the end of the seventeenth century. With the accession of William and Mary in 1689 came swingeing cuts to the Chapel Royal. From being a showcase for the nation's best music, it became a backwater. As a result, Purcell looked elsewhere for employment - and the monarchy's loss became the public's gain, as he devoted much of his last few years writing for the London stage. Even though opera was slow in taking off in England, the theatres in London were doing a roaring trade since opening up their doors again in the early days of the Restoration. Audiences could choose between a huge variety of tragedies and comedies put on by the King's Company at the Theatre Royal or by the Duke of York Players at the Dorset Garden Theatre. The music and character songs larded through the plays were a vital part of the entertainment, and the music was always written by a committee of composers. But such was Purcell's standing and skill as a songwriter that he was given sole control of the music when he got the chance to write his first semi opera, The Prophetess, in 1690. Presenter Donald Macleod looks at some of Purcell's most spectacular semi-operas such as King Arthur and The Fairy Queen, where the songs are sung by minor characters, as well as his only opera, Dido and Aeneas
Incidental Music for The Virtuous Wife, Overture
The Parley of Instruments, Peter Holman (director)
The Fairy Queen, Overture and Act 1
Eiddwen Harrhy (soprano), Judith Nelson (soprano), Elisabeth Priday (soprano), Stephen Varcoe (bass), David Thomas (bass), The Monteverdi Choir, English Baroque Soloists, John Eliot Gardiner (conductor)
King Arthur, Act 3
Nancy Argenta (Cupid), Brian Bannatyne-Scott (Cold Genius), Choir of the English Concert, The English Concert, Trevor Pinnock (conductor)
Dido and Aeneas, Act 3
Catherine Bott (Dido), Emma Kirkby (Belinda), Aeneas (John Mark Ainsley), David Thomas (Sorceress), Elizabeth Priday (First Witch), Sara Stowe (Second Witch), Daniel Lochmann (First Sailor), Chorus and Orchestra of The Academy of Ancient Music, Christopher Hogwood (conductor).