Main content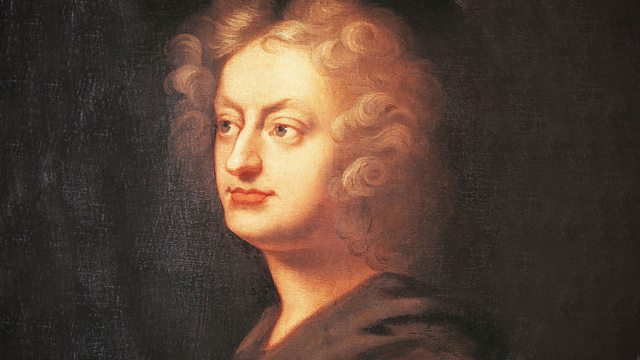 Orpheus Britannicus
From catches and ballads to a collection of lessons, Donald Macleod takes a look at how the emergence of publishing was crucial to the growing popularity of Henry Purcell's music.
BBC Radio 3 explores the music of Henry Purcell, the composer who changed the face of English music at the end of the seventeenth century. As a royal composer, Purcell provided music for important state occasions, for the Chapel Royal and for Westminster Abbey, but in this programme presenter Donald Macleod explores a different side to the composer. After a rehearsal or concert, Purcell and his fellow musicians would adjourn to The Two Golden Balls pub in Bow Street, sharing a bowl of brandy punch and singing some of the lewd catches and ballads the composer wrote for such occasions. As Purcell's fame grew due to his royal connections, these catches and ballads as well as sacred songs and lessons for budding harpsichordists, were published by John Playford from his shop in the porch of Temple Church. And even though he was paid by the Chapel Royal as well as his post as organist at Westminster Abbey, publishing songs was a welcome addition to his income. Macleod also explores some of the other ways Purcell made extra money on the side, from adjudicating the so-called 'organ wars' to ticket-touting for gallery seats in William and Mary's coronation.
Henry Purcell: I gave her Cakes and I gave her Ale
The Merry Companions
Henry Purcell: A Suite of Lessons, z665
Robert Woolley (harpsichord)
Henry Purcell: Voluntary in D minor, z718
Davitt Moroney (organ)
Henry Purcell: Praise the Lord, O Jerusalem
Choir of Christ Church Cathedral, Oxford, The English Concert, Francis Grier (organ), Simon Preston (conductor)
Henry Purcell: My Lady's Coachman John; As Roger last night to Jenny lay close; Come, Come, Let us Drink
The Merry Companions, The Baltimore Companions
Henry Purcell: Music for a While and Sweeter than Roses
Andreas Scholl (countertenor), Accademia Bizantina, Stefano Montanari (conductor)
Henry Purcell: Incidental Music for Abdelazer
The Parley of Instruments, Peter Holman (director)
Henry Purcell: A Pastoral Elegy on the Death of Mr John Playford
Susan Gritton (soprano), Michael George (bass), The King's Consort.