Main content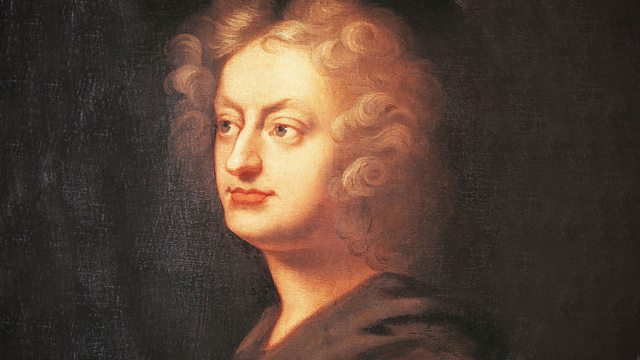 London Calling
From sonata to opera, Donald Macleod takes a look at how Henry Purcell was influenced by musical fashions from all over Europe, despite never leaving London.
BBC Radio 3 explores the music of Henry Purcell, the composer who changed the face of English music at the end of the seventeenth century. For most of his life, as a chorister, organist and composer, Purcell served the Royal Music during the reigns of Charles II, James II and Williams and Mary. He never left the capital but the influences of European musical styles that came into fashion during the various reigns played a huge part in Purcell's development as a composer. The newly-crowned Charles II was a Francophile and expanded the royal violin band to 24 players, inspired by Louis XIV's '24 violons du Roi', which he had heard during his exile at the French court. Later, during James II's short reign, the influence of Italian musicians and Italian musical forms encouraged by his wife, Mary of Modena, became fashionable all over London. Even Dutch musical tastes were to find their way across the channel and into Purcell's music, with William of Orange's insistence on a band of hautboys to supplement the usual trumpets when going to war.
As well as looking at how Purcell's music adapted to the musical and cultural trends, presenter Donald Macleod introduces us to some of the European movers and shakers in the London musical scene.
The Stairre-Case Overture
Musica Amphion
Pieter-Jan Belder, conductor
Seven-part In Nomine
Rose Consorts of Viols
Harpsichord Suite No.7 in D minor
Robert Woolley, harpsichord
Sonata No.9 in F major
Retrospect Trio
Dido and Aeneas, Act 1
Catherine Bott (Dido)
Emma Kirkby (Belinda)
Aeneas (John Mark Ainsley)
Julianne Baird (Second Woman)
Chorus and Orchestra of The Academy of Ancient Music
Christopher Hogwood, conductor
Henry Purcell: Symphony from Ode for St Cecilia's Day, 'Hail, Bright Cecilia'
English Chamber Orchestra, Charles Mackerras (conductor).