Main content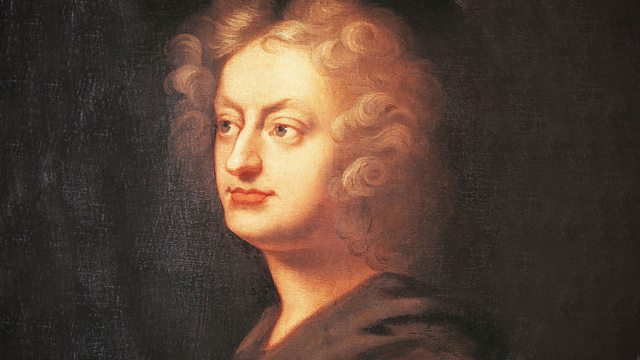 Sound the Trumpet
Donald Macleod explores the music Purcell composed for the kings and queens he served, from Charles II to James II, William of Orange and Queen Mary.
Donald Macleod explores the music of English composer Henry Purcell who served in the royal courts of Charles II, James II and the joint reign of William and Mary. On the 29th of May, 1660, the flower-strewn streets of London resounded to the cheers of vast crowds and the ringing of all the church bells, welcoming the return of Charles Stuart from exile in France as King Charles II. After the disbanding of the Royal Music during Cromwell's Protectorate, Charles quickly re-established the importance of court music during the Restoration. Henry Purcell became one of the children of the Chapel Royal sometime in the 1660s, where he was surrounded by the best musicians in the land. The king himself took a keen interest in all the court's musical activity, with composers encouraged to write for state events such as the king's birthday and New Year's Day. Purcell was commissioned to write his first ode in his early twenties, to celebrate the return of the king from his summer retreat in Windsor. In this programme, we feature some of the music Purcell wrote for the all monarchs he served including the welcome ode to Charles II, music for the coronation of James II and a birthday ode for Queen Mary.
Henry Purcell: King Arthur, Act 3 Prelude
The English Concert, Trevor Pinnock (conductor)
Henry Purcell: Welcome, Viceregent of the Mighty King Z340
Tragicomedia, Suzi le Blanc (soprano), Barbara Borden (soprano), Belinda Sykes (contralto), Steve Degardin (countertenor), Douglas Nasrawi (tenor), Harvey Brough (tenor), Harry van der Kamp (bass), Simon Grant (bass), Stephen Stubbs and Erin Headley (directors)
Henry Purcell: I was glad when they said unto me
Choir of Westminster Abbey, Harry Bicket (organ), Simon Preston (conductor)
Henry Purcell: The Way of God is an Undefiled Way
The King's Consort, James Bowman (countertenor), Rogers Covey-Crump (high tenor), Michael George (bass), Choir of New College, Oxford, Robert King (conductor)
Henry Purcell: Come Ye Sons of Art (Birthday Ode for Queen Mary II)
Emily van Evera (soprano), Timothy Wilson (countertenor), John Mark Ainsley (tenor), Charles Daniels (tenor), David Thomas (bass), Tavener Consort, Tavener Choir, Tavener Players, Andrew Parrott (conductor).