Main content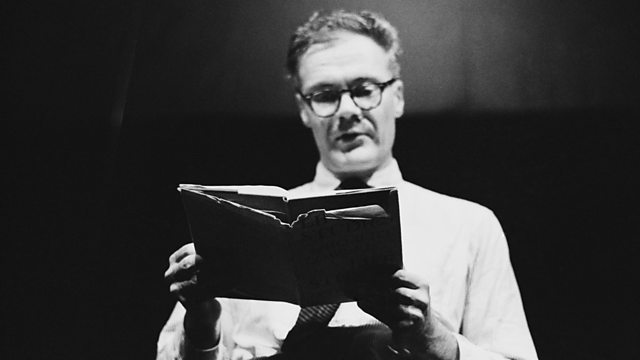 A Life In Study: Robert Lowell
Author Colm Toibin profiles the turbulent and brilliant life of 20th-century American poet Robert Lowell, once considered the greatest living poet in the English language.
Author Colm Toibin profiles the turbulent and brilliant life of American poet Robert Lowell, once considered the greatest living poet in English.
Four decades ago, the American poet Robert Lowell (1917-1977) died quietly in the back of a New York taxi. In his arms, he clutched a priceless portrait of his third wife, the Guinness heiress Lady Caroline Blackwood. Yet Lowell was on his way to see - and hopefully reconcile with - another woman: his beloved second wife, Elizabeth Hardwick. At the time of his passing, he had - almost unwittingly - embroiled both former wives in a scandal that had polarised the American literary community.
It was a strange, tragic end to what was one of the most brilliant careers in the history of 20th century letters. In his lifetime, Robert Lowell was arguably the most celebrated poet in America - not just a writer, but a major public figure: a "Boston Brahmin" whose ancestors had arrived on the Mayflower and helped found the American nation. Lowell's groundbreaking 1959 volume "Life Studies" had introduced a generation of readers to the idea of "confessional" poetry - stanzas that drew candidly from the poet's experience - and he was a teacher to Sylvia Plath, Anne Sexton and several other poetic giants. Erudite, charming and hugely personable, Lowell not only attracted a large and loyal circle of friends, but poured his vast intellectual powers into verses that were dense with historical allusion, dazzling linguistic turns and deep emotional insight. Everything - all of history, all of humanity - seems at Lowell's fingertips, and in his finest poems - among them "For The Union Dead", "Skunk Hour", "The Quaker Graveyard in Nantucket" and "Man and Wife" - he seems uniquely to be placing his own experience and history on a vast, almost unimaginable canvas of human history. In his pomp, his poems seemed to carry on the great, sweeping modernist tradition of TS Eliot, WH Auden and Ezra Pound.
Yet Lowell's vast literary and intellectual imagination carried with it deep personal cost. Lowell suffered for most of his life with what would now be thought of as bipolar disorder. Not only did his "manias" cause him to be repeatedly institutionalised, they irreparably fractured many of his relationships, hurt those closest to him, and scarred his ability to create. Only in recent times can we understand his behaviour as a hereditary mental illness - as part of the same great, difficult inheritance that brought him wealth, fame and privilege as a member of the American aristocracy.
Forty years on, Lowell's star has waned. His reputation seems no longer to be in the highest reaches of the poetic firmament: he's a writer who is more read-about than actually read. In 2017, is his poetry simply too difficult, too wilfully intellectual, too privileged, too white and male? Or does the secret of his decline lie in that murky scandal - a still-raw controversy about the limits of a poet's private and public worlds - one that still inflames passions today?
Written and presented by the writer Colm Toibin, in this documentary Robert Lowell's remarkable life and career is remembered and appraised by those closest to him, shedding new light on one of the giants of 20th century poetry.
Producer: Steven Rajam.
Last on
Music Played
Johann Sebastian Bach

Keyboard Concerto No 7 in G minor, BWV 1058

Performer: Sir András Schiff. Orchestra: Chamber Orchestra of Europe. Director: Sir András Schiff.

Piano Masterworks The World's Favourite Piano Classics.
Decca.
10.
Broadcasts