Main content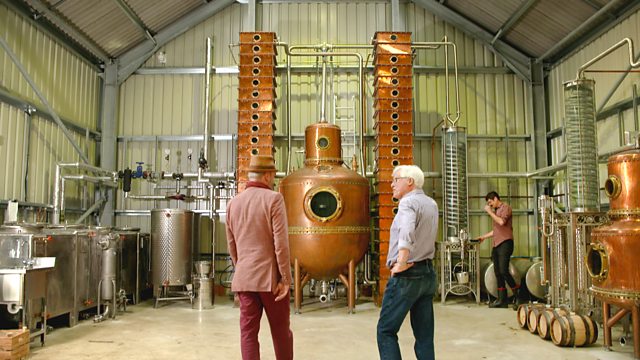 Harvest
Countryfile looks at how food is harvested, from large-scale crops for supermarket shelves to smaller hand-picked harvests for local markets.
Across the country the race is on to bring home the harvest. It is one of the busiest times of the farming year, when farmers hope to reap the rewards of all their hard work. Countryfile looks at how food is harvested, from large-scale crops for supermarket shelves to smaller hand-picked harvests for local markets.
John Craven is in Oxfordshire meeting the only distillers in the country to use an ancient strain of rye to create a new type of gin.
Margherita Taylor is in Norfolk with a farmer keen to prove that the British radish is more than just a bit on the side. Margherita also visits Bardsley Farm. The family have been growing apples and pears here since 1892 - their archive photos provide a window into traditional harvests of old - but just recently they have branched out and are now growing apricots.
Adam Henson meets the first of the two nations competing to win the coveted title of One Man and His Dog 2017.
Tom Heap discovers how little we know about wasps and asks for your help to find out more.
The Big Wasp Survey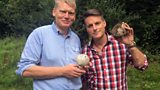 Tom Heap's learning more about wasps and the first thing he discovers is that we know very little about them! But with the help of wasp expert Dr Seirian Sumner and naturalist Nick Baker, Tom quickly discovers that there's a lot more to these insects than meets the eye. There's still lots more to learn, though and that's where you come in!
Take part in the big wasp survey
Handling wasps safely
Wasps can sting and that sting can be very painful. In very rare cases, if people have an allergy to wasp venom, a sting can be a serious medical problem. As much as the survey wants information about wasps we do not want anyone to get hurt collecting that information. If you suffer from allergies or are worried that you might, then please do not take part.
The following guidelines are to help keep you safe.
1.       Your beer trap will attract wasps so be sure to put it somewhere where wasps are not going to be a problem. We suggest placing your trap at the bottom of your garden, away from your (and your neighbours') living space as far as possible. Avoid putting your trap near a window or a door, or near to areas where people or pets sit or where children play.
2.       Collect your beer trap later in the evening when wasps are not likely to be active. You should wear washing up gloves, and a long sleeved shirt.
3.       It is possible that not all the wasps in your trap are dead: to ensure they are all safe to handle, drain off the beer through a sieve and place the insects from your trap in a margarine tub in your freezer for at least 2 hours.
4.       Remember that it is possible for the sting of dead wasp to penetrate your skin so be careful and wear washing up gloves if you are handling dead wasps.
5.       If you do get stung by a wasp then visit
this NHS page
 for treatment advice. Familiarise yourself with the signs of severe allergic reaction at
this page
. Symptoms include swelling of the throat and mouth; difficulty breathing;
light headedness
; confusion;
blue skin or lips
. 
Heritage harvest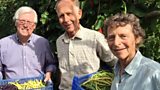 John visits Sandy Lane Farm in Oxfordshire to meet Charles and Sue Bennett. They approach harvest-time in a special way. The three generation farming family use people power to grow organic crops. Nothing is wasted here and even their pigs get in on the act! But it is their son George's plans that really set this farm apart. 
Radish rapture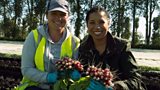 Margherita travels east to go behind the scenes at the UK's biggest radish farm. The fertile black fens of Norfolk ensure this humble vegetable thrives here. Margherita meets farm manager Scott Watson at Feltwell Growers who explains the ins and outs of radish growing and shows of his pride and joy ... a specially designed bespoke radish harvester!
Ancient rye
Back on Sandy Farm, John finds out about another unusual crop the Bennetts are growing. Alongside their usual produce the Bennetts are growing antique strains of rye that haven't been seen for more than a century here in the UK. There are up to 40 strains thrown together to grow, cross pollinate and take their chances organically. But what are these ancient crops being used for?
Discover more about the history of rye
One Man and his Dog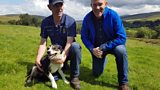 Yes it's that time of year again. From across the four nations that make up the UK, the very best in sheep dog trialling are bracing themselves to compete for the coveted One Man and his Dog trophy. This year the nations will be competing in Brace trials as well. For the uninitiated this is when competitors work two dogs at the same time. This week Adam is off to meet the hopefuls from Scotland and current champions England.
 
British apricots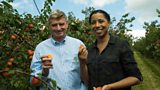 There's a touch of the Med down in Kent! Margherita visits Bardsley Farm and meets a family of traditional fruit growers who've been feeding us for 125 years. The Bardsleys grow around 4000 tons of fruit a year, but recently they have ventured away from traditional fruits and are now growing English apricots, a novelty on our supermarket shelves. Ben Bardsley explains how his father Nigel pioneered the crop 7 years ago, whilst Nigel shows Margherita what it takes to grow this exotic fruit and how to hand pick it perfectly.
Rye gin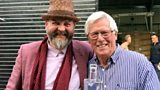 So what happens to that Rye? John meets heritage gin distiller Tom Nicholson who in turn introduces him to Nautilus, a one off, stunning copper contraption that distills the rye mash into gin. This is the only distillery in the world making gin from these ancient crops. Once the gin has been infused with various exotic flavours from across the world it's ready to drink, naturally John takes a sip!
Credits
| Role | Contributor |
| --- | --- |
| Presenter | John Craven |
| Presenter | Margherita Taylor |
| Presenter | Adam Henson |
| Presenter | Tom Heap |
| Series Editor | William Lyons |
| Series Producer | Andrea Buffery |