Main content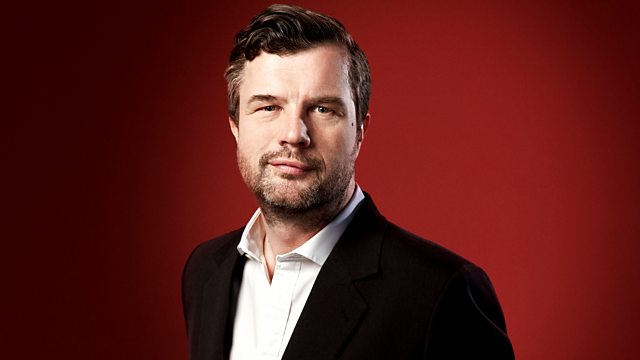 Monday - Petroc Trelawny
Petroc Trelawny presents Radio 3's classical breakfast show, featuring listener requests.
Email 3breakfast@bbc.co.uk.
Music Played
William Byrd

Domine, secundum actum meum for 6 voices

Ensemble: The Cardinall's Musick. Conductor: Andrew Carwood.

Byrd: Complete works Vol.4: The Cardinall's Musick/Carwood.
ASV.
11.

Carl Nielsen

En snes danske viser: Underlige aftenlufte! (Strange Evening Breeze)

Choir: DR VokalEnsemblet. Conductor: Michael Schønwandt.

William Boyce

Symphony no. 2 in A major

Ensemble: Aradia Ensemble. Conductor: Kevin Mallon.

William Boyce: Eight Symphonies Op. 2.
Naxos.
4-6.

Maurice Ravel

Sonatine

Performer: Steven Osborne.

Ravel: The Complete Solo Piano Music: Steven Osborne, Piano.
Hyperion.
4.

Edward Elgar

Serenade in E minor Op.20 for string orchestra

Ensemble: I Tempi. Conductor: Gevorg Gharabekyan.

Florence Price

Symphony in E minor (4th mvt)

Ensemble: New Black Music Repertory Ensemble. Conductor: Leslie B.Dunner.

Johann Sebastian Bach

Cantata no. 127 BWV.127: Die Seele ruht in Jesu Handen (Aria)

Transcriber: Harold Bauer. Performer: Angela Hewitt.

Bach Arrangements.
Hyperion.
15.

Johann Sebastian Bach

Sarabande from Cello suite no.5 in C minor BWV.1011

Performer: Paul Tortelier.

J S Bach; Cello Suites nos.1, 4 & 5.
EMI.
18.

Camille Saint‐Saëns

Septet in E flat major, Op.65 (4th mvt)

Ensemble: Nash Ensemble.

Ludwig van Beethoven

Romance in F major for violin and orchestra, Op 50

Performer: Anne‐Sophie Mutter. Orchestra: New York Philharmonic. Conductor: Kurt Masur.

Beethoven: Violin concerto/Romances: Mutter/New York Philharmonic/Masur.
Deutsche Grammophon.
5.

John Maxwell Geddes

Aye Waukin, O!

Librettist: Robert Burns. Singer: Irene Drummond. Performer: Iain Burnside.

George Frideric Handel

Dixit Dominus Domino meo (Dixt Dominus)

Singer: Elin Manahan Thomas. Singer: Sally Bruce-Payne. Singer: Guy Cutting. Singer: Matthew Brook. Ensemble: Brook Street Band. Choir: Choir of Queen's College, Oxford. Conductor: Owen Rees.

Handel: Scarlatti: Dixit Dominus.
Avie.
12.

Benjamin Britten

The Young Person's Guide to the Orchestra, Op.34 (Variations and fugue on a theme of Purcell)

Orchestra: City of Birmingham Symphony Orchestra. Conductor: Sir Simon Rattle.

Johannes Brahms

Rhapsodie in G minor, Op 79 No 2

Performer: Murray Perahia.

Brahms: Handel Variations: Murray Perahia.
Sony Classical.

Errollyn Wallen

Quite slow from Photography

Orchestra: Orchestra X. Conductor: Nicholas Kok.

Joseph Haydn

Piano Trio in G major, H.15.25, 'Gypsy' (3rd mvt)

Ensemble: The Florestan Trio.

Haydn: Piano Trios, Vol.1: The Florestan Trio.
Hyperion.
6.

Wolfgang Amadeus Mozart

Violin sonata no.13 in C K.28

Performer: Alina Ibragimova. Performer: Cédric Tiberghien.

Mozart Violin Sonatas.
Hyperion.
7-8.

Henry Purcell

The Gordian Knot Unty'd

Orchestra: Accademia Bizantina. Conductor: Stefano Montanari.

Henry Purcell, O Solitude: Andreas Scholl/Accademia Bizantina.
Decca.
11.

Yasushi Akutagawa

Trinita Sinfonica (Finale)

Orchestra: New Zealand Symphony Orchestra. Conductor: Takuo Yuasa.

Akutagawa: Ellora Symphony. Trinita Sinfonica.
Naxos.
20.

Jean Sibelius

Andante Festivo

Ensemble: Tempera Quartet.

Sibelius: String Quartets 1890 - 1922.
BIS.
12.

Arthur Sullivan

When the night wind howls (Ruddigore)

Librettist: William Gilbert. Singer: Bryn Terfel. Choir: Radiokören. Orchestra: Sveriges Radios Symfoniorkester. Conductor: Paul Daniel.

Bryn Terfel: Bad Boys; Swedish Radio Symphony Orchestra.
Deutsche Grammophon.
8.

Wolfgang Amadeus Mozart

Divertimento in B flat major, K 240 (1st mvt)

Ensemble: Winds of the Berlin Philharmonic Orchestra.

Mozart: Divertimenti for 6 Wind Instruments: Berliner Philharmoniker.
Orfeo.
5.

John Dowland

Fantasia in G major

Performer: Sean Shibe.

Charles Ives

General William Booth Enters into Heaven

Orchestrator: John J. Becker. Singer: Donnie Ray Albert. Choir: Dallas Symphony Chorus. Orchestra: Dallas Symphony Orchestra. Conductor: Andrew Litton.

Giuseppe Verdi

Miserere d'un alma (Il trovatore)

Performer: Chorus of the National Academy of Santa Cecilia. Singer: Rosalind Plowright. Singer: Plácido Domingo. Conductor: Carlo Maria Giulini. Orchestra: Orchestra dell'Accademia Neazionale di Santa Cecilia.

Dmitry Shostakovich

Jazz Suite no. 1 (1st mvt)

Orchestra: Royal Concertgebouw Orchestra. Conductor: Riccardo Chailly.

Nicola Porpora

Carlo il Calvo (Overture)

Ensemble: Concerto Köln. Conductor: Pablo Heras‐Casado.

El Maestro - Farinelli.
Archiv.
2.

Franz Liszt

6 Grandes etudes de Paganini S141 for piano: no.3 in G sharp minor "La Campanella"

Performer: André Watts.

Andre Watts Plays Liszt Album 1.
EMI.
3.

Francesca Caccini

Lasciatemi

Performer: Sylvain Bergeron. Performer: Amanda Keesmaat. Performer: Luc Beauséjour. Singer: Shannon Mercer.

Francesca Caccini: O Viva Rosa.
Analekta.
7.

Bob Chilcott

The Voice of Water

Choir: BBC Singers. Performer: Nigel Charman. Performer: Markus Gruett. Conductor: David Hill.

Claude Debussy

Marche écossaise sur un thème populaire

Orchestra: BBC Scottish Symphony Orchestra. Conductor: Jerzy Maksymiuk.

Johann Wenzel Kalliwoda

Symphony No. 4, Op. 60: 4th mvt Finale 'Vivace'

Orchestra: Die Kölner Akademie. Conductor: Michael Alexander Willens.

George Butterworth

Is my team ploughing? (6 Songs from 'A Shropshire Lad')

Singer: Roderick Williams. Performer: Iain Burnside.

George Butterworth, Songs from A Shropshire Lad: Williams / Burnside.
Naxos.
6.

Antonio Vivaldi

Gloria (RV.589) in D major, Gloria in excelsis Deo & Et in terra pax

Ensemble: English Baroque Soloists. Conductor: Sir John Eliot Gardiner. Choir: Monteverdi Choir.

John Field

Air du bon Roi Henri IV

Performer: Míċeál O'Rourke.

Field: 16 Piano Pieces.
CHANDOS.
1.

Bedrich Smetana

Vltava (Má vlast)

Orchestra: Bournemouth Symphony Orchestra. Conductor: Paavo Berglund.

John Surman

Road To Saint Ives: Rame Head

Performer: John Surman.

Road To Saint Ives.
ECM.
4.

Ottorino Respighi

La boutique fantasque (Tarantella)

Orchestra: Toronto Symphony Orchestra. Conductor: Sir Andrew Davis.

Rossini-Respighi: La Boutique Fantasque - Davis.
CBS.
2.

Ludwig van Beethoven

Ma tu tremi, o mio tesoro? WoO 92a

Singer: Sophie Bevan. Ensemble: The Mozartists. Director: Ian Page.

Dobrinka Tabakova

Cello Concerto (3rd mvt 'Radiant')

Performer: Kristina Blaumane. Orchestra: Lietuvos kamerinis orkestras. Conductor: Maxim Rysanov.

Clara Schumann

Andante espressivo in D major, Op 15 No 3 (Pièces fugitives)

Performer: Hélène Boschi.

Clara Schumann Piano Works.
CALLIOPE.
008.