Main content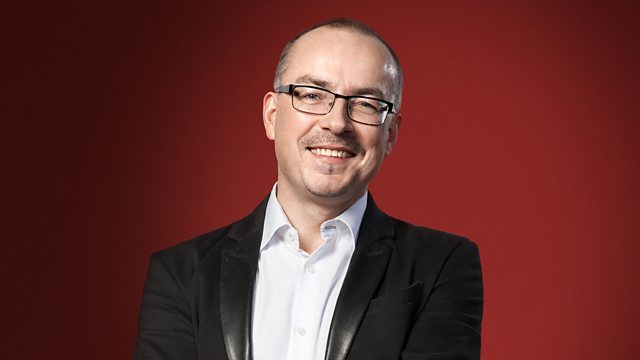 Summer Record Review: Andrew McGregor with Nicholas Baragwanath. Proms Composers: Judith Weir
With Andrew McGregor, including a recent reissue of a classic recording of Wagner's Ring reviewed by Nicholas Baragwanath. Proms Composer: Judith Weir.
with Andrew McGregor;
0930 Proms Composer: Judith Weir
The British composer Judith Weir was born in England, to Scottish parents. She studied with Sir John Tavener and Robin Holloway. Her music is often inspired by the traditional stories and music of Scotland. She is best known for her operas and theatrical works. Since 2014 Weir has been the Master of the Queen's Music. Her musical language is often simple but fresh and mysterious.
1030 Andrew talks to Nicholas Baragwanath about a recent reissue of Karajan's classic recording for DG of Wagner's epic music drama, The Ring of the Nibelungen. Often seen in the shadow of Solti's ground-breaking Ring for Decca, the Karajan is much admired by some, especially for the chamber-music transparency of much of the orchestral playing.
1145
Mahler
Rückert-Lieder
Alice Coote (mezzo-soprano)
Netherlands Philharmonic Orchestra
Marc Albrecht.
Record Review
9.00 a.m.
Barsanti & Handel: Edinburgh 1742
BARSANTI: Concerto grosso in D major Op. 3, No. 3; A collection of Old Scots tunes (selection); Concerto grosso in F major Op. 3, No. 1; Concerto grosso in F major Op. 3, No. 2; Concerto grosso in D major Op. 3, No. 4; Concerto grosso in D major Op. 3, No. 5
HANDEL: Sta nell'Ircana pietrosa tana (from Alcina); Concerto in F (HWV 331/316); March in F major, HWV346
Emilie Renard (mezzo), Ensemble Marsyas, Peter Whelan (conductor)
LINN CKD567 (CD)
a la russe
BALAKIREV: Islamey - Oriental Fantasy
RACHMANINOV: Piano Sonata No. 1 in D minor Op. 28
STRAVINSKY: The Firebird: Danse infernale du roi Kastchei; Berceuse from The Firebird; Finale from The Firebird
TCHAIKOVSKY: Meditation (No. 5 from Morceaux Op. 72); Passe lontain (No. 17 from Morceaux Op. 72); Scherzo a la Russe Op. 1 No. 1
Alexandre Kantorow (piano)
BIS BIS2150 (Hybrid SACD)
Nature and the Soul
EMILIS DARZINS: Senatne/Long Ago; Meness starus stigo/Moonbeams; Lauztas priedes/The Broken Pines
EMILIS MELNGAILIS: Daba un dvesele/Nature and the Soul; Latviesu rekviems/Latvian Requiem; Pamazam brauciet/Move Gently and Quietly; Pamazam, palenam/Gently, Slowly; Saule riet/ The Sun is Setting; Pastara diena/Doomsday
JANIS ZALITIS: Bikeris mironu sala/The Goblet on the Isle of the Dead
JEKABS GRAUBINS: Meza nakts ir ienakusi/Night Has Entered the Forest
JAZEPS VITOLS: Diena beidzas/The Day is Ending; Menestins meloja/The Moon Lied; Duknu sils/The Enchanted Forest; Rukisi un Mezavecis/The Dwarves and the Old Man of the Forest; Karalis un bezlapite/The King and the Mushroom; Davids Zaula prieksa/David Before Saul; Saules svetki/The Sun's Revelry
Latvian Radio Choir, Kaspars Putnins (conductor)
LMIC/SKANI 054 (CD)
9.32 a.m Proms Composer: Dame Judith Weir
Ryan Young
The Back of the Change House/The Nine Pint Coggie/John of Badenyon/Och Is Duine Truagh Mi (Strathspey and Reels);
Jenna's Jig/Stop Thanking Me/Dennis' Jig (Jigs);
The Rothiemurcas Rant/Mrs Robertson Grishornish (Strathspeys);
Ryan's Despair (slow Air);
The Cross of Inverness/The Bob of Fettercairn (Reels);
Lamberton Races or Col.Renton's Favourite/The Oyster Wives' Rant/Rinettan's Daughter (Reels);
The Lads in The Kilt/Airidh Nam Badan (Jigs);
John MacColl's Farewell/Willie's Auld Trews/The Harris Dance (March and Reels);
What Pain I've Endured Since Last Year/Caber Feidh/To Chase The Goats of the Rocks (Slip Jig and Reels);
Traditional Reel/Smilin' Katie/The White Houses of Shieldaig (Reels);
The Highland Laddie (March);
The Irish Girl (Jig)
Ryan Young (fiddle) accompanied by Leo Forde (guitar) and James Ross (piano)
RYM01CD (CD)
British Women Composers, Volume 2
ALBERGA: Dancing with the shadow: Duo, Quintet & Sextet
MARTINEZ, O: Canciones
MAXWELL, M: Pibroch
TANN: Winter sun, Summer rain
WEIR: Airs from Another Planet
Lontano, Odaline de la Martinez (conductor)
LORELT LNT103 (CD)
WEIR: The Vanishing Bridegroom
Ailish Tynan (soprano), Anna Stephany (mezzo), Andrew Tortise (tenor), Owen Gilhooly (baritone), Jonathan Lemalu (bass baritone), BBC Singers, BBC Symphony Orchestra, Martyn Brabbins (conductor)
NMC NMCD196 (2CD)
WEIR: A Night at the Chinese Opera
Timothy Robinson (tenor), Michael Chance (Counter-tenor), Michael George (Bass), Gwion Thomas (Baritone)
Scottish Chamber Orchestra, Andrew Parrott (conductor)
NMC NMCD060 (2CD)
On Buying a Horse
WEIR: On Buying a Horse; Ox Mountain Was Covered By Trees; Songs from the Exotic; Scotch Minstrelsy; The Voice of Desire; A Spanish Liederbooklet; King Harald's Saga; Standchen
Ailish Tynan (soprano), Susan Bickley (mezzo), Andrew Kennedy (tenor), Iain Burnside (piano)
SIGNUM SIGCD087 (CD)
Judith Weir - The Welcome Arrival of Rain
WEIR: The Welcome Arrival of Rain; Natural History; Moon and Star; Heroic Strokes of the Bow; Forest
Ailish Tynan (soprano), BBC Singers, BBC Symphony Orchestra, Martyn Brabbins (conductor)
NMC NMCD137 (CD)
Judith Weir: Storm
WEIR: All the Ends of the Earth; Magnificat and Nunc Dimittis (2011); Missa del Cid; The Song Sung True; Storm
BBC Singers, Choristers of Temple Church, Endymion, David Hill (conductor)
SIGNUM SIGCD421 (CD)
10.12 am New Releases - Telemann & Buxtehude
A Telemann Companion
Orpheus; Brockes-Passion; Orchestersuiten; Blockfloten-Werke
Maurice Steger (recorder), RIAS Kammerchor, Akademie fur Alte Musik Berlin, Rene Jacobs, Georg Kallweit
HARMONIA MUNDI HMX290878187 (7CD)
Like As The Hart: Music For The Templars Garden
BUXTEHUDE: Quemadmodum desiderat cervus, BuxWV92
HANDEL: Chandos Anthem No. 6 'As pants the hart of cooling streams', HWV 251b
HOWELLS: Like as the Hart
L'ESTRANGE: As the chased hart
OCKEGHEM: Sicut cervus desiderat
PALESTRINA: Sicut cervus
PITTS, A: Why restless, why cast down?
SCHUTZ: Quemadmodum desiderat SWV336
TALLIS: E'en like the hunted hind
TAVERNER: Quemadmodum desiderat cervus
The Choir of New College Oxford, Robert Quinney (conductor)
NOVUM NCR1392 (CD)
BUXTEHUDE: Seven Sonatas Op. 1 BuxWV 252-258
Arcangelo; Sophie Gent (violin), Jonathan Manson (cello), Thomas Dunford (lute), Arcangelo, Jonathan Cohen (harpsichord & director)
ALPHA ALPHA367 (CD)
10.40 a.m. – Reissues: Karajan Ring Cycle
Wagner – Der Ring Des Nibelungen
Das Rheingold; Die Walkure; Siegfried; Gotterdammerung
Berlin Philharmonic; Chorus of the Deutsche Opera Berlin; Herbert Von Karajan (conductor)
Brunnhilde - Regine Crespin & Helga Dernesch
Sieglinde – Gundula Janowitz
Siegfried – Jess Thomas & Helge Brilioth
Siegmund - Jon Vickers
Wotan - Dietrich Fischer-Dieskau
DG 00289 479 7354 (Blu-ray Audio disc)
11.30 a.m. – New Mahler 5's
Mahler: Symphony No. 5
Minnesota Orchestra, Osmo Vanska (conductor)
BIS BIS2226 (Hybrid SACD)
Mahler: Symphony No. 5
Symphonieorchester des Bayerischen Rundfunks, Mariss Jansons (conductor)
BR KLASSIK 900150 (CD)
Mahler: Song Cycles
MAHLER: Kindertotenlieder; Lieder eines fahrenden Gesellen (4 songs, complete); Ruckert-Lieder (5 songs, complete)
Alice Coote (mezzo-soprano), Netherlands Philharmonic Orchestra, Marc Albrecht (conductor)
PENTATONE PTC5186576 (Hybrid SACD)