Main content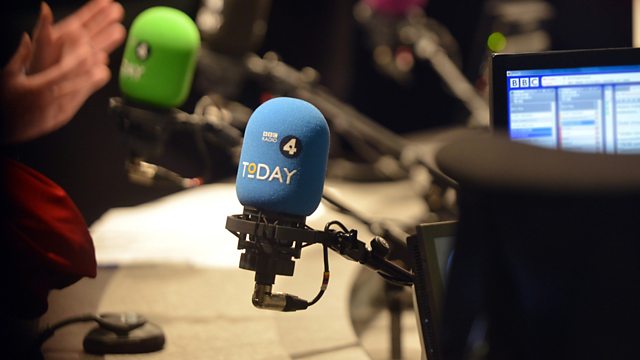 22/09/2017
Morning news and current affairs. Including Yesterday in Parliament, Sports Desk, Weather and Thought for the Day.
Last on

Today's running order
0650
On our programme yesterday we heard that scientists working on chronic fatigue syndrome (CFS) have conducted a clinical trial which reveals an improvement in teenage patients using a three-day therapy programme. The trial drew controversy when it was initiated, not least from the ME Association, who remain opposed. Charles Shepherd is the charity's medical adviser.
0655
Yesterday we broke the story that shareholders wouldn't necessarily get the full market value of their shares refunded under a Labour nationalisation plan and Labour would assess how companies had behaved since privatisation. Tony Glover is director of policy and gas at the Energy Networks Association.
0710
Theresa May will tell EU leaders there is a shared responsibility to make Brexit work "smoothly" as she attempts to break the deadlock in negotiations. Chris Morris is the BBC's Reality Check correspondent.
0715
According to The Guardian, banks and building societies will begin immigration checks on 70 million current accounts – those found to be here illegally will have their accounts frozen by the authorities or shut down.
0720
Germans go to the polls this weekend, at a time of a growing economy, rising wages and low unemployment. So what do business leaders want from the next government? Steffan Kampeter runs the German employers' organisation, the BDA.
0725
Facebook has said it will give the US Congress details of 3,000 political adverts that were paid for from Russian accounts, in the run up to last year's presidential election. Amol Rajan is the BBC's media editor. 
0730
Angela Merkel is asking Germany this weekend to give her a fourth term as Chancellor and she now looks almost certain to get it in Sunday's election. Today's special correspondent Jim Naughtie is in Berlin for us this morning.
0740
In her speech today, Theresa May will explain what she wants and how she plans to get it. A local man once had a few ideas about all this. Erica Benner is author of Be Like the Fox: Machiavelli's Lifelong Quest for Freedom.
0750
The head of the National Police Chiefs Council has warned that pressures on policing are "not sustainable" within existing budgets. Frank Gardner is the BBC's security correspondent and Sara Thornton is chair of the National Police Chiefs' Council.
0810
Theresa May will tell EU leaders there is a shared responsibility to make Brexit work "smoothly" as she attempts to break the deadlock in negotiations. Chris Grayling is secretary of state for transport. Laura Kuenssberg is the BBC's political editor.
0820
Two days before the German election, Angela Merkel is on the cusp of winning a fourth term in office. Neil MacGregor is former director of the British Museum, now advising the German government on the creation of a new museum in Berlin. 
0830
Interim results given exclusively to the BBC suggest 68% of almost 500 women surveyed who are on a powerful epilepsy drug have not received new safety warnings about dangers of taking it in pregnancy. Susan Cole's daughter, now 17, has fetal valproate syndrome. Helen Stokes-Lampard is chair of the Royal College of GPs.
0835
The United Nations High Commissioner for Refugees has told the BBC that "massive resources" are needed to help the large number of Rohingya people that have fled violence in Myanmar for Bangladesh. Jehangir Malik is CEO of Muslim Aid.
0840
More than four hundred thousand new undergraduates are beginning their degree courses as the term gets under way. But has the point of university been lost for many students? Journalist Matthew D'Ancona provides his personal view.
0845
A new exhibition showing the work of Jasper Johns is opening at the Royal Academy on Saturday. Edith Devaney is curator of the RA Jasper Johns Exhibition at the Royal Academy.
0850
Where does Brexit leave the power balance within the EU? Christine Ockrent is a French journalist and writer. Quentin Peel is former Berlin correspondent for the Financial Times.
0855
Today is the autumn equinox, traditionally regarded as the first day of the new season. To mark this turning of the year Radio 4 is continuing the tradition of reading autumnal poems across the day. Poet Alice Oswald reads a poem specially commissioned for the occasion.
All subject to change.
Broadcast