Main content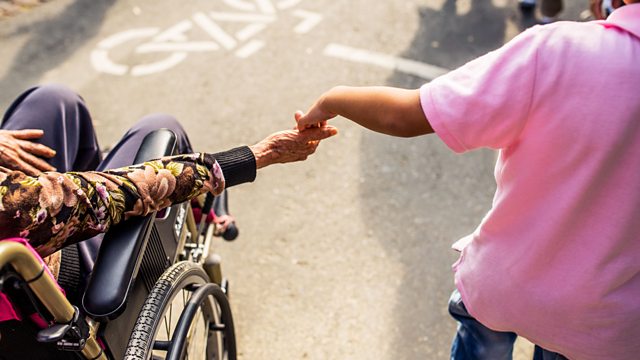 NHS continuing care; Older drivers; Swedish tourism
NHS Continuing Care. "Black boxes" for older drivers. Tourism in Sweden.
A You & Yours investigation has found that people with disabilities who are entitled to fully funded NHS care in their homes have been told by local commissioners that they must reduce the cost of their treatment or be moved into a care home. NHS Continuing Care is not means tested, but some patients have been told that the cost of their care must be reduced, or they must pay the difference if they are to stay in their own home.
More than four and a half million people over 70 hold driving licences in the UK and every year that number increases by around a quarter of a million, that's according to the DVLA. For some time, young drivers have used so-called "black boxes" in their cars, which monitor how they drive and if they're a safe driver, it can help keep their insurance premiums down. But now insurers are considering a similar system for older drivers. We hear how the technology will work and consider how older motorists will feel about devices that monitor how safely they drive.
Tourists have had a bad press in recent months, with stories from Barcelona, Venice and even Skye about the impact they can have on the environment and the lives of local people. In some holiday destinations there is a real tension between the desire to attract tourists and the need to protect what they have come to see. Sweden wants more visitors and plans to double the size of its tourism industry. We report from the north of the country where they are managing to attract many more visitors, while maintaining a superb natural environment.
Producer: Jonathan Hallewell
Presenter: Shari Vahl.
Chapters
Ryanair

Should Ryanair pick up the tab for customers who have to make alternative arrangements?

Duration: 04:49

Swedish Tourism

How Sweden plans to boost tourism while maintaining the beauty of its environment.

Duration: 06:53

Continuing Care

The NHS commissioners trying to limit how much is paid to people cared for at home.

Duration: 06:26

Older Drivers

Could older drivers soon be using "black boxes" to monitor how safely they drive?

Duration: 07:26

Festival Tickets

The risks of buying music festival tickets in staged payments.

Duration: 06:06

Letting Agent Fees

MPs have been debating the government's plan for a ban on letting agent fees.

Duration: 05:59