Main content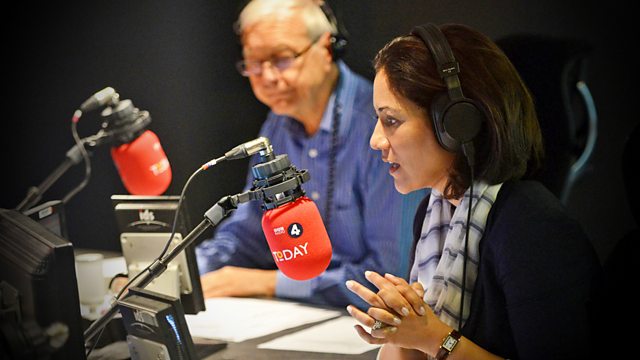 19/09/2017
News and current affairs. Including Yesterday in Parliament, Sports Desk, Weather and Thought for the Day.
Today's running order
0650
The conflict in Yemen is now in its third year and as a result it has now become the world's worst humanitarian crisis. The BBC's Nawal al-Maghafi reports.
0655
The chief executive of the National Housing Federation is warning that social housing funding will descend into crisis unless the Government makes a break with the past and starts funding new genuinely affordable homes. Ruth Davison is director at the National Housing Federation.
0710
Hurricane Maria has strengthened. It is now a category five - the maximum. And it's heading towards the eastern Leeward Islands in the Caribbean. Our correspondent Jeremy Cooke reports.
0715
The leader of one of the world's most conflict-ridden cities has questioned official UK police advice to "run, hide, tell" during terror attacks and has suggested Britons should take on jihadists to save lives. Nir Barkat, the mayor of Jerusalem, said people should "engage" the enemy directly. He joins us on the program.
0720
How will this Sunday's German elections affect Brexit negotiations and will Theresa May's speech on Friday in Florence be aimed at a British audience or European leaders? Our Europe editor Katya Adler reports.

0725
Francis Crick was the first person to explain how genes work – his Central Dogma lecture, which took place in London 60 years ago today, changed our understanding of biology and genetics. Professor Matthew Cobb is a scientist and historian at the School of Biological Sciences at the University of Manchester.
0730
Myanmar's de facto leader Aung San Suu Kyi says she does not fear "international scrutiny" of her government's handling of the growing Rohingya crisis. Deen Mohammed Noori is from the Arakan Rohingya Organisation in Bradford and a Rohingya Muslim and Andrew Mitchell is the former international development secretary.
0740
The man put in charge of ending modern day slavery in the United Kingdom has called for a "radical reform" of the system set up to identify and help victims. Matthew Price is our chief correspondent.
0750
Theresa May has tried to put the public split with Boris Johnson behind her, insisting that she and her ministers are heading in the same direction. Kenneth Clarke is a former Conservative cabinet minister and prominent Remain campaigner.
0810
According to a US senior general, the latest battlefield is the internet - a netwar being waged by terrorist organisations such as ISIS and Al Qaeda. General David Petraeus is a former director of the CIA and commanded coalition forces in both Iraq and Afghanistan.
0820
The comedian Jack Whitehall has travelled across South East Asia with his father Michael, a retired agent producer. Travels with My Father will be released on Netflix in six episodes on Friday. They join us on the programme.
0830
Hurricane Maria has strengthened. It is now a category five - the maximum. And it's heading towards the eastern Leeward Islands in the Caribbean. Our correspondent Gus Jaspert reports.
0840
On October 28 this programme will have been on the air for sixty years. This week we look at how the internet has changed our lives. Martha Lane Fox is one of the first internet entrepreneurs.
0845
Satirist & author Craig Brown has a new target – Princess Margaret – his new book Ma'am Darling: 99 Glimpses of Princess Margaret is about the glamorous Royal everyone wanted to meet. He joins us on the programme.
0850
In his article at the weekend Boris Johnson wrote, 'I am here to tell you that this country will succeed in our new national enterprise, and will succeed mightily'. Sir Craig Oliver is a former director of communications to David Cameron and Margaret Heffernan is an entrepreneur and leadership consultant.
All subject to change