Main content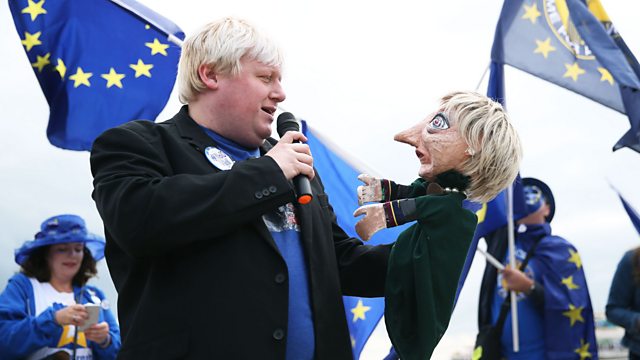 Theresa May rebukes Boris Johnson over Brexit
Prime minister insists government is being 'driven from the front'.
As Theresa May and Boris Johnson join other leaders at the annual UN meeting this weekend's Brexit row has crossed the Atlantic with them. Ritula Shah reports from the General Assembly in New York where she speaks to Ireland's Foreign Minister Simon Coveney who tells us Britain's position on Brexit was 'not credible'.
We debate whether Americans hostile to the UN will support the Secretary General's promise to reform of the institution. Also: we speak to the lawyer of a young Irish man who spent four years in an Egyptian jail, and has been acquitted today. And after three Germans are fined for stepping over an elderly man who collapsed at a cashpoint, should we really need the law to tell us to do the right thing? We ask a philosopher.
Picture: A Boris Johnson impersonator holds a Theresa May puppet
Credit: PA.
Podcast
In depth reporting, intelligent analysis and major breaking news from a global perspective