Main content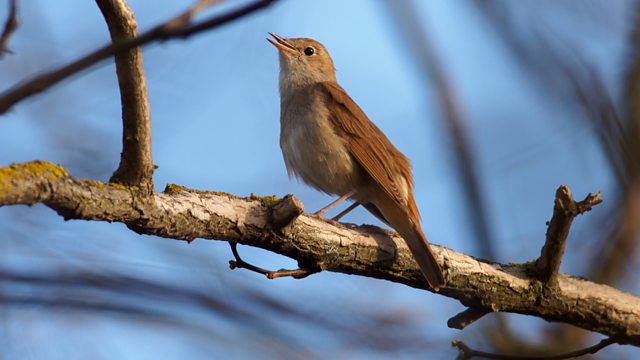 Nightingale
Series exploring nature's impact on human culture. Brett Westwood hears how the nightingale's song continues to inspire human creativity.
Brett Westwood soaks in a sound bath of nightingale song as he explores how this dull, brown bird continues to inspire human creativity. Featuring folk musician Sam Lee, philosopher and professor of music David Rothenberg, Bristol University reader Francesca MacKenney, the British Trust for Ornithology's Chris Hewson, poet Jack Thacker and Professor Stephanie Weiner of Wesleyan University. Producer: Tom Bonnett.
Last on
Francesca MacKenney
University of Bristol Researcher
David Rothenberg
Author of Why Birds Sing.
Chris Hewson
Senior Research Ecologist at the British Trust for Ornithology.
Dr. Bethan Roberts
Researcher at the Univeristy of Liverpool. Bethan's research is on Romantic poetry, place and nature writing. She is currently exploring the nightingales of poetry, science and ecology in the long eighteenth century.
Dr. Stephanie Weiner
Professor of English at Wesleyan University. 
Sam Lee
Sam Lee is a folk singer, song collector, traditional music specialist and promoter. He curates outdoor concerts combining nightingales and singers. 
Broadcasts

Featured in...
Magical musical moments with the bird world's most powerful and beautiful songster.