Main content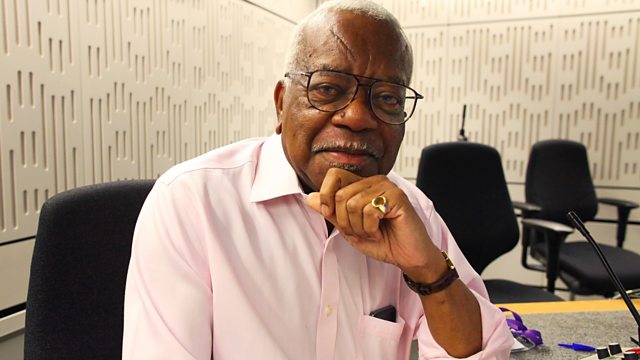 Maytree Respite Centre
Trevor McDonald makes an appeal on behalf of Maytree Respite Centre.
Trevor McDonald makes the Radio 4 Appeal on behalf of Maytree Respite Centre.
Registered Charity Number 1087668
To Give:
- Freephone 0800 404 8144
- Freepost BBC Radio 4 Appeal. (That's the whole address. Please do not write anything else on the front of the envelope). Mark the back of the envelope 'Maytree Respite Centre'.
- Cheques should be made payable to 'Maytree Respite Centre'.
Maytree Suicide Respite Centre
Maytree Suicide Respite Centre provides people in the midst of a suicidal crisis with the opportunity to talk, rest and reflect in a calm, safe and relaxed environment. We offer a free one-off 4-night stay that enables people to be heard in complete confidence, without judgement and with compassion and warmth. We can support four "guests" at a time and the service runs 24 hours a day, 365 days a year.
Jeanette, one of our volunteers, spending time with a guest in the garden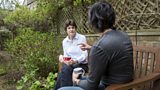 During their stay at Maytree, our guests spend time talking to our staff and volunteers about their suicidal thoughts and the issues that have led them to feeling suicidal. The aim of the befriending sessions is for our guests to feel heard, supported and not judged, to help them to connect with another human being with the aim of reducing their isolation and suicidal feelings.

Photo © Andy Aitchison  
One of our volunteers providing befriending support over the phone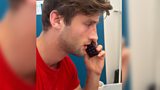 At Maytree we know that taking that first step to contact us is not always easy for people who are feeling isolated and totally alone with their suicidal feelings.  If you or someone you know is feeling suicidal please reach out and either call or email us. We are open 24 hours a day.
Maytree volunteers and staff at Queens Park Rangers football club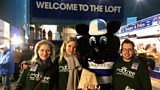 Our community link worker and volunteers go out into the community, highlighting the issue of suicide and promoting Maytree's work, with the aim of tackling the stigma and taboo linked to suicide. We also provide training to other voluntary sector services on suicide awareness and befriending.