Main content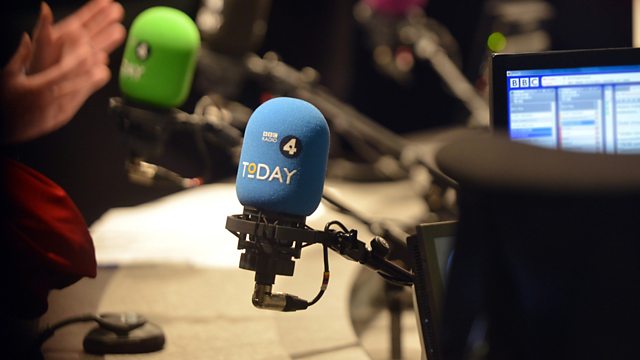 13/09/2017
Morning news and current affairs. Including Yesterday in Parliament, Sports Desk, Weather and Thought for the Day.
Last on

Today's running order
0650
Nick Robinson is in California, investigating how new technologies are changing the way we work and how we relate to each other. Jerry Kaplan is an expert in artificial intelligence and a serial entrepreneur.
0655
It is Roald Dahl Day today - when many schools across the country ask children to dress up as their favourite Dahl character and wear something yellow - the author's favourite colour. Sarah Montague has been speaking to Roald Dahl's widow Liccy and his biographer, Donald Sturrock.
0710
Silicon Valley is the place that gave birth to what for a long time looked like a Utopian dream - a promise to connect the world and to give everyone equal and free access to information. Richard Gingras is the boss of Google News.
0715
The Brexit Secretary, David Davis, has already ruled out EFTA membership as an option. Carl Baudenbacher is president of the European Free Trade Association (EFTA) court – he is in London for a series of talks to try and persuade the UK government to join EFTA and he is championing the Norway Model for the UK.
0720
As part of our Silicon Valley programme, we speak to Barrett Cohn from Scenic Advisements. He made his name by helping newly wealthy techies handle their cash and assets.
0725
One of the world's great opera singers, Dame Kiri Te Kanawa, - who performed at the wedding of Prince Charles and Lady Diana Spencer - has revealed to this programme that she has stopped singing. The BBC's arts correspondent Rebecca Jones has been talking to her.
0730
Whether it's a phone that recognises your face or a car that can drive itself or a cognitive computer than can diagnose disease better than any doctor on their own, Silicon Valley is a place where anything seems possible. Today's Nick Robinson reports.
0740
The giant corporations which grew up and now dominate Silicon Valley can follow you at every step, observing your preferences, tracking your likes and mining your data. Dave Eggars is the author of The Circle - a satirical novel about the social media corporation to end all social media corporations.
0750
French economy minister and one of President Macron's closest political allies Benjamin Griveaux is in London to talk about post Brexit opportunities, but also the new economic and political outlook for France after the presidential election. We speak live to Mr Griveaux.
0810
AI, or artificial intelligence, is just one way in which the technology being developed in Silicon Valley promises - or should that be threatens? - to change the way we make a living: Greg Brockman is a founder of OpenAI - a not for profit organisation set up to ensure that artificial intelligence is deployed for the good of mankind.
0820
The British Counties campaign says there are 600 towns and villages in England which could be considered as being part of more than one county. The BBC's security correspondent Frank Gardner played a Victorian card game as a child which was all about counties. Danny Dorling is professor of Geography at Oxford University.
0830
From Silicon Valley, we have been speaking to one of the founders of Twitter - Evan Willams, who has now created Medium - an online site which hosts quality long form journalism.
0835
What triggered the creation of the Silicon Valley hub and how can that be replicated in the UK? Sherry Coutu is an entrepreneur and chair of Silicon Valley Comes to the UK – collaboration between the UK and Silicon Valley which started in 2006.
0840
The President of the European Commission Jean-Claude Juncker will give his annual State of the European Union address in Strasbourg this morning. Katya Adler is the BBC's Europe editor.
0850
What kind of world is Silicon Valley creating? Steve Hilton is CEO of political data technology start-up Crowdpac and a former director of strategy for David Cameron. Leslie Berlin is author of Troublemakers: How a Generation of Silicon Valley Upstarts Invented the Future.
All subject to change.
Broadcast