Main content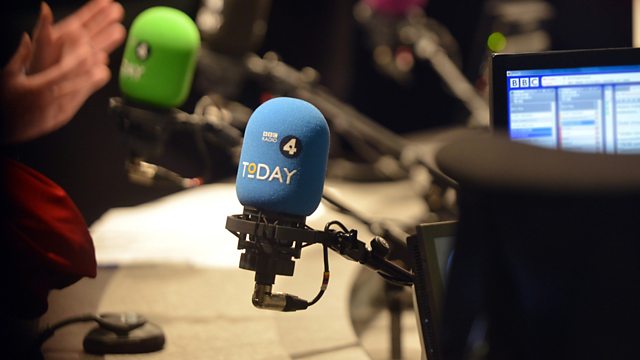 12/09/2017
News and current affairs. Including Yesterday in Parliament, Sports Desk, Weather and Thought for the Day.
Today's running order
0650
The British contemporary artist Rachel Whiteread was the first woman to win the Turner Prize in 1993. A retrospective exhibition of her work opens at the Tate Britain this week. She spoke to the BBC's arts editor Will Gompertz.
0655
Secondary schools are facing significant challenges in recruiting enough teachers to keep up with rising pupil numbers, a government spending watchdog has warned. Kim Corbett is deputy head of St Martin's secondary in Essex.
0710
The UK remains unwavering in its commitment to uphold European security, the defence secretary has said as the government publishes its latest Brexit positioning paper.
0715
For most people the collapse of Northern Rock was the first time they were aware there was something seriously wrong with the banking system. That was exactly ten years ago, and the BBC's Dominic O'Connell is at its former headquarters in Newcastle this morning.
0720
Experts have welcomed a review that has found very limited evidence that light drinking in pregnancy harms unborn babies, contradicting current government recommendations. Louisa Zuccolo is lead researcher on this study.
0730
Our attitude to scientists has changed pretty dramatically in the sixty years since this programme came on the air. John Humphrys has been talking to one of our leading scientists Steve Jones , Emeritus Professor of Human Genetics at University College, who led a  review of the way the BBC itself reports science.
0740
Plans to dig a 1.8-mile road tunnel near Stonehenge have been given the go-ahead by Transport Secretary Chris Grayling. Experts warned that the project would compromise the "unutterably precious" archaeology of the Stonehenge World Heritage Site. Professor David Jacques is an archaeologist at the University of Buckingham.
0750                
Children with life-limiting or life-threatening conditions are being failed, according to a new report released today by the Institute for Policy Research (IPR) at Bath University. Emily Harrop is deputy chair of the NICE guideline Committee and Hayley is the mother of Holly Smallman, who has been receiving palliative care for 15 years.
0810
One of Britain's biggest unions has told this programme it is willing to break the law to go on strike over pay. The BBC's Ross Hawkins reports and Richard Burgon is shadow secretary of state for justice.
0820
It is almost 60 years since Harold Pinter's the Birthday Party was first staged. To mark the anniversary in January there'll be a new production starring Toby Jones, Zoe Wanamaker and Stephen Mangan. Sarah Montague has been speaking to Toby Jones and to Harold Pinter's widow Lady Antonia Fraser.
0830
In the federal German elections, the anti-establishment right are stirring up passions and the AFD party - Alternatif fur Deutschland, is widely expected to enter the Bundestag for the first time. The Today programme's special correspondent James Naughtie has been talking to the AFD's main candidate Alexander Gauland.
0835
How did the dramatic turn of events at Northern Rock ten years ago affect Newcastle? Nick Forbes is leader of Newcastle Council.
0845
Yesterday we heard from Nigel and Sally Rowe who took their six year old son out of his Church of England Primary school because one of his class mates was gender fluid. Susie Green is from the transgender support group Mermaids, who has been helping the family of one of the transgender children involved.
0850
The Today programme is celebrating its sixtieth birthday later this year – in the weeks leading up to the anniversary we're looking at some of the biggest social changes in our country during that time. Today we're looking at the public's evolving relationship with science, evidence and truth. Richard Dawkins is professor of evolutionary biology and David Willetts is former science minister.
All subject to change.