Main content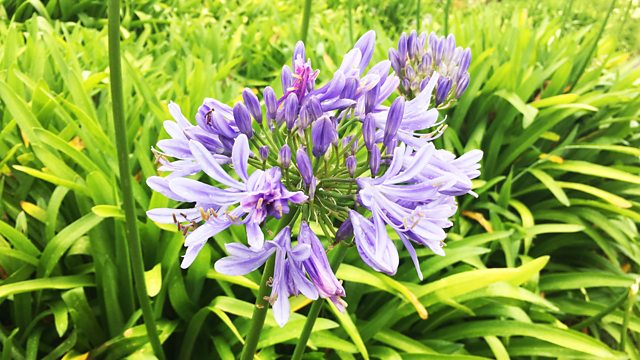 Brockley, South East London
Peter Gibbs and his panel are hosted by Brockley's Street Trees for Living project. Pippa Greenwood, Christine Walkden and James Wong answer the horticultural questions.
Peter Gibbs and his panel are hosted by Brockley's Street Trees for Living project. Pippa Greenwood, Christine Walkden and James Wong answer the horticultural questions.
The panel creates an edible roof, deals with a distorted fuchsia, and explains how to achieve the tastiest pumpkin. Also, Pippa Greenwood explores a sea of blue agapanthus and the team share their topical tips for this weekend.
Produced by Hannah Newton
Assistant Producer: Laurence Bassett
A Somethin' Else production for BBC Radio 4.
Fact Sheet
Q. I grow onions on the green roof of my shed. Can the panel think of any other suitable vegetables for growing on a green roof with 5-6 inches of soil?
James – Perennials in the onion family would work best. Chinese chives have lovely scented flowers and edible leaves. New Zealand spinach may work because it can handle a certain amount of drought and it self seeds.
Pippa - You could have Tumbling Toms cascading from the edges. You could go for normal chives or garlic chives. Garlic chives have white pompom flowers as opposed to the classic purple. You would also want to try garlic there because you have uninterrupted sun.
Christine - You will be able to grow salads up there because you won't have the soil splash. I would also look at stump rooted carrots and cascading raspberries.
Q. Could the panel suggest some suitable street trees with a view to longevity and fragrance?
James – The ultimate long-lived tree is something like an olive and they are a lot leafier when grown here. You could train Pittosporum to green an alleyway. The Persian Silk tree does well in a London microclimate and has incredible pink pompoms.
Christine – Thinking about fragrance, some people get a honey and lemon smell from Koelreuteria paniculata, the Golden Rain Tree. It isn't a massive tree and has beautiful yellow flowers. Crataegus 'Prunifolia' also makes a great street tree for its flowers in the spring, colour in the autumn, and spectacular fruit. You could also try a Spathodea campanulata depending on your climate.
Q. My fuchsia has lumpy bits at the end of the stem. What's wrong with it?
Pippa - It is caused by a mite. As it feeds from the plant it injects a toxin and causes distortion. The whole plant can be reduced to a contorted mass. Some people have managed to cut it back and it recovers, but more often that not it doesn't. I would remove the whole plant, give it a year's break and start again.
Q. What would the panel plant in an edible ornamental garden?
James – In New Zealand they grow a guava relative called Acca sellowiana or Feijoa. They have beautiful, red pompom flowers and the petals have evolved to be eaten by mammals. They are sweet and minty.
Christine – I would grow quince and mulberries.
Pippa – Most vegetables are stunningly beautiful. Courgettes provide a constant supply of gorgeous trumpet flowers.
James – Courgettes provide three types of crop – the flowers, the fruit and the young tips.
Q. I am planting a bank with plants for someone called Violet. Could the panel make any suggestions of plants fitting this colour scheme?
Christine - I would look at the purple and mauve lamium, particularly Lamium orvala. Also try violet bulbs such as the scillas or cyclamen.
James – There is a trailing Australian violet that may grow in the London microclimate. The flowers are raised by stalks above a carpet.
Pippa – Some of the vincas would work, especially if shady. You could also have some wacky purples by planting the smaller fruiting aubergines. There are lots of violet clematis to choose from.
Q. What can we suggest planting to encourage people to green their front gardens?
James – People could try mow free lawns. Pratia is beautiful with it small white flowers.
Christine – I would look at the Pernettyas and the Gaulnettyas. They have good evergreen foliage and will go on to produce berries.
Q. I have a problem with my Victoria plum tree – I have lost fifty percent of the fruit. How can I deter the hungry tenant whilst still gardening organically?
Pippa – They have become more problematic recently. They are a pest called the Plum Moth and their young or caterpillars are found in the plums. You should collect up as much infested fruit as possible. And then try pheromone traps.