Main content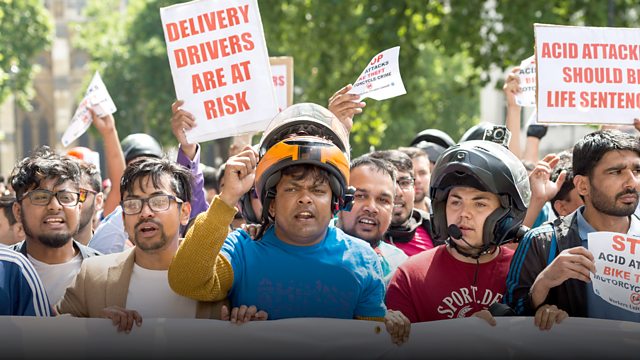 Vitriolic
Journalist Ayshea Buksh delves into the complex story behind the rise in acid attacks, exploring the nuanced motivations behind the decision to make acid a weapon of choice.
This summer's spate of acid attacks have caused concern for both the public and authorities. The seemingly random selection of victims by perpetrators, and the suspected use of acid by criminal gangs, seems to be a new twist in a story which has previously seen acid used in more targeted crimes against a specific person.
And the ease with which perpetrators seem to be throwing acid is breeding a fear of what some have called an epidemic.
But while acid attacks may capture public attention for their shocking effect, they remain far from the norm. And they are not easily categorised or reduced to a simple narrative.
Journalist Ayshea Buksh explores the complexity of acid attacks and the wide range of motivations behind the use of acid as a weapon. From hate crime and domestic violence to a fight that escalates, a mugging or a gang-related attack, the weapon may be the same but the reasoning can be wildly different - posing some tough questions for those trying to prevent or sentence acid attackers.
What is always the same is the outcome. It's a crime that can take just seconds to commit, but acid attacks can have a life-long impact on survivors - not just physically, but mentally.
Some survivors speaking to Ayshea are just going through their first surgery after the physical impact of the attack, while others are now living their lives at a distance from their attack but with a constant physical reminder.
For some survivors, the question 'why?' can play constantly on their minds, while others try not to ask it as they attempt to move on with their lives.
Presenter: Ayshea Buksh
Producers: Ayshea Buksh and Katherine Godfrey
A Whistledown production for BBC Radio 4.