Main content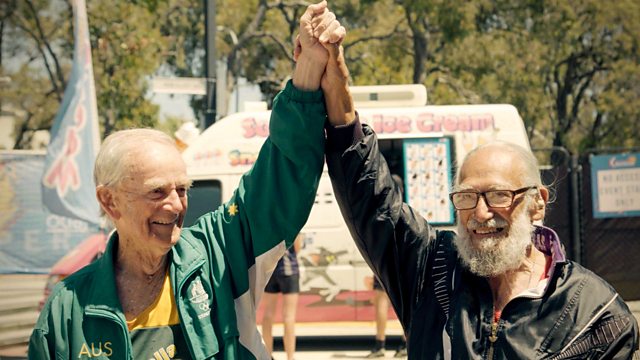 The Pacemakers
A group of highly competitive and ambitious athletes, all over the age of 90, compete for gold in the Olympics of OAP sport.
The Pacemakers follows the fun, surprising story of a group of men, all over the age of 90, as they pursue their dream of becoming world champion athletes. Director Selah Hennessy spent a year filming with an international sub-culture of athletes as they prepare for the Olympics of OAP sport: the World Masters Championship.
Charles Eugster, 97, is considered Britain's fittest OAP and he has become a star athlete in the world of senior athletics. A former dentist, he only started running at 95 - but in the space of just two short years, he has managed to ratchet up multiple world championship titles and two world records. Now, spurred by a burning desire to break as many world records as he can, Charles has taken up a new challenge: the long jump. With the intense and unrelenting guidance of his Austrian coach Sylvia, he is training to break the world record.
Meanwhile, 92-year-old Peruvian Hugo Delgado, 92-year-old Jim Sinclair from Australia, Zhiyong Wang from China and Dixon Hemphill from the United States aspire for gold in the 100m.
These are a highly competitive group of athletes, all hell-bent on being champions. They are also very determined old men battling major obstacles - from early onset dementia to terminal lung disease - in order to fulfil their ambitions. In this fun, warm-hearted and intimate portrait, we see the ups and downs as they prepare for two major world championships in Australia and South Korea, where they have the chance to prove themselves on the world stage - and show that we are never too old to dream big.
Music Played
Timings (where shown) are from the start of the programme in hours and minutes
Credits
| Role | Contributor |
| --- | --- |
| Participant | Hugo Delgado |
| Participant | Iris Delgado |
| Participant | Charles Eugster |
| Participant | Federico Fisher |
| Participant | Sylvia Gattiker |
| Participant | Dixon Hemphill |
| Participant | June Hemphill |
| Participant | Carolyn Langenwalter |
| Participant | James Sinclair |
| Participant | Jingning Wang |
| Participant | Zhiyong Wang |
| Executive Producer | Riete Oord |
| Director | Selah Hennessy |
| Producer | Jez Lewis |
| Producer | Rachel Wexler |
| Composer | Justin Nicholls |
| Director of photography | Luciana Riso |
| Editor | Rupert Houseman |
| Focus Puller | Pietro Cusimano |
| Focus Puller | Yeonju Kim |
| Camera Operator | Luke Corbett |
| Camera Operator | Sam Bodhi Field |
| Camera Operator | Ben Howden |
| Camera Operator | Ross Metcalfe |
| Camera Operator | Will Storey |
| Camera Operator | Jason Thomas |
| Camera Operator | Michael Titter |
| Camera Assistant | George Graham |
| Sound Recordist | Barney Brookes |
| Sound Recordist | Jason North |
| Sound Recordist | Brett Stayt |
| Runner | Georgina Isles |
| Translation | Carmen Arcos |
| Translation | Jacky Chiang |
| Translation | Alessandra D'Avanzo |
| Translation | Maudie Fraser |
| Translation | Tina Sijiao Li |
| Translation | Shi Shengjie |
| Translation | Aurora Vogeli |
| Producer | Rachel Heywood |
| Colourist | Vicki Matich |
| On-line editing | Adam Grant |
| Re-recording mixer | Matt Skilton |
| Production Company | Bungalow Town Productions Ltd |