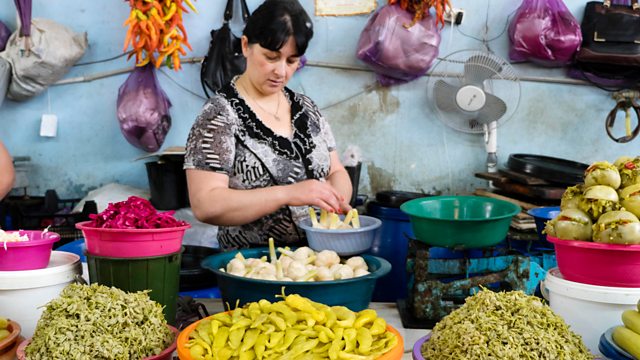 Feast Like a Georgian: A Food Guide to the Caucasus.
Dan Saladino travels to a Georgia, considered to be an undiscovered food and drink gem at the heart of the meeting point between Europe and Asia.
Food writer Carla Capalbo, author of Tasting Georgia: A food and wine journey in the Caucasus guides Dan through a supra, a traditional feast.
Georgia, a country the same size as Scotland, south of Russia and north of Turkey, has one of the oldest, richest and, to many of us, unknown food and drink cultures in the world. On the silk and spice routes, for centuries, it was a battleground between Persian, Turkish and Russian empires. In the 20th century, Georgia, birthplace of Stalin, became part of the Soviet Union until its independent in 1991.
Throughout generations of conflict and hardship Georgia's food culture has endured. It can claim to be the birthplace of viticulture and wine making and when it comes to dining experiences, it has one of the most sophisticated and emotional dining experiences in the world. Dan experiences a supra, a traditional Georgian feast, in which an array of dishes are woven around a series of polyphonic (many voice) songs, amber wines and heartfelt toasts given by a tomada (toast master).
Produced and presented by Dan Saladino.
Produced and presented by Dan Saladino.
Last on
LOBIO (Dried Beans With Herbs) by Carla Capalbo
LOBIO (Dried Beans With Herbs) 
SERVES 4-6
PREP 25 minutes, plus 12 hours soaking
COOK 1.5 - 3hrs
Lobio, is prepared in a myriad of ways in Georgia and feature at almost every meal. They are at their best when cooked over a wood fire but they also benefit from being baked or simmered gently in traditional Georgian clay pots. The Georgians have many varieties of bean, including Tsiteli Lobio and Sulispira.  Although they favour dark, kidney shaped beans, I find it's more important to use thin-skinned beans whose skins almost dissolve when cooked. So don't be afraid to use borlotti or other premium beans as they'll make the texture and flavour better. This recipe adds vibrant fresh herbs to the mix: half are added during cooking and the rest at the end. The Georgians always serve fermented or pickled vegetables or blossoms when they serve Lobio, as a counterpoint. If you don't have the marigold petals, leave them out!
350g dried kidney, borlotti or other fine-skinned beans
200g chopped onion
2 tablespoons dried marigold petals or ground marigold petals
15g/4 garlic cloves, chopped
30g chopped fresh coriander
¼ tsp dried summer savory or thyme
1 tsp salt
¼ tsp dried chilli flakes
30g cup chopped fresh herbs, a mix of mint, green and purple basil, summer savory, celery leaves and parsley
Soak the beans overnight in good clean water (filtered, if possible). Drain, rinse well and turn the beans into a large saucepan. Cover them with two fingers of water and bring to the boil. After about 15 minutes, when the beans start producing foam, pour the beans and water into a colander and rinse the beans again. Cover them with fresh water and boil for 1 hour, skimming off any foam that appears.
Add half each of the onions, marigold petals,  garlic and chopped coriander to the beans. Stir in the dried summer savory or thyme, the salt, and chilli. Continue cooking until the beans are soft – anything from 30 to 60 minutes or more. If the water gets low add more to keep the beans covered by about two fingers of water.
When the beans are soft and beginning to fall apart, taste them for salt and chilli, adding more if necessary (the chillies should only add a subtle hint of heat). Stir in the remaining herbs and garlic and cook gently for 10 minutes more. Check for seasoning again before serving.
Credits
| Role | Contributor |
| --- | --- |
| Presenter | Dan Saladino |
| Interviewed Guest | Carla Capalbo |